Atlet Jalan Cepat Dihadang Polusi Jakarta
`This is Indonesia`: Race-walker Collapses after 50km of Heat, Smog
Editor : Ismail Gani
Translator : Novita Cahyadi

PUBLISHED: Kamis, 30 Agustus 2018 , 17:54:00 WIB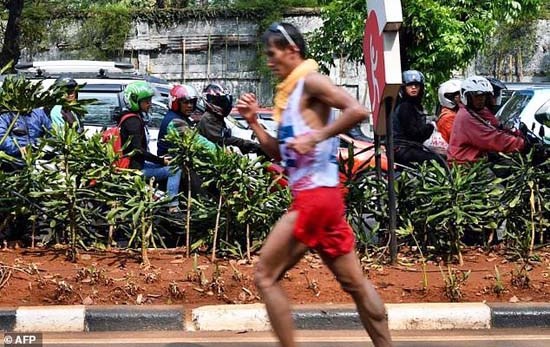 KEGERAHAN: Atlet jalan cepat Indonesia, Hendro menyelesaikan finish nomor 50 km meskipun gagal meraih medali Asian Games 2018 (Foto: AFP/MailOnline)
ATLET jalan cepat Indonesia, Hendro mengaku sebagai keajaiban setelah dia berhasil mencapai garis finish pada nomor 50 km di tengah udara Jakarta yang panas, lembab, dan berpolusi pada Kamis setelah dibawa dari garis finish dengan tandu.
Hendro ambruk setelah menapaki jalan-jalan berdebu selama lebih dari 4,5 jam di tengah suhu 31 Celsius untuk mencapai finish, tercatat sebagai capaian finish terlambat untuk nomor jalan cepat dalam tiga dekade terakhir.
Indeks kualitas udara di Jakarta Pusat mencapai 163 pada Kamis pagi. Indeks di atas 150 dianggap sebagai ancaman kesehatan bagi manusia.
Setelah disiram air es oleh petugas medis, Hendro, 28, yang seperti kebanyakan orang Indonesia menggunakan satu nama, dibawa ke pusat medis sambil berteriak-teriak akibat keletihan dan kepanasan.
"Cabor lari cepat sangat berat - cuaca panas, gerah, dan bukan hanya embab tetapi juga polusi," katanya setelah pulih. "Jalan cepat di sini tergolong berat. Ini Indonesia."
"Ini adalah keajaiban bagi saya, saya bisa sampai garis finish. Ini adalah keajaiban," tambahnya.
Hayato Katsuki dari Jepang merebut emas dalam waktu 4:03:30 - 23 menit lebih lambat dari Asian Games terakhir - dengan juri yang adil, dan berupaya meningkatkan kemampuan para atlet.
Lawannya dari Jepang, Satoshi Maruo mengatur kecepatan jalannya tapi kembali jatuh ketika finish tinggal 10 km, mencapai finish 10 menit di belakang peraih medali emas dan finish tanpa perolehan medali.
Wang Qin dari China merebut perak, dan Joo Hyun-myeong dari Korea Selatan kebagian medali perunggu.
Hastag di Medsos
"Panas sekali. Para atlet bergerak cepat di awal start tapi saya mengatur kecepatan karena tahu atlet lain akan melambat," kata Katsuki. "Saya sudah siap. Saya membuat lubang udara di rompi saya untuk membantu aliran udara."
Waktu pencapaian finish adalah yang paling lambat sejak Asian Games 1990 di Beijing. Tiga atlet gagal mencapai finish.
Upaya Hendro mendapat sambutan meriah dan dukungan dari penonton tuan rumah, mendukung upayanya mencapai finish meskipun faham bahwa peluangnya meraih medali telah lenyap, dan dia mencapai finish dalam waktu 4:32:20.
Selain sulit bernafas, dia berjuang melawan cedera ligamen di lutut kanannya.
"Itu sangat berat," katanya. "Saya berpikir - saya harus menyelesaikannya. Ini adalah pertama kalinya saya di 50km. Saya tidak ingin pelatih saya kecewa."
"Saya sangat bangga dengan para pendukung ... mereka datang ke sini untuk mendukung saya."
Namun Hendro juga menyerukan nomor jalan cepat berikutnya tidak diselenggarakan di Jakarta yang panas tapi dipindah ke kota lain di Jawa yang hawanya lebih sejuk.
"Tidak ada pohon di sini, semua gedung," katanya. "Di dataran rendah, polusi dan kelembaban, sulit bagi semua orang Asia," katanya.
Dua atlet didiskualifikasi karena melanggar aturan cabang olahraga, sementara Wang Riu dari China mengundurkan diri seperti dikutip AFP yang dilansir MailOnline.
Polusi udara di Jakarta mengakibatkan udara panas dan para aktivis lingkungan membentangkan spanduk raksasa yang memperlihatkan seseorang yang mengenakan topeng gas dan pesan "#WeBreatheTheSameAir".
INDONESIA´S Hendro said it was a "miracle" to even finish the 50km race walk in Jakarta´s brutal pollution, heat and humidity Thursday after he was carried from the finish line on a stretcher.
Hendro collapsed after pounding the Indonesian capital´s smoggy streets for more than four-and-a-half hours in 31 Celsius (88 Fahrenheit) heat to finish last, in the Asian Games´ slowest 50km (31 miles) walk for nearly three decades.
The air quality index in central Jakarta hit 163 on Thursday morning. A reading of more than 150 is considered a health threat to the general population.
After being doused in ice water by medics Hendro, 28, who like many Indonesians goes by one name, was carried to the medical centre shouting incoherently with pain.
"The race was so difficult -- the hot weather, humidity, and not just the humidity but the pollution," he said after recovering. "Racing here is not easy. This is Indonesia."
"This is a miracle for me I can finish. This is a miracle," he added.
Hayato Katsuki of Japan took gold with 4:03:30 -- 23 minutes slower than the last Asian Games -- with a well-judged race, after making holes in his vest to improve ventilation.
Fellow Japanese Satoshi Maruo set the pace for much of the way but fell back in the final 10km, ending 10 minutes behind the winner and out of the medals.
China´s Wang Qin took silver, and Joo Hyun-myeong of South Korea bronze.
- ´#WeBreatheTheSameAir´ -
"It was just so hot. The walkers in front went fast at the beginning but I paced myself as I knew they would slow," said Katsuki. "I was prepared. I made cuts in my vest to help the air flow."
The winning time was the slowest since the 1990 Asian Games in Beijing. Three racers did not finish.
Hendro´s efforts drew the biggest cheers from the home crowd, applauding his brave effort as he persevered long after any medal chance had vanished, to finish in 4:32:20.
As well as finding it hard to breathe, he was battling an old ligament injury in his right knee.
"It was so painful," he said. "I was thinking -- I must finish. This is my first time in the 50km. I didn´t want to make my coach disappointed.
"I´m so proud of the fans... they came here to support me."
But Hendro also called for future races to be shifted away from hazy Jakarta to elsewhere in Indonesia´s Java island.
"There are no trees here, all buildings," he said. "In the low altitude, pollution and humidity, it is difficult for all Asians," he said.
Two athletes were disqualified for illegal steps, while China´s Wang Riu retired.
Jakarta´s air pollution came under fire earlier in the Games when activists unfurled a giant banner showing a person wearing a gas mask and the message "#WeBreatheTheSameAir".