Asian Games 2018, Presiden Jokowi Undang Kim Jong Un Hadiri Upacara Pembukaan
Indonesia Invites North Korea`s Kim Jong Un to Asian Games
Editor : Ismail Gani
Translator : Novita Cahyadi

PUBLISHED: Selasa, 31 Juli 2018 , 21:35:00 WIB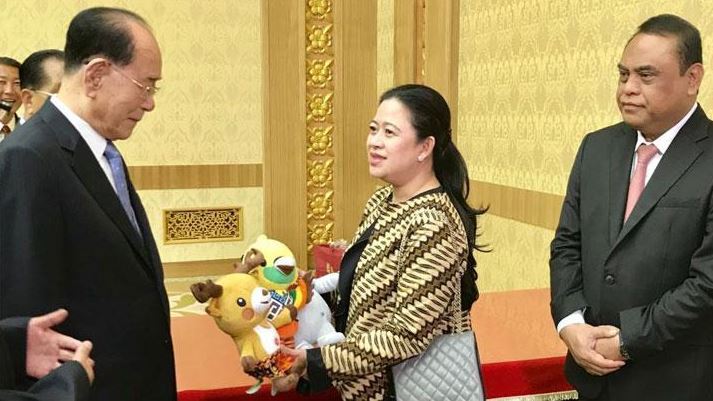 Kepala Negara Korut, Kim Yong Nam (kiri) menerima kunjungan Menteri Puan Maharani (tengah) didampingi Wakapolri Komjen Syafrudin (Foto: earlyintime.com)
SEJUMLAH pejabat Indonesia mengunjungi Korea Utara pekan ini, untuk menyampaikan undangan dari Presiden RI Joko Widodo kepada pemimpin Korea Utara Kim Jong Un untuk menghadiri upacara pembukaan Asian Games di Jakarta pada Agustus.
Menteri Koordinator Bidang Pembangunan Manusia dan Kebudayaan RI Puan Maharani didampingi oleh beberapa perwakilan pemerintah dan perwira tinggi Indonesia lainnya berkunjung ke Pyongyang, menurut rilis berita yang dikeluarkan oleh Polisi Nasional pada Senin malam.
"Alasan utama kami datang (ke Pyongyang) adalah untuk menyampaikan undangan resmi kepada Presiden Korea Utara untuk menghadiri Upacara Pembukaan Asian Games pada 18 Agustus," kata Maharani seperti dikutip dalam rilisnya.
Maharani dan delegasi Indonesia bertemu dengan Kim Yong Nam, kepala negara dan presiden Presidium Majelis Rakyat Tertinggi, pada Senin, katanya.
Dia juga membahas hubungan Korea Utara dan Korea Selatan selama kunjungan, serta isu-isu regional dan kinerja polisi Indonesia dalam melawan militansi.
Wakil Perdana Menteri Korea Utara Ri Ryong Nam, Wakil Menteri Luar Negeri Chie Hui Choi, Wakil Direktur Jenderal Departemen Asia Park Hyun Chol dan Kepala Departemen Asia Ri Ho Juun juga menghadiri pertemuan itu, kata rilis tersebut.
Para menteri dari kedua Korea sepakat pada April untuk mendorong delegasi yang bersatu dari kedua negara untuk berparade bersama dalam upacara pembukaan di Asian Games, yang akan dipentaskan pada Agustus dan September, di tengah tanda-tanda menurunnya ketegangan ambisi nuklir Pyongyang.
Korea Utara dan Korea Selatan berbaris di bawah bendera yang bersatu pada upacara pembukaan dan penutupan Olimpiade Musim Dingin Februari di Pyeongchang. Asian Games, yang diselenggarakan bersama oleh kota-kota Jakarta dan Palembang, diharapkan untuk melihat penyatuan lebih lanjut dari kemitraan tersebut.
Korea Utara kemungkinan akan menjadi titik fokus selama Olimpiade karena keraguan muncul atas janji Kim Jong Un untuk bekerja menuju denuklirisasi yang dihasilkan selama pertemuan puncak dengan Presiden AS Donald Trump di Singapura pada Juni.
Delegasi Indonesia lainnya, Wakil Kepala Kepolisian Nasional Syafruddin, mengatakan Indonesia menjamin keamanan bagi semua negara dan kontingen yang hadir di Asian Games, termasuk pemerintah Korea Utara seperti dikutip Reuters yang dilansir MailOnline.
"Keamanan Indonesia sangat stabil. Jangan khawatir atau ragu," kata Syafruddin, yang seperti kebanyakan orang Indonesia hanya memiliki satu nama.
A TEAM of Indonesian officials visited North Korea this week to extend an invitation from President Joko Widodo to North Korean leader Kim Jong Un to attend the Asian Games opening ceremony in Jakarta in August, Indonesia´s National Police said.
Coordinating Human Development and Cultural Affairs Minister Puan Maharani was accompanied by several other Indonesian government and police representatives on the visit to Pyongyang, according to a news release issued by the National Police late on Monday.
"The main reason for us coming (to Pyongyang) is to convey an official invitation to the President of North Korea to attend the Asian Games Opening Ceremony on August 18," Maharani was quoted as saying in the release.
Maharani and the Indonesian delegates met Kim Yong Nam, the nominal head of state and president of the Presidium of the Supreme People´s Assembly, on Monday, it said.
She also discussed North and South Korea relations during the visit, as well as regional issues and the performance of Indonesia´s police in countering militancy.
North Korean Deputy Prime Minister Ri Ryong Nam, Deputy Foreign Minister Chie Hui Choi, Deputy Director General of Asia Department Park Hyun Chol and Asia Department chief Ri Ho Juun also attended the meeting, the release said.
Ministers from the two Koreas agreed in April to push for a unified delegation from both countries to parade together in the opening ceremony at the Asian Games, to be staged in August and September, amid signs of easing tensions over Pyongyang´s nuclear ambitions.
North and South Korea marched under a unified flag at the opening and closing ceremonies of February´s Winter Olympics in Pyeongchang. The Asian Games, co-hosted by the cities of Jakarta and Palembang, are expected to see a further cementing of that partnership.
North Korea is likely to be a focal point during the Games as doubts emerge over Kim Jong Un´s promise to work towards denuclearisation made during a summit with U.S. President Donald Trump in Singapore in June.
Another Indonesian delegate, Deputy National Police chief Syafruddin, said Indonesia guaranteed security to all countries and contingents present at the Asian Games, including the government of North Korea.
"Indonesia´s security is very stable. Don´t worry or hesitate," said Syafruddin, who like many Indonesians goes by only one name.