IPO Mitratel, Legislator Harap Optimalkan Ekonomi Digital Indonesia
Commission VI Expects Mitratel IPO to Optimize Indonesia´s Digital Economy
Reporter : Kemal Agus Praghotsa
Editor : Ismail Gani
Translator : Novita Cahyadi

PUBLISHED: Rabu, 10 November 2021 , 18:03:00 WIB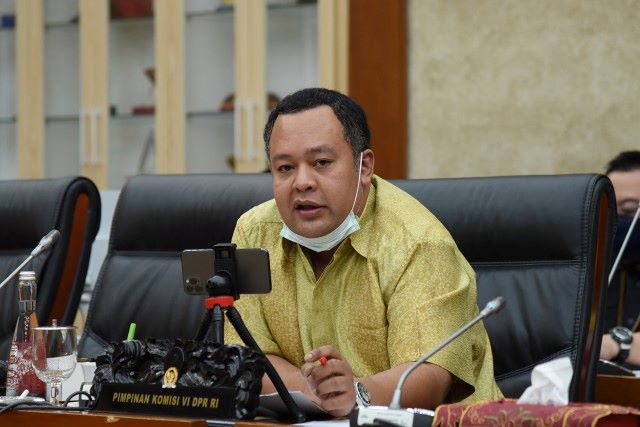 RAPAT DENGAR PENDAPAT: Wakil Ketua Komisi VI DPR RI, Mohamad Hekal pada Rapat Dengar Pendapat [RDP] dengan Dirut PT Telkom Indonesia. [Foto: Istimewa]
Jakarta [B2B] - Komisi VI DPR RI berharap Mitratel dapat mendorong optimasilasi jaringan serat optik 5G demi kemajuan ekonomi digital pada industri 4.0. Dengan begitu, perusahaan akan memperoleh dana segar sebesar Rp 25 triliun melalui penawaran 29.85 persen saham melalui proses IPO di Bursa Efek Indonesia.
"Kami berharap Mitratel dapat mengambil peran untuk mendukung optimalisasi kemajuan ekonomi digital di era industri 4.0," kata Wakil Ketua Komisi VI DPR RI, Mohammad Hekal, Jakarta, Rabu [10/11] pada Rapat Dengar Pendapat [RDP] dengan Direktur Utama PT. Telkom Indonesia, Ririek Adriansyah.
Kemudian, dari dana tersebut, Mitratel akan menggunakan untuk pengembangan bisnis, yang nantinya akan menciptakan nilai optimal bagi perusahaan dan stakeholder.
Politisi Fraksi Partai Gerindra meminta rencana IPO itu dapat memberikan dampak positif yang berkesinambungan. "Kami ingin rasakan dampak positif tidak hanya untuk Mitratel, Telkom Group, BUMN, tapi masyarakat indonesia."
Sebagai informasi, kini Mitratel berupaya menjadi market leadership di industri tower provider, yang nantinya bisa menjadi tulang punggung telekomunikasi nasional. Tidak hanya mengandalkan perangkat Base Transceiver Station [BTS], namun Mitratel juga melakukan ekspansi portofolio jasa turunan di antaranya project solutions, managed services, fiberasi, dan digital services.
Menjadi IPO pada 22 November 2021 nanti, Mitratel menunjuk PT BRI Danareksi Sekuritas, HSBC, JP Morgan, PT Mandiri Sekuritas, dan Morgan Stanley sebagai joint bookrunners dan joint coordinators. Selanjutnya, BRI Danareksi Sekuritas bersama Mandiri Sekuritas bertindak sebagai joint lead managing underwrites dan domestic underwriters.
Jakarta [B2B] - Commission VI of the DPR RI hopes that Mitratel can encourage the optimization of 5G fiber optic networks for the advancement of the digital economy in industry 4.0.