Google dan Temasek Dikabarkan Suntik Rp16 Triliun ke Go-Jek
Google, Temasek to Come in as New Investors in Indonesia`s Go-Jek - Sources
Editor : Ismail Gani
Translator : Novita Cahyadi

PUBLISHED: Kamis, 18 Januari 2018 , 19:48:00 WIB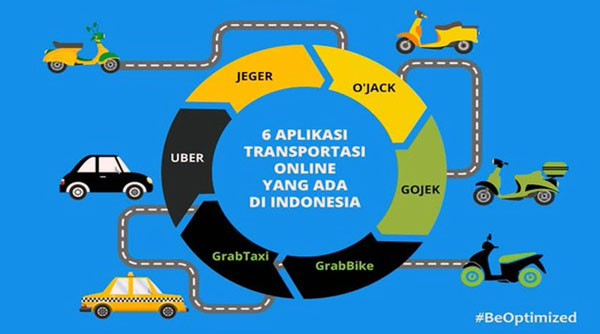 Foto: istimewa
PENYEDIA layanan transportasi online, Go-Jek mendapat suntikan modal sebesar US$1,2 miliar setara Rp16,2 triliun dari Google via Alphabet Inc, Temasek Holding dari Singapura, perusahaan online Meituan-Dianping, kabar ini didapat dari sumber yang layak dipercaya.

Investasi oleh Google - sebagai kali pertama di sebuah perusahaan transportasi online di Asia - dan para investor terkemuka lainnya meyakini potensi bisnis tersebut di Asia Tenggara, kawasan yang dihuni lebih dari 640 juta orang, sekaligus menyikapi meningkatnya persaingan di sektor tersebut ke depan.

Pesaing Go-Jek, Grab dan Uber Technologies memperluas ekspansi bisnisnya di kawasan Asia Tenggara, kebutuhan akan dukungan dari investor siap menyuntik dana segara terus meningkat. Perusahaan transportasi online menggelontorkan dana untuk merekrut pengemudi transportasi online dan konsumen, dengan diskon tarif dan promosi yang menggerus margin keuntungan perusahaan.

"Sebagai investor strategis, Google dapat mendukung peluang bisnis Go-Jek ke depan," kata salah satu sumber.

Grab dan Uber didukung oleh Grup SoftBank Jepang, sementara Go-Jek telah mendapatkan investasi dari raksasa teknologi China Tencent Holdings Ltd dan JD.com Inc.

Dalam putaran pendanaan terakhir, investor Go-Jek yang ada seperti perusahaan ekuitas swasta global KKR & amp; Co LP dan Warburg Pincus LLC juga ikut menanam modal. Kegiatan
pendanaan dibuka tahun lalu dan diperkirakan akan ditutup dalam beberapa minggu lagi, kata sumber tadi.

Belum diketahui pasti berapa investor yang mendukung secara terpisah. Breakingviews mengatakan, mengutip sumber, dukungan modal dari investor di group Go-Jek sekitar US$4 miliar, namun lebih banyak yang diterima Grab lebih dari US$6 miliar.

Menanggapi kabar tersebut, Google, KKR, Meituan-Dianping, Temasek dan Warburg menolak berkomentar. Go-Jek tidak menanggapi permintaan komentar. Sejumlah pihak menolak untuk disebut identitasnya karena mereka tidak berwenang untuk berbicara dengan media.

Grab dan Uber berkembang pesat di Indonesia menyaingi Go-Jek, yang merupakan negara terpadat di Asia Tenggara dan di mana penduduk setempat sangat antusias untuk menghasilkan beragam layanan berbasis mobile. Asia Tenggara adalah kota dengan pasar terbesar layanan transportasi online ketiga di dunia setelah China dan Amerika Serikat.

Go-Jek, yang dimulai sebagai aplikasi ojek online untuk ´taksi motor´, beroperasi terutama di Indonesia namun sedang mengembangkan bisnis pengiriman makanan. Bisnis pembayaran mobile-nya, Go-Pay, juga berkembang pesat.

Reuters melaporkan tahun lalu bahwa JD.com menginvestasikan sekitar US$100 juta di Go-Jek. Langkah ini diikuti investasi oleh Tencent, yang juga merupakan investor di JD.com.

Pekan lalu, Hyundai Motor Co mengatakan telah berinvestasi di Grab seperti dilansir MailOnline.
ALPHABET INC´S Google, Singapore state investor Temasek and Chinese online platform Meituan-Dianping are investing in Indonesian ride-hailing start-up Go-Jek as part of a $1.2 billion fundraising round, sources familiar with the matter said.

The investments by Google - its first in a ride-hailing firm in Asia - and the other prominent investors underscore both the potential of the business in Southeast Asia, a region of 640 million people, as well as the competitive threat in the ride-hailing environment.

As Go-Jek´s rivals Grab and Uber Technologies have expanded their presence in the region, the need for backing from deep-pocketed investors has risen. Ride-hailing companies have been spending heavily to attract both riders and drivers, with discounts and promotions that have hurt their profit margins.

"As a strategic investor, Google can add a lot to Go-Jek´s business," said one source.

Grab and Uber are backed by Japan´s SoftBank Group, while Go-Jek has secured investments from Chinese technology giants Tencent Holdings Ltd and JD.com Inc.

In the latest funding round, Go-Jek´s existing investors such as global private equity firms KKR & Co LP and Warburg Pincus LLC are also participating, the sources said. The funding round opened last year and is expected to close in a few weeks, they said.

It was not immediately clear how much the investors are pumping in individually. Breakingviews said, citing sources, the new money from investors values Go-Jek group at roughly $4 billion, compared to more than $6 billion for Grab.

Google, KKR, Meituan-Dianping, Temasek and Warburg declined to comment. Go-Jek did not respond to requests for comment. The people declined to be identified as they were not authorised to speak to the media.

Both Grab and Uber are expanding in Go-Jek´s home market, which is Southeast Asia´s most populous country and where locals are keen to lap up an array of mobile-based services. Southeast Asia is the world´s third-biggest ride-hailing market after China and the United States.

Go-Jek, which began as a ride-hailing app for motorcycle taxis, operates mainly in Indonesia but is developing a food delivery business. Its mobile payment business, Go-Pay, is also growing rapidly.

Reuters reported last year that JD.com was investing about $100 million in Go-Jek. This followed an investment by Tencent, which is also an investor in JD.com.

Last week, Hyundai Motor Co said it had invested in Grab.