Bela Petani Sawit, Presiden Jokowi Janji Lawan Kebijakan Uni Eropa
Indonesia President Vows to Fight EU Palm Oil Rules
Editor : Ismail Gani
Translator : Novita Cahyadi

PUBLISHED: Sabtu, 13 Juli 2019 , 20:14:00 WIB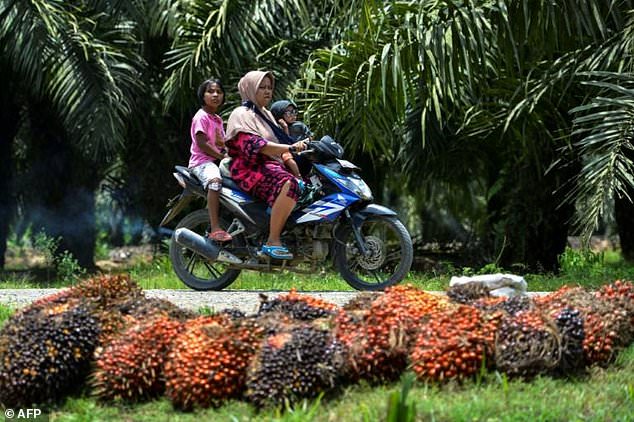 Minyak kelapa sawit dan industri terkaitnya berkontribusi sekitar empat persen terhadap PDB Indonesia dan menjadi mata pencaharian utama enam persen penduduk Indonesia [Foto: AFP/MailOnline]
PRESIDEN RI Joko Widodo menyatakan ´melawan Uni Eropa´ atas rencana UE untuk membatasi penggunaan minyak kelapa sawit dalam biofuel.
Kantor pusat UE di Brussels ingin membatasi bahan yang dapat digunakan dalam bahan bakar yang diperhitungkan untuk target energi terbarukan.
UE menetapkan batas waktu 2030 untuk menghapus minyak kelapa sawit, yang didukung para pencinta lingkungan karena mendorong penggundulan hutan dan perubahan iklim.
Namun rencana UE memicu kegusaran negara-negara produsen minyak sawit seperti Indonesia dan Malaysia, yang ekonominya tergantung pada komoditas ekspor minyak sawit.
Dalam sebuah wawancara dengan Bloomberg News yang diterbitkan Jumat, Presiden RI Joko Widodo mengatakan tekadnya untuk mendesak UE mengubah keputusannya tersebut.
"Bagi saya, jika ada diskriminasi seperti itu, saya akan berjuang karena 16 juta petani dan pekerja di bisnis ini," katanya. "Kelapa sawit adalah komoditas strategis bagi Indonesia."
Minyak kelapa sawit dan industri terkaitnya berkontribusi sekitar empat persen terhadap produk domestik bruto [PDB] Indonesia dan menjadi mata pencaharian utama enam persen penduduk Indonesia.
Indonesia tahun lalu memperoleh US$17,8 miliar dari ekspor minyak sawit, yang digunakan dalam berbagai produk mulai dari makanan hingga kosmetik.
Saham perusahaan kelapa sawit melorot sembilan persen tahun ini karena kekhawatiran akan pembatasan UE tersebut.
Baik Indonesia dan Malaysia - yang bersama-sama menghasilkan sekitar 85 persen minyak sawit dunia - sebelumnya telah memperingatkan mereka akan membalas tindakan UE.
Presiden Jokowi menegaskan bahwa setelah kemenangannya dalam pemilihan presiden pada 17 April ia mendapat mandat untuk mengambil tindakan berani untuk meningkatkan ekonomi Indonesia.
Dia mengatakan langkah-langkah akan termasuk menurunkan pajak perusahaan, melonggarkan hukum perburuhan, dan mencabut pembatasan kepemilikan asing seperti dikutip AFP yang dilansir MailOnline.
"Saya lebih tahu masalahnya," katanya. "Karena ini adalah masa jabatan terakhirku, jadi saya tidak memiliki beban. Saya tidak akan rugi."
INDONESIA´S president promised Friday to fight the European Union over plans to restrict the use of palm oil in biofuels.
Brussels wants to limit the materials that can be used in fuel that is counted towards its renewable energy targets.
It has set a 2030 limit for phasing out palm oil, which environmentalists say drives deforestation and climate change.
But the plans have angered big palm oil producing nations like Indonesia and Malaysia, whose economies are dependent on the commodity.
In an interview with Bloomberg News published Friday, Indonesian President Joko Widodo said he was determined to get the EU to change its rules.
"For me, if there is discrimination like that, I will fight because of the 16 million farmers and workers in this business," he said. "Palm oil is a strategic commodity for Indonesia."
Palm oil and its associated industries contribute roughly four percent to Indonesia´s GDP and provide a livelihood for six percent of the population.
Jakarta last year earned $17.8 billion from exports of the oil, which is used in a wide range of products from food to cosmetics.
Palm oil company shares have dropped nine percent this year because of worries over the restrictions.
Both Indonesia and Malaysia -- who together produce about 85 percent of the world´s palm oil -- have previously warned they will retaliate.
The president -- known locally as Jokowi -- insisted that after his landslide election win in April he had the mandate to take bold actions to bolster Indonesia´s economy.
He said steps would include lowering corporate taxes, easing labour laws, and lifting restrictions on foreign ownership.
"I know better the problems," he said. "Because this is my last term, so I have no burden. I have nothing to lose."