Penistaan Agama, Wanita Bawa Anjing Masuk Masjid Terancam 5 Tahun Penjara
Indonesian Faces Five Years for Letting Dog Off Lead in Mosque
Editor : Ismail Gani
Translator : Novita Cahyadi

PUBLISHED: Rabu, 03 Juli 2019 , 20:25:00 WIB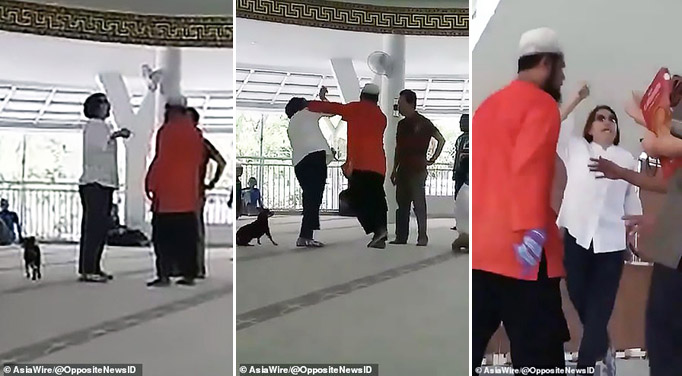 Dalam video itu, wanita yang tertekan dapat terlihat ngomel kepada penjaga masjid yang mengonfrontasinya setelah dia membawa hewan peliharaannya ke dalam mesjid [Foto2: MailOnline]
WANITA yang membawa anjing masuk ke dalam mesjid di Sentul, Bogor terancam hukuman lima tahun penjara setelah pelaku membiarkan anjingnya berkeliaran di dalam mesjid, yang dikenakan pasal penistaan agama.
Wanita pelaku, yang diidentifikasi kepolisian hanya dengan inisial SM, tampak dalam video yang jadi viral melepaskan anjingnya di dalam Masjid Jami Al Munawaroh, Sentul City, Kabupaten Bogor, Jawa Barat
dalam laporan lokal hanya dengan inisial namanya S.M, difilmkan melepaskan anjingnya di dalam masjid di kabupaten Bogor, Jawa Barat minggu ini.
Anjing tergolong hewan yang diharamkan bagi Muslim dalam ajaran Islam. Wanita tersebut juga tidak melepaskan sepatunya saat masuk, padahal memasuki masjid diwajibkan melepas alas kaki.
Rekaman itu memicu kemarahan publik setelah menjadi viral, mendorong Majelis Ulama Indonesia [MUI] menyerukan umat Islam tidak terpancing kabar tersebut dan menyerahkan pada polisi untuk menyelesaikan masalah tersebut sesuai koridor hukum.
Dalam video itu, wanita yang tertekan dapat terlihat ngomel kepada penjaga masjid yang mengonfrontasinya setelah dia membawa hewan peliharaannya ke dalam mesjid.
Pelaku terdengar ditanya oleh penjaga mesjid yang bertanya tentang agamanya, dijawab pelaku sebagai 'Katolik' sebelum mengklaim dia akan menyaksikan menikahi suaminya di mesjid tersebut di hari itu.
Polisi memperkirakan pelaku memiliki masalah kejiwaan, dan pihak masjid menegaskan saat insiden terjadi belum masuk jadwal shalat.
Perdebatan tersebut meningkat menjadi pertengkaran, dan mendorong penjaga mesjid mengusir pelaku secara paksa seperti dilansir MailOnline.
A CATHOLIC woman is facing five years in jail in Indonesia under strict blasphemy laws after she allowed her dog to run around inside a mosque.
The woman, identified in local reports only by her initials S.M., was filmed letting her dog off its leash inside a mosque in the West Java district of Bogor this week.
Dogs are considered impure animals by conservative Muslims, with even guide dogs rarely allowed inside mosques. The woman also failed to remove her shoes, which is another sign of disrespect.
The footage caused outrage after being posted online, prompting Indonesia's highest Islamic clerical body to call for calm amid fears it could inspire attacks by the majority Muslim population on minority Christians.
In the video, the distressed woman can be seen ranting at the mosque's caretaker who confronted her after she brought her pet inside.
He can be heard asking her what religion she is to which she replied 'Catholic' before claiming she was due to marry her husband there later that day.
Police believe she may have psychiatric issues, and the mosque says there were no ceremonies scheduled.
The confrontation quickly turns ugly, with the woman and the caretaker exchanging blows while her anxious pet runs around on the floor.