Satu Selamat, Delapan Tewas setelah Pesawat Dimonim Air Jatuh di Papua
Boy, 12, is the Sole Survivor of Private Charter Plane Crash that Killed Eight People in Indonesia
Editor : Ismail Gani
Translator : Novita Cahyadi

PUBLISHED: Minggu, 12 Agustus 2018 , 20:30:00 WIB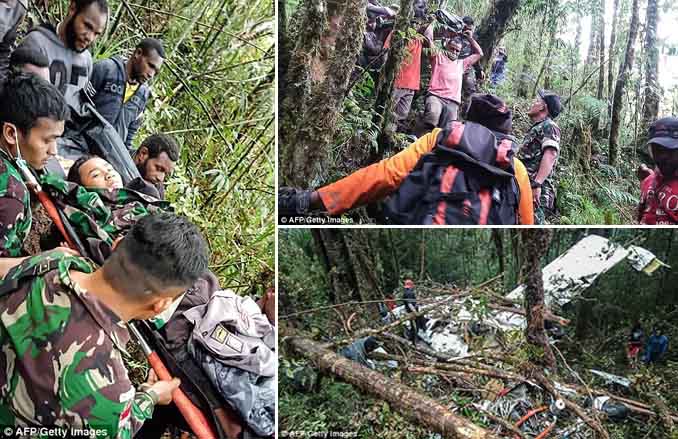 Puing pesawat itu ditemukan di daerah berhutan lebat di sisi gunung di subdistrik Oksibil pada Minggu pagi (Foto2: AFP/MailOnline)
SEORANG bocah usia 12 tahun adalah satu-satunya korban selamat dari kecelakaan pesawat yang menewaskan delapan orang di timur pegunungan, kata pihak berwenang pada Minggu (12/8).
Pesawat Pilatus buatan Swiss kehilangan kontak dengan kontrol lalu lintas udara Sabtu, seharusnya penerbangan tersebut berlangsung sekitar 40 menit di provinsi Papua.
Puing pesawat itu ditemukan di daerah berhutan lebat di sisi gunung di subdistrik Oksibil pada Minggu pagi.
"Delapan penumpang ditemukan tewas dan satu ditemukan hidup," kata Wakil Kepala Penerangan Kodam 17 Cenderawasih Letkol Inf Dax Sianturi.
"Saat ini penyebab kecelakaan itu belum dikonfirmasi," katanya kepada AFP, seraya menambahkan penyelidikan akan dilakukan oleh Komite Nasional Keselamatan Transportasi (KNKT).
Pesawat itu, yang dimiliki oleh perusahaan penerbangan charter swasta Dimonim Air, membawa tujuh penumpang dan dua awak.
Sebelum kecelakaan itu, penduduk desa di dekat Okatem melaporkan mendengar suara gemuruh diikuti oleh ledakan.
Tim pencari dan penyelamat berjalan dua jam untuk mencapai lokasi kecelakaan dan setelah tiba di lokasi kecelakaan melakukan evakuasi terhadap jenazah para korban maupun korban selamat.
Indonesia sangat bergantung pada transportasi udara untuk menghubungkan ribuan pulau tetapi memiliki catatan keselamatan penerbangan yang buruk dan telah mengalami beberapa kecelakaan fatal dalam beberapa tahun terakhir.
Papua adalah daerah yang sangat sulit untuk dijangkau.
Lima orang tewas setelah sebuah pesawat kecil jatuh di dekat Wamena di provinsi Papua pada Juli tahun lalu.
Pada Agustus 2015, sebuah pesawat penumpang komersial yang dioperasikan oleh operator Indonesia Trigana jatuh di Papua karena cuaca buruk, menewaskan 54 penumpang pesawat seperti dilansir MailOnline.
A 12-YEAR-OLD boy is the sole survivor of a plane crash that killed eight people in mountainous eastern Indonesia, authorities said Sunday.
The Swiss-made Pilatus aircraft lost contact with air traffic control Saturday during what was supposed to be a flight of around 40 minutes in remote Papua province.
The wreckage of the plane was found in a heavily forested area on a mountain side in the Oksibil subdistrict on Sunday morning.
´Eight passengers were found dead and one was found alive,´ Papua military spokesman Lieutenant colonel Dax Sianturi said.
´At the moment the cause of the crash has not been confirmed,´ he told AFP, adding an investigation would be carried out by the national transportation safety committee.
The plane, which was owned by private charter company Dimonim Air, was carrying seven passengers and two crew.
Before the accident, villagers in nearby Okatem reported hearing a loud roar followed by an explosion.
Search and rescue teams walked two hours to reach the crash site and were still recovering the bodies late morning.
Indonesia relies heavily on air transport to connect its thousands of islands but has a poor aviation safety record and has suffered several fatal crashes in recent years.
Papua is a particularly difficult area to reach.
Five people died after a small plane crashed near Wamena in Papua province in July last year.
In August 2015, a commercial passenger aircraft operated by Indonesian carrier Trigana crashed in Papua due to bad weather, killing all 54 people on board.