80 Korban Luka Akibat Lantai Selasar Gedung BEI Ambruk
Mezzanine Collapse inside Jakarta Tower Hurts Nearly 80
Editor : Ismail Gani
Translator : Novita Cahyadi

PUBLISHED: Senin, 15 Januari 2018 , 21:19:00 WIB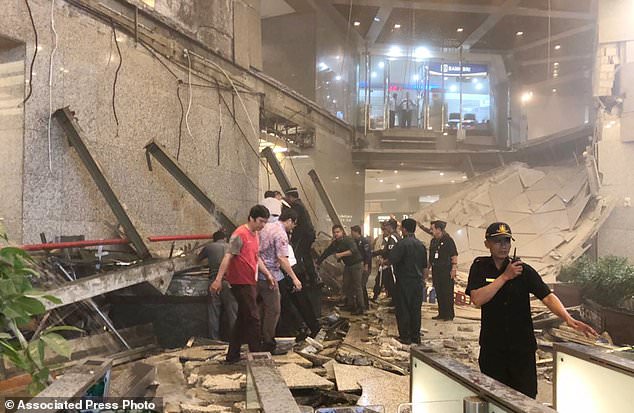 Foto: Associated Press/MailOnline
LANTAI selasar di dalam gedung Bursa Efek Indonesia (BEI) yang ambruk pada Senin, melukai hampir 80 orang dan memaksa penghuni gedung pialang tersebut berlarian menyelamatkan diri.

Rekaman kamera keamanan yang beredar online memperlihatkan detik-detik gedung ambruk, ketika kerumunan orang jatuh terhempas beberapa meter ke lantai dasar gedung setelah lantai yang mereka pijak mendadak ambruk.

Orang-orang melarikan diri dari gedung melalui lobi yang dipenuhi puing-puing. Petugas medis segera menangani korban terluka yang diamankan di rerumputan trotoar jalan di luar gedung.

Kadiv Humas Mabes Polri, Irjenpol Setyo Wasisto mengatakan sebagian besar korban luka adalah mahasiswa dari Palembang di Sumatera Selatan yang sedang mengadakan praktik kerja lapangan (PKL) ke gedung bursa efek tersebut.

Wasisto mengesampingkan terorisme sebagai penyebab lantai gedung ambruk.

"Tidak ada unsur bom dalam kejadian tersebut," katanya.

Jumlah korban yang dilansir oleh lima rumah sakit menyatakan 77 orang terluka.

Seorang juru bicara RS Siloam di Jakarta mengatakan telah menerima lebih dari 24 korban.

Seorang mahasiswa dari Palembang mengatakan bahwa dia merasakan getaran sesaat sebelum lantai runtuh.

"Lantai gedung tiba-tiba roboh, dan menyebabkan kekacauan," kata mahasiswa itu, yang diidentifikasi sebagai Ade, kepada MetroTV.

Dia mengatakan beberapa temannya tertimpa reruntuhan dan menderita luka di kepala dan tulang patah.

Bursa saham tetap terbuka untuk sesi perdagangan sore dan Direktur Utama BEI, Tito Sulistio menegaskan bahwa tidak ada korban tewas.

"Saya jamin tidak ada korban jiwa," katanya. "Saya membantu mengevakuasi korban ke taman dan sejauh yang saya tahu, luka terparah adalah patah tulang."

Dia mengatakan bahwa pihaknya tersebut akan menanggung biaya perawatan rumah sakit para korban seperti dikutip Associated Press yang dilansir MailOnline.
A MEZZANINE floor inside the Jakarta Stock Exchange tower collapsed on Monday, injuring nearly 80 people and forcing a chaotic evacuation.

Security camera footage circulated online showed the collapse, with a group of people plunging several meters (feet) to the ground as the structure gave way beneath them.

People fled the building through a lobby strewn with debris. Emergency personnel tended to the injured on the grass and pavement outside the tower.

National police spokesman Setyo Wasisto said most of the injured were college students from Palembang in Sumatra who were visiting the stock exchange as part of a study tour.

Wasisto ruled out terrorism as a cause of the collapse.

"There is no bomb element in the incident," he said.

Figures released by five hospitals showed 77 people were injured.

A spokeswoman for Jakarta´s Siloam Hospital said it had received more than two dozen victims.

A college student from Palembang said she felt a tremor just before the floor collapsed.

"The structure suddenly collapsed, causing chaos," the student, identified as Ade, told MetroTV.

She said some of her friends were hit by debris and suffered head wounds and broken bones.

The stock exchange remained open for its afternoon trading session and its general manager, Tito Sulistio, asserted no one had been killed.

"I guarantee that there were no fatalities," he said. "I helped evacuate the victims to the park and as far as I know, the worst injuries are fractures."

He said the exchange will pay the students´ medical costs.