Ulama Aceh Haramkan Sepak Bola Wanita Disorot Dunia
Indonesia`s Aceh says Women`s Football `´Forbidden` unless All-female
Editor : Ismail Gani
Translator : Novita Cahyadi

PUBLISHED: Kamis, 11 Juli 2019 , 21:21:00 WIB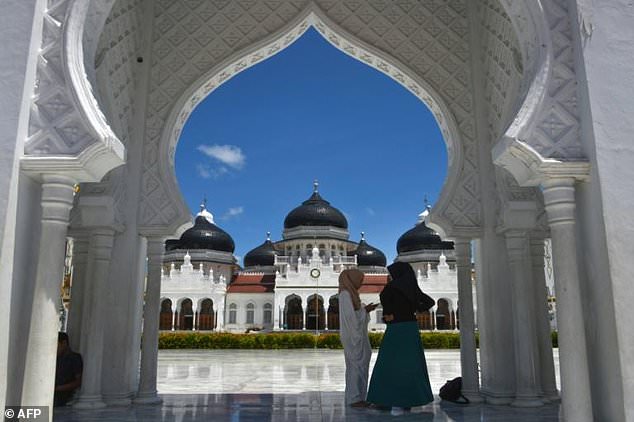 Foto: AFP/MailOnline
KURANG dari sepekan setelah final sepak bola piala dunia wanita menarik perhatian banyak penonton dan pemirsa TV global, para ulama di provinsi Aceh menyatakan sikapnya untuk menyatakan sepak bola sebagai olahraga 'terlarang' untuk wanita, dan hanya diizinkan untuk pria.
"Kami sama sekali tidak menentang sepak bola wanita, tetapi jika fasilitasnya tidak siap, sepak bola wanita dianggap haram," kata Teungku Faisal Ali, wakil ketua Majelis Ulama Indonesia [MUI] Aceh kepada AFP, Selasa.
Aceh, di ujung utara pulau Sumatra adalah satu-satunya provinsi di Indonesia sebagai negara berpenduduk Muslim terbesar di dunia yang secara resmi mempraktikkan hukum Syariah Islam.
Dianggap sebagai wilayah pertama penyebaran agama Islam di Indonesia pada abad ke-7, Aceh mendapatkan status semi otonom pada 2001 setelah beberapa dekade pemberontakan separatis Gerakan Aceh Merdeka [GAM] menentang Pemerintah RI.
Otoritas olahraga, Persatuan Sepak Bola Seluruh Indonesia [PSSI] berupaya menghidupkan kembali sepak bola wanita di Indonesia dengan membentuk liga nasional, tetapi MUI Aceh meminta pemerintah untuk membatalkan rencana tersebut, dengan alasan kurangnya fasilitas untuk pertandingan khusus wanita.
MUI Aceh mengatakan hal itu seharusnya hanya diizinkan jika provinsi memiliki stadion khusus di mana hanya pemain wanita, ofisial dan penonton yang hadir, dengan alasan itu akan memicu kemarahan publik.
"Kami menuntut liga perempuan ditunda sehingga para pemain tidak akan mendapat respons negatif dari warga Aceh," kata Teungku.
Saat ini di Aceh, sekitar 30 pemain wanita yang antusias berpartisipasi dalam uji coba seleksi, dan sebuah tim akan segera dipilih untuk mewakili provinsi tersebut di liga nasional.
Penyelenggara mengatakan para pemain telah mematuhi peraturan syariah termasuk mengenakan kemeja lengan panjang dan jilbab yang menutupi kepala.
"Mereka mengenakan pakaian Muslim dengan benar dan mereka bermain sepak bola dengan normal, mereka tidak melanggar hukum syariah," kata ketua komite Ishak Rizal kepada AFP.
Dia mengatakan beberapa pemain wanita muda telah berlatih selama dua tahun dan bahkan berpartisipasi dalam kompetisi regional di mana mereka telah memenangkan trofi.
Panitia masih berusaha meyakinkan ulama dan masyarakat bahwa sepak bola wanita tidak melanggar hukum syariah Islam, kata Rizal.
"Namun, kami akan menerima apa pun yang diputuskan oleh pemerintah daerah. Kami akan mematuhi jika mereka mengikuti rekomendasi para ulama," katanya.
Aceh adalah satu-satunya wilayah di Indonesia dengan hukum Islam dan cambuk di muka umum adalah hukuman yang umum untuk berbagai pelanggaran, termasuk menjual alkohol, perzinahan, dan hubungan sesama jenis.
Bulan lalu MUI Aceh mengeluarkan fatwa terhadap game online yang sangat populer tapi brutal, PlayerUnknown's Battlegrounds (PUBG) karena khawatir hal itu memicu kekerasan dunia nyata.
Indonesia, dengan populasi sekitar 270 juta orang, sebagian besar adalah penggila sepak bola dan liga profesional pria papan atas sangat digemari penonton ditandai habisnya penjualan tiket.
Pada Minggu, Amerika Serikat mengalahkan Belanda 2- 0 di Prancis untuk memenangkan final piala wanita keempat beruntun mereka.
Di AS saja, lebih banyak orang menonton pertandingan di TV daripada menonton Final Piala Dunia 2018 seperti dikutip AFP yang dilansir MailOnline.
LESS THAN A WEEK after the women's world cup football final drew record crowds and global TV audiences, clerics in a hardline Islamist Indonesian province said attempts to revive the game in the country were "forbidden" unless men were excluded entirely.
"We are not against female soccer at all, however, if the facilities are not ready, female soccer is considered haram (forbidden)," Teungku Faisal Ali, vice-chairman of the Islamic clerical body in Aceh told AFP Tuesday.
Aceh, on the northern tip of Indonesia's Sumatra island, is the only province in the world's most populous Muslim nation to officially practice Islamic Sharia law.
Considered the 7th Century landing place for Islam on the archipelago, it was granted semi-autonomous status in 2001 after decades of rebellion against the moderate national government.
Indonesian sports authorities are attempting to revive the sport among women in the country by forming a national league, but the Ulema Council in Aceh called on the government to cancel the plan, citing the lack of facilities for female-only matches.
The council said it should only be allowed if the province had a special stadium where only women players, match officials and spectators were present, arguing it would otherwise trigger public anger.
"We demand the women's league be postponed so the players will not get a negative response from Aceh people," Teungku said.
Already in Aceh, some 30 enthusiastic women players have participated in a selection trial, and a team is due to be picked shortly to represent the province in the national league.
Organisers said the players had complied with sharia regulation including wearing long-sleeved shirts and head-covering hijabs.
"They dressed properly in Muslim attire and they played soccer normally, they did not violate sharia law," committee head Ishak Rizal told AFP.
He said some young female players had trained for two years and even participated in regional competitions where they had won a trophy.
Organisers were still trying to convince the clerics and the public that female soccer does not breach Islamic sharia law, Rizal said.
"However, we will accept whatever is decided by the local government. We will comply if they follow the ulemas' recommendation," he said.
Aceh is the only region in Indonesia with Islamic law and where public flogging is a common punishment for a range of offences, including selling alcohol, adultery, and gay sex.
Last month the ulema council issued a fatwa against a hugely popular but brutal online game PlayerUnknown's Battlegrounds (PUBG) over fears it incited real-world violence.
Indonesia, with a population of around 270 million people, is football mad and the top professional men's league attracts sell-out crowds of men and women.
On Sunday the United States beat the Netherlands 2-0 in France to win their fourth consecutive women's cup final.
In the US alone, more people watched the match on TV than watched the 2018 men's world cup final.