Garuda Peringkat 31, Riset Traveloka Pilih Maskapai Paling ´Ramah Teknologi` Sejagat
Study Research Revealed the Top 50 Most `Tech Friendly` Airlines in the World
Editor : Ismail Gani
Translator : Novita Cahyadi

PUBLISHED: Kamis, 27 September 2018 , 21:24:00 WIB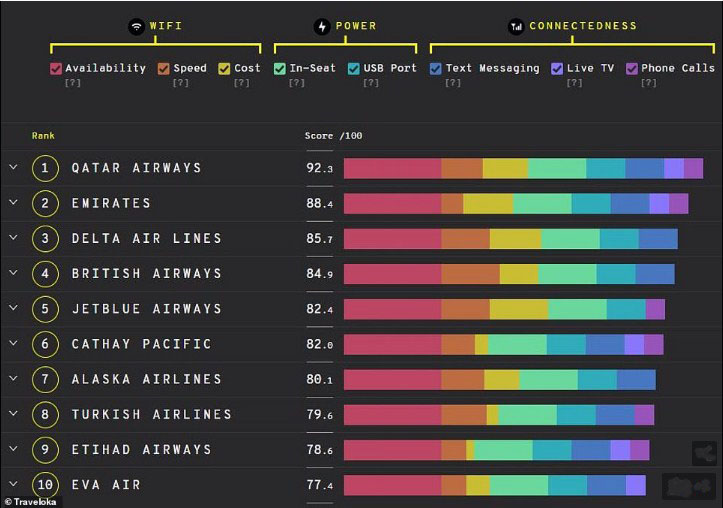 Hasil pemeringkatan ini diumumkan oleh biro perjalanan online, Traveloka, yang berbasis di Indonesia dengan memilih 50 maskapai penerbangan paling ´ramah teknologi´ di dunia (Tabel & Data: MailOnline)
MASKAPAI penerbangan dengan layanan teknologi informasi di kabin penumpang (on-board) terbaik sejagat telah diumumkan - dan Qatar Airways berada di peringkat teratas. Garuda Indonesia di peringkat 31 di atas Thai Airways dan di bawah Japan Airlines.
Maskapai milik BUMN Qatar bersaing ketat dengan Emirates, yang berada di peringkat kedua.
Delta yang berbasis di AS mendapat peringkat ketiga sementara British Airways di urutan keempat.
Hasil pemeringkatan ini diumumkan oleh biro perjalanan online, Traveloka, yang berbasis di Indonesia dengan memilih 50 maskapai penerbangan paling ´ramah teknologi´ di dunia.
Indikator utama adalah ketersediaan fasilitas Wi-Fi, koneksi listrik dan bagaimana penumpang yang terhubung dapat tetap berkomunikasi dengan orang-orang di darat melalui pesan singkat, panggilan telepon dan live TV.
Qatar Airways dipuji karena menyediakan layanan ´super Wi-Fi´ awal tahun ini, yang menawarkan kecepatan hingga 50 Mbps.
Penumpang di pesawat juga ditawarkan jam pertama akses broadband berkecepatan tinggi secara gratis atau dapat membeli penggunaan tak terbatas selama berada di kabin pesawat hanya Rp150.000.
Emirates di peringkat kedua diapresiasi atas layanan hiburan selama penerbangan, yang menurut hasil riset Traveloka mencakup 3.500 saluran film, acara TV, musik, game dan siaran langsung TV dari CNN International, CNBC, BBC World Service, dan Sport24.
Maskapai yang berbasis di Dubai ini menyediakan Wi-Fi gratis berkecepatan 20 Mb untuk penumpang yang berlaku gratis selama dua jam.
Delta Air Lines mengamankan tempatnya di dekat bagian atas peringkat setelah penelitian menemukan itu menawarkan mobile messaging gratis melalui WhatsApp, Facebook Messenger dan iMessage seperti dilansir MailOnline.
Caesar Indra, SVP untuk pengembangan bisnis di Traveloka, mengatakan: "tidak beralasan untuk mengasumsikan maskapai penerbangan dengan reputasi terbaik atau kursi termahal akan menawarkan hiburan dalam penerbangan dan Wi-Fi terbaik, hasil riset Traveloka membuktikan hal itu."
Bahkan, beberapa operator yang tergolong berbiaya murah, seperti JetBlue Airways, menyediakan layanan koneksi yang tergolong andal seperti dilansir MailOnline.
´Di seluruh maskapai, kami mendapati maskapai penerbangan berjuang untuk mendapatkan keunggulan kompetitif dengan melakukan perbaikan layanan teknologi komunikasi mereka.
´Dari Qatar Airlines´ dengan "Super Wi-Fi" yang diluncurkan awal tahun ini hingga fasilitas pesan singkat gratis dari Delta, Traveloka berharap akan mendapati lebih banyak layanan yang dibutuhkan penumpang di tahun-tahun mendatang."
THE AIRLINES with the best on-board tech have been revealed - and it´s Qatar Airways that is top.
The state-owned flag carrier narrowly beat Emirates, which came second in the ranking.
US-based Delta is rated third while British Airways came fourth.
The study was carried out by travel booking platform Traveloka, which ranked the top 50 most ´tech friendly´ airlines in the world.
It rated the carriers on on-board Wi-Fi, power connections and how connected passengers can stay to those on the ground via text messages, phone calls and live TV.
Top-rated Qatar Airways was praised for launching ´super Wi-Fi´ earlier this year, which boasts speeds of up to 50 Mbps.
Passengers on board are also offered their first hour of high-speed broadband access for free or can buy unlimited usage for the duration of their flight for $10 (£7.60).
Second place Emirates was also singled out for its selection of in-flight entertainment, which the study found includes 3,500 channels of movies, TV shows, music, games and live TV from CNN International, CNBC, BBC World Service and Sport24.
The Dubai-based carrier provides 20MB of free Wi-Fi for passengers that has to be used within two hours.
Delta Air Lines secured its spot near the top of the ranking after the study found it offered free mobile messaging via WhatsApp, Facebook Messenger and iMessage.
Caesar Indra, SVP for business development at Traveloka, said: ´It´s not unreasonable to assume the airlines with the best reputation or most expensive seats will offer the best in-flight entertainment and Wi-Fi, but our research proves this isn´t always the case.
´In fact, some budget-friendly carriers, such as JetBlue Airways, are going above and beyond to guarantee their customers reliable connectivity.
´Across the board, we´re seeing airlines striving to gain a competitive edge by making improvements to their tech offerings.
´From Qatar Airlines´ "Super Wi-Fi" which was launched earlier this year to Delta´s free mobile messaging perks, we hope to continue to see more of the same in the coming months and years.´