Pesawat Perintis Angkut 9 Penumpang Diduga Jatuh di Papua
Light Plane with 9 People aboard Reported Missing in Papua
Editor : Ismail Gani
Translator : Novita Cahyadi

PUBLISHED: Sabtu, 11 Agustus 2018 , 21:26:00 WIB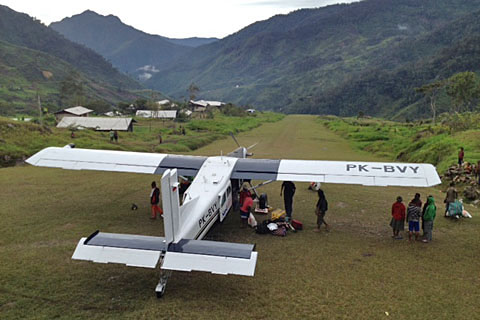 Foto: pc-6.com
SEBUAH pesawat perintis mengangkut sembilan penumpang dilaporkan hilang pada Sabtu di wilayah pegunungan di Papua, otoritas berwenang tengah mengirim kelompok pencari ke lokasi hilang kontak pesawat dengan menara pengawas.
Pesawat Dimonin Air, Pilatus PC-6 Porter buatan Swiss berada sekitar 42 menit penerbangan dari Tanah Merah di distrik Boven Digul ke Oksibil, ibukota distrik Pegunungan Bintang, berbatasan dengan Papua Nugini.
Kapolres Pegunungan Bintang, AKBP Michael Mumbunan mengatakan, pesawat dengan dua pilot dan tujuh penumpang kehilangan kontak setelah berkomunikasi dengan menara kontrol di Oksibil tepat sebelum mendarat Sabtu sore.
Dia mengatakan pencarian sedang dilakukan, tetapi hal itu diperkirakan akan membutuhkan waktu berjam-jam bagi tim penyelamat untuk tiba di lokasi kecelakaan setelah penduduk sebuah desa melaporkan bahwa mereka mendengar suara keras diikuti ledakan.
Daftar kru dan penumpang menunjukkan bahwa salah satu penumpang adalah seorang anak-anak.
Pesawat terbang adalah satu-satunya cara praktis untuk mengakses banyak wilayah di provinsi-provinsi paling timur pegunungan dan hutan di Papua dan Papua Barat.
Indonesia, negara kepulauan terbesar di dunia, dengan lebih dari 260 juta orang kerap didera kecelakaan transportasi di darat, laut dan udara lantaran padatnya penumpang angkutan laut, infrastruktur menua dan standar keselamatan seperti dikutip Associated Press yang dilansir MailOnline.
A LIGHT COMMERCIAL aircraft with nine people on board was reported missing Saturday in a mountainous region of Indonesia´s easternmost province of Papua, with officials sending a search party toward a possible crash site.
Dimonin Air´s Swiss-made Pilatus PC-6 Porter plane was on an estimated 42-minute flight from Tanah Merah in Boven Digul district to Oksibil, the district capital of Pegunungan Bintang, bordering Papua New Guinea.
Local police chief Lt. Col. Michael Mumbunan said the plane with two pilots and seven passengers aboard lost contact after communicating with the control tower in Oksibil just before it was due to land Saturday afternoon.
He said a search was underway, but it would take rescuers hours to arrive at a suspected crash site where villagers reported they heard loud sounds and an explosion.
A list of crew and passengers showed that one of the passengers was a child.
Airplanes are the only practical way of accessing many areas in the mountainous and jungle-clad easternmost provinces of Papua and West Papua.
Indonesia, the world´s largest archipelago nation, with more than 260 million people, has been plagued by transportation accidents on land, sea and air because of overcrowding on ferries, aging infrastructure and poorly enforced safety standards.