Menteri Susi Diminta Berhenti Ledakkan Kapal Nelayan Asing Pencuri Ikan
Indonesian Minister Urged to Stop Destroying Illegal Fishing Boats
Editor : Ismail Gani
Translator : Novita Cahyadi

PUBLISHED: Rabu, 10 Januari 2018 , 21:32:00 WIB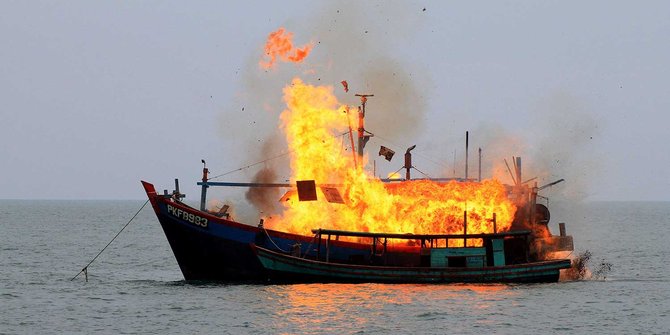 Foto: istimewa
MENTERI Kelautan dan Perikanan RI didesak untuk menghentikan tindakan meledakkan kapal penangkap ikan asing yang beroperasi secara ilegal, karena kebijakan tersebut dapat menganggu hubungan diplomatik dalam industri perikanan.

Menteri terpopuler, Susi Pudjiastuti, pemerintah Indonesia telah menghancurkan ratusan kapal penangkap ikan ilegal asing sejak 2014, di antaranya kapal China, Thailand dan Vietnam, dalam upaya melindungi cadangan ikan nasional dan melindungi nelayan Indonesia.

Namun Wakil Presiden Jusuf Kalla mengatakan kebijakan tersebut dapat mempengaruhi hubungan dengan negara lain.

"Menurut pandangan pemerintah, sudah cukup," kata Kalla, dalam komentar yang dilaporkan oleh harian Kompas dan dikonfirmasi oleh juru bicaranya. "Ini menyangkut hubungan kita dengan negara lain."

Pada tahun 2015, China menyatakan "perhatian serius" ketika salah satu kapal penangkap ikannya berada di antara 41 kapal yang diledakkan oleh Indonesia.

Kamar Dagang Indonesia (Kadin) mengeluh pada Selasa bahwa pendekatan dan apa yang disebutnya kurangnya fokus pada kebijakan konstruktif telah merusak industri perikanan, dan ekspor produk perikanan menurun.

"Kami meminta pemerintah untuk memperhatikan aspek produksi ... dan untuk meningkatkan investasi di sektor ini," kata anggota dewan senior Kadin, Yugi Prayanto.

Susi Pudjiastuti secara konsisten menempatkan diri sebagai menteri paling populer di Indonesia sejak mulai menjabat pada 2014, sebagian besar karena pendekatannya yang kuat untuk menangani penangkapan ikan ilegal dan kisah-kisahnya yang menarik perhatian publik.

Menteri yang vokal tersebut juga telah menjadi ´bintang´ di media sosial untuk posting dan foto-foto candid ketika tengah mengayuh dayung atau berjogeet di atas kapal.

Seorang mantan pengusaha perikanan, menyatakan dukungan pada Menteri Susi Pudjiastuti dalam sebuah video yang diunggah ke YouTube, dengan mengatakan bahwa itu bukan sekadar kebijakan ´populis´ namun lebih karena amanat undang-undang.

"Ini bukan ide ... atau hobi Susi Pudjiastuti atau Presiden Jokowi," katanya, menggunakan julukan presiden.

"Presiden Jokowi memerintahkan untuk melaksanakan undang-undang perikanan sehingga pencurian besar-besaran ikan Indonesia bisa berakhir."

Industri perikanan Indonesia menderita kerugian hampir 200 miliar rupiah ($ 14,89 juta) setiap tahun karena penangkapan ikan secara ilegal, menurut Pudjiastuti seperti dikutip Reuters yang dilansir MailOnline.
SENIOR government and business officials on Wednesday urged Indonesia´s fisheries minister to stop blowing up foreign boats caught fishing illegally, saying the policy could hurt diplomatic ties and the fisheries industry.

Under the popular minister, Susi Pudjiastuti, Indonesia has destroyed hundreds of foreign illegal vessels since 2014, among them Chinese, Thai and Vietnamese boats, in an effort to protect domestic fish stocks and fishermen.

But Vice President Jusuf Kalla said the policy could affect relations with other countries.

"In the view of the government, it´s enough already," Kalla said, in comments reported by the daily newspaper Kompas and confirmed by his spokesman. "This concerns our relations with other countries."

In 2015, China expressed "serious concern" when one of its fishing vessels was among 41 blown up by Indonesia.

The Indonesian Chamber of Commerce complained on Tuesday that the approach and what it termed a lack of focus on constructive policies had damaged the fisheries industry, with exports of fishing products declining.

"We ask the government to pay attention to the production aspects ... and to raising investment in the sector," said a senior chamber member, Yugi Prayanto.

Pudjiastuti has consistently ranked as Indonesia´s most popular minister since taking office in 2014, largely because of her robust approach to tackling illegal fishing and her rags-to-riches story.

The outspoken minister has also won a large following on social media for candid posts and photographs showing her paddle boarding or dancing to the Beatles aboard a ship.

A former fisheries entrepreneur, Pudjiastuti defended the policy in a video uploaded to YouTube, saying it was not her "trademark" policy but rather mandated by the law.

"This is not an idea ... or hobby of Susi Pudjiastuti or President Jokowi," she said, using the president´s nickname.

"President Jokowi ordered the government to execute the fisheries law so that the massive theft of Indonesia´s fish can end."

The fishing industry suffers losses of nearly 200 billion rupiah ($14.89 million) every year because of illegal fishing, according to Pudjiastuti. ($1=13,434.0000 rupiah).