Lebaran Hari ke-2, Festival Barong Ider di Banyuwangi Dibuka Menpar Arief Yahya
Festival Barong Ider Interesting Cultural Attractions of Indonesia`s Banyuwangi
Editor : M. Achsan Atjo
Translator : Dhelia Gani

PUBLISHED: Sabtu, 16 Juni 2018 , 21:38:00 WIB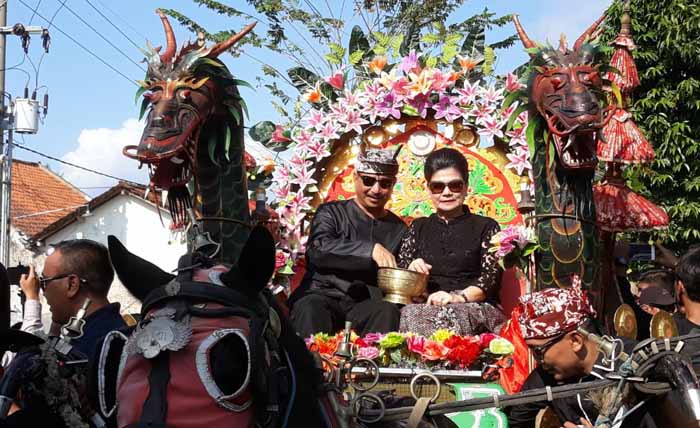 Menpar Arief Yahya beserta istri mengenakan baju adat Osing memasuki area festival di atas barong bersayap yang ditempatkan di atas bendi melalui pintu desa (Foto: B2B/LarOs)
Banyuwangi, Jatim (B2B) - Perayaan Hari Raya Idul Fitri 1439 H di Kabupaten Banyuwangi, Provinsi Jawa Timur lebih meriah pada 2 Syawal, Lebaran hari kedua, warga setempat berbaur dengan pemudik dan wisatawan berbondong datang ke Desa Kemiren, Kecamatan Glagah, untuk menyaksikan ´Festival Barong Ider´ yang juga dihadiri oleh Menteri Pariwisata Arief Yahya didampingi Bupati Abdullah Azwar Anas.
Menpar Arief Yahya beserta istri mengenakan baju adat Osing memasuki area festival di atas barong bersayap yang ditempatkan di atas bendi melalui pintu desa hingga ke pintu ke luar desa sejauh dua kilometer, yang dikenal sebagai tempat ´mangku barong´.
Ratusan warga berpakaian khas adat Osing, didominasi warna hitam mengiringi kehadiran ´tamu kehormatan´ dari Kabinet Kerja Presiden Joko Widodo untuk membuka festival tahunan khas Banyuwangi yang sudah berlangsung sejak ratusan tahun lalu di Desa Kemiren.
"Apa yang dilakukan warga Desa Kemiren dengan mengangkat tradisinya sebagai atraksi budaya, sangat tepat untuk mendukung pengembangan pariwisata. Ini penting, karena sebagian besar wisatawan asing datang ke Indonesia karena tertarik pada budaya," kata Arief Yahya, yang sedang mudik ke kampung halamannya di Kelurahan Panderejo, Kecamatan Banyuwangi.
Ketua Adat Desa Kemiren, Suhaimi mengatakan Festival Barong Ider adalah tradisi budaya yang berlangsung sejak ratusan tahun lalu.
"Tujuannya untuk bersih-bersih kampung agar terhindar dari bala dan petaka," kata Suhaimi seperti dilaporkan Septalina P, anggota dari perkumpulan warga Banyuwangi yang tersebar di seluruh Indonesia, Lare Osing disingkat LarOs kepada B2B.
Sementara Bupati Azwar Anas mengakui dampak ekonomi dari atraksi budaya tersebut terhadap Banyuwangi, khususnya hotel berbintang dan penginapan di Banyuwangi yang fully booked.
Banyuwangi of East Java (B2B) - - The celebration of Islamic holiday, Eid al-Fitr or Lebaran in Banyuwangi district of East Java province, more lively on 2 Syawal, Lebaran the second day, residents mingle with travelers and tourists come to Kemiren village in Glagah subdistrict to attend the Barong Ider Festival which was also attended by Tourism Minister Arief Yahya accompanied by Regent Abdullah Azwar Anas.
Minister Yahya and wife wearing customary clothes Osing entered the festival area over the barong wing that was placed through the village area as far as two km.
Hundreds of people dressed in typical Osing customs, dominated black color accompany the minister of Indonesia´s Joko Widodo administration to open a typical annual festival in Banyuwangi that has been going on since hundreds of years ago in Kemiren village.
"The tradition of Kemiren villagers is very appropriate to support the development of Indonesian tourism by the cultural tourism aspect. This is important, because most foreign tourists come to Indonesia because they are interested in culture," Minister Yahya said.
Village traditional chairman, Suhaimi said Barong Ider Festival is a cultural tradition that took place hundreds of years ago.
"The goal of festival is to clean the village to avoid disaster," said Suhaimi as reported Septalina Pradini, Banyuwangi residents who live in Bogor to B2B via short message online.
While Regent Azwar Anas explained about the economic impact of cultural attractions on Banyuwangi, especially hotels and inns in Banyuwangi fully booked.