Ancaman Demam Babi, Festival Anyar di Danau Toba Disorot Media Asing
Swine Fever: New Indonesian Festival Celebrates Pigs
Editor : Ismail Gani
Translator : Novita Cahyadi

PUBLISHED: Sabtu, 09 November 2019 , 21:59:00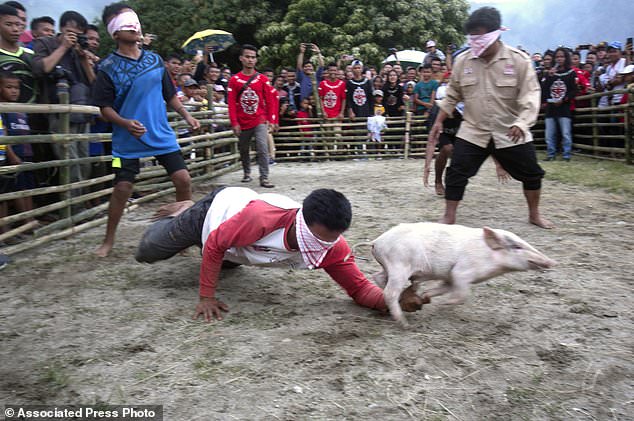 FESTIVAL PERDANA: Acara yang diadakan untuk pertama kalinya akhir Oktober lalu, menarik lebih dari seribu orang dari desa-desa terdekat dan beberapa wisatawan. [Foto: Associated Press/MailOnline]
POLEMIK tentang wisata halal Danau Toba yang digagas Gubernur Sumatera Utara, Edy Rahmayadi disikapi warga dari tujuh kabupaten yang bermukim di kawasan 'danau vulkanik terbesar di dunia' dengan menggelar festival babi yang dikatakan sebagai respons terhadap upaya promosi pariwisata halal di Danau Toba, menjadi sorotan media asing.
Festival anyar ini menampilkan kompetisi dalam memanggang, memanggil babi dan menangkap babi serta musik live dan hiburan lainnya. Penyelenggara mengatakan acara itu adalah bagian dari budaya komunitas Kristen yang sebagian besar tinggal di Danau Toba. Sementara saat ini negara-negara di kawasan Asia Tenggara khawatir pada penyebaran Demam Babi Afrika [African swine fever].
Danau Toba adalah salah satu destinasi wisata yang dipromosikan Pemerintah RI melalui Program "10 Bali baru", yang bertujuan untuk meningkatkan pariwisata dan diversifikasi ekonomi terbesar di Asia Tenggara. Indonesia adalah negara sekuler, sekaligus negara dengan populasi Muslim terbesar di dunia seperti dikutip Associated Press.
Penganut Kristen di kawasan Danau Toba mengatakan mereka khawatir akan ada upaya untuk mempromosikan danau itu sebagai tempat pariwisata halal. Wisata halal bertujuan untuk menarik keluarga Muslim dengan memenuhi persyaratan Islam terutama tanpa alkohol, makanan bersertifikat dan fasilitas kolam renang terpisah pria dan wanita, yang berkembang menjadi polemik setelah digagas oleh Gubernur Sumut, Edy Rahmayadi, yang diusung oleh lima parpol yakni Gerindra, Golkar, PKS, PAN dan Nasdem.
Babi dalam ajaran Islam dinyatakan sebagai hewan najis dan haram dikonsumsi. Dengan memulai festival merayakan binatang itu, panitia mengatakan mereka dapat merayakan budaya mereka sendiri dan memprotes rencana pariwisata halal.
Acara yang diadakan untuk pertama kalinya akhir Oktober lalu, menarik lebih dari seribu orang dari desa-desa terdekat dan beberapa wisatawan. Penyelenggara festival mengatakan mereka berencana menjadikannya sebagai acara tahunan.
Sementara Pemerintah RI membantah adanya rencana mempromosikan pariwisata halal di Danau Toba seperti dilansir MailOnline.
Danau Toba, yang diciptakan oleh ledakan vulkanik, memiliki panjang 100 kilometer, lebar 30 kilometer dan kedalaman sekitar 500 meter.
CHRISTIAN residents in Muslim-majority Indonesia's remote Lake Toba region have launched a new festival celebrating pigs that they say is a response to efforts to promote halal tourism in the area.
The festival features competitions in barbecuing, pig calling and pig catching as well as live music and other entertainment. Organizers say the events are part of the culture of the largely Christian community that lives in the area.
Lake Toba is one of the destinations that the government is promoting under its "10 new Balis" program, which aims to boost tourism and diversify Southeast Asia's largest economy. Indonesia is a secular nation, but it is also the world's most populous Muslim-majority nation.
Christians in the Lake Toba area say they are worried that efforts will be made to promote the lake as halal tourism spot. Halal tourism aims to attract Muslim families by meeting their religious and dietary requirements - including no alcohol, certified food and facilities such as segregated swimming pools.
Pigs are considered unclean animals in Islam and the consumption of pork is prohibited. By starting a festival celebrating the animal, organizers say they can both celebrate their own culture and protest plans for halal tourism.
The event, held for the first time late last month, attracted more than a thousand people from nearby villages and some tourists. Organizer say they plan to make it an annual event.
The government has denied it is promoting halal tourism.
Lake Toba, created by a volcanic explosion, is 100 kilometers (62 miles) long, 30 kilometers (19 miles) wide and about half-a-kilometer (1,640 feet) deep.