Sriwijaya Air SJ182 Diperkirakan Jatuh dari Ketinggian 10 Ribu Kaki
Boeing 737 jet with 62 People Onboard `Crashes` after `Falling 10,000ft` in Indonesia
Editor : M. Achsan Atjo
Translator : Novita Cahyadi

PUBLISHED: Sabtu, 09 Januari 2021 , 22:32:00 WIB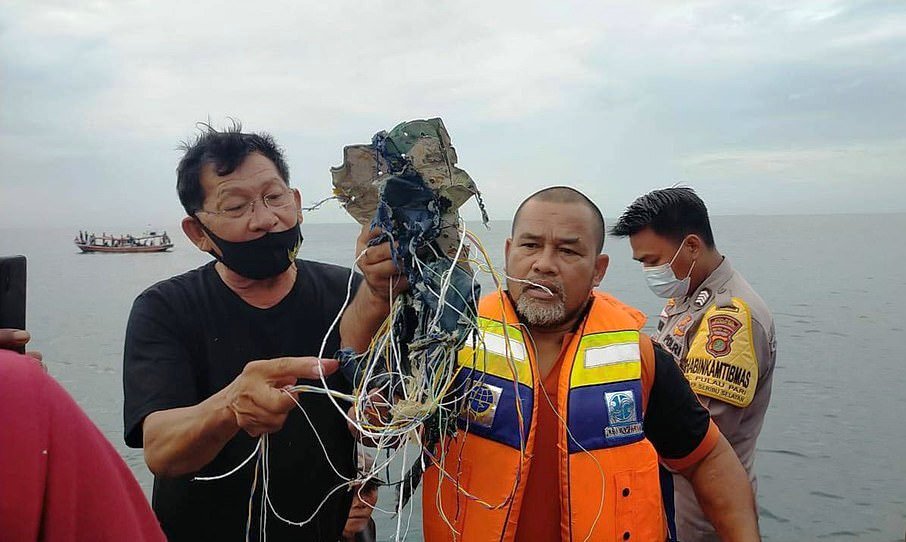 PUING PESAWAT: Keluarga penumpang dan awak kabin khawatir keadaan lebih buruk setelah tim penyelamat yang mencari jet itu mengatakan telah menemukan puing-puing yang dicurigai di wilayah Kepulauan Seribu [Foto: MailOnline]
PESAWAT jet penumpang Boeing 737 mengangkut 62 orang di dalamnya jatuh ke laut dari ketinggian 10.000 kaki tak lama setelah lepas landas dari Jakarta, seperti dilaporkan.

Pesawat Sriwijaya Air lepas landas dari Jakarta, pada Sabtu [9/1] saat menuju ke Pontianak, ibukota Provinsi Kalimantan Barat ketika kehilangan kontak dengan ruang kendali.

Pesawat - diyakini Boeing B737-500 - diketahui jatuh dari ketinggian 10.000 kaki dalam waktu kurang dari 60 detik hanya empat menit setelah lepas landas.

Dikhawatirkan ada 62 orang di pesawat itu, termasuk 56 penumpang - tujuh di antaranya anak-anak dan tiga bayi - serta dua pilot dan empat awak kabin tewas.

Keluarga penumpang dan awak kabin mengkhawatirkan keadaan yang lebih buruk setelah tim penyelamat yang mencari jet itu mengatakan telah menemukan puing-puing yang dicurigai di wilayah Kepulauan Seribu.

Maskapai Indonesia Sriwijaya Air masih mendapatkan informasi lebih lanjut sebelum mengeluarkan pernyataan.

Pernyataan resmi Kementerian Perhubungan RI pada Sabtu menyatakan: "Sebuah pesawat Sriwijaya (maskapai) dari Jakarta ke Pontianak (di Pulau Kalimantan) dengan nomor penerbangan SJY182 telah kehilangan kontak," kata juru bicara Kemenhub Adita Irawati.

"Terakhir melakukan kontak pada 14:40."

Waktu penerbangan biasanya sekitar 90 menit.

Maskapai bertarif hemat tersebut mengatakan sedang menyelidiki musibah yang terjadi.

Badan SAR Nasional [Basarnas] dan Komisi Nasional Keselamatan Transportasi [KNKT] juga sedang melakukan penyelidikan, kata Adita Irawati.

Pada Oktober 2018, 189 orang tewas setelah pesawat Lion Air jenis Boeing 737 MAX jatuh di Laut Jawa sekitar 12 menit setelah lepas landas dari Jakarta dalam penerbangan rutin satu jam.

Kecelakaan itu - dan penerbangan fatal berikutnya di Ethiopia - membuat Boeing terkena denda US$2,5 miliar atas klaim itu menipu regulator yang mengawasi model 737 MAX, yang dilarang terbang di seluruh dunia setelah dua kecelakaan mematikan itu seperti dilansir MailOnline.
A BOEING 737 passenger jet with 62 people onboard has disappeared over the sea after plummeting 10,000 feet shortly after takeoff from Jakarta, reports claim.

The Sriwijaya Air plane took off from the Indonesian capital on Saturday and was heading to Pontianak in West Kalimantan province when it lost contact with the control room, according to local media reports.

The plane - believed to be a Boeing B737-500 - is understood to have fallen 10,000 feet in less than 60 seconds just four minutes after it took off.

There are feared to be 62 people on the plane, including 56 passengers - seven of whom are children and three are babies - as well as two pilots and four cabin crew.

And families are now fearing the worse after rescuers looking for the jet say they have discovered suspected debris in the ocean north of the capital.

Indonesian airline Sriwijaya Air is still is still getting more information before issuing a statement.

Indonesia's transport ministry said on Saturday: 'A Sriwijaya (Air) plane from Jakarta to Pontianak (on Borneo island) with call sign SJY182 has lost contact,' said ministry spokesman Adita Irawati.

'It last made contact at 2:40 pm (0740 GMT).'

The usual flight time is about 90-minutes.

The budget airline said only it was investigating the incident.

Indonesia's search and rescue agency and the National Transportation Safety Commission were also investigating, Irawati said.

In October 2018, 189 people were killed when a Lion Air Boeing 737 MAX jet slammed into the Java Sea about 12 minutes after take-off from Jakarta on a routine one-hour flight.

That crash - and a subsequent fatal flight in Ethiopia - saw Boeing hit with $2.5 billion in fines over claims it defrauded regulators overseeing the 737 MAX model, which was grounded worldwide following the two deadly crashes.