Sabu 1,6 Ton Diungkap BNN jadi Sorotan Dunia
Indonesia Seizes Record 1.6 tonnes of Crystal Methamphetamin
Editor : Ismail Gani
Translator : Novita Cahyadi

PUBLISHED: Rabu, 21 Februari 2018 , 22:41:00 WIB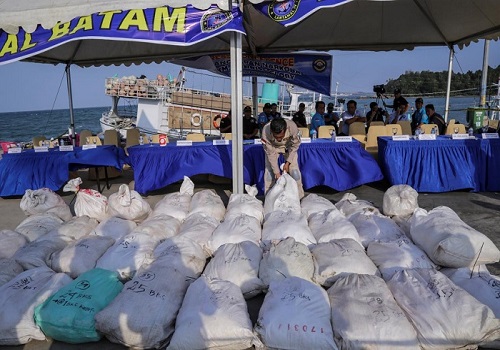 Foto: Reuters/MailOnline
POLISI dan Ditjen Bea dan Cukai berhasil mengungkap upaya penyelundupan 1,6 ton paket sabu di lepas pantai utara Pulau Batam, Kepulauan Riau pada Selasa.
Pemerintahan Presiden Joko Widodo disebut media asing berupaya keras memberantas perdagangan narkoba. Namun upayanya belum sebanding dengan perang berdarah terhadap perdagangan narkoba seperti di Filipina, setelah ribuan orang tewas dalam operasi pemberantasan narkoba.
Indonesia menerapkan undang-undang anti narkoba yang paling ketat di duia dan pelaku perdagangan narkoba terancam hukuman mati.
"Ini diperkirakan 1,6 ton dan ya, ini adalah rekor terbesar bagi kami," kata Sulistiandriatmoko.
Kantor PBB untuk Narkoba dan Kejahatan (UNODC) memperkirakan bahwa perdagangan sabu dan heroin Asia Tenggara bernilai US$31 miliar pada 2013.
Awal bulan ini, pihak berwenang Indonesia menyita lebih dari 1 ton sabu, juga di Batam, sebuah pusat industri kecil yang merupakan perjalanan feri singkat dari Singapura.
Kepala Badan Narkotika Nasional (BNN) Budi Waseso, mengatakan bahwa pihak berwenang telah bertindak berdasarkan tip dari pihak berwenang China dan Thailand dan bahwa pengiriman tersebut berasal dari Myanmar dalam sebuah kapal yang menyamar sebagai kapal nelayan.
"Sudah ke Australia ... dan masuk dan keluar perairan Indonesia beberapa kali, ini berarti kapal ini telah berulang kali masuk ke Indonesia membawa narkotika dalam jumlah besar," kata Budi Waseso yang akrab disapa Buwas.
Myanmar adalah bagian dari apa yang disebut Segitiga Emas yang bersimpangan dengan dengan Thailand dan Laos yang dikenal sebagai pusat industri narkoba di Asia Tenggara seperti dikutip Reuters yang dilansir MailOnline.
INDONESIA seized a record 1.6 tonnes of crystal methamphetamine from a ship off the northern island of Batam on Tuesday, a narcotics official said, the second major drug bust this month.
President Joko Widodo´s government has cracked down on trafficking in an effort to contain soaring consumption of crystal meth and other narcotics. But there has been no bloody war on drugs as in the neighbouring Philippines, where thousands of people have been killed in anti-drugs operations.
Indonesia has among the world´s strictest anti-narcotics laws and drug trafficking is punishable by death.
"It´s an estimated 1.6 tonnes and yes, this is a record seizure for us," said Sulistiandriatmoko, adding that details of its origin and destination were still under investigation.
The United Nations Office on Drugs and Crime (UNODC) estimates that Southeast Asia´s trade in methamphetamines and heroin was worth $31 billion in 2013.
Earlier this month, Indonesian authorities confiscated just over 1 tonne of crystal meth, known locally as ´shabu-shabu´, also in Batam, a small industrial hub a short ferry ride from Singapore.
Budi Waseso, head of the anti-narcotics agency, said authorities had acted on a tip from Chinese and Thai authorities and that the shipment had come from Myanmar in a vessel disguised as a fishing boat.
"It had been to Australia...and in and out of Indonesian waters several times. This means this ship had repeatedly entered Indonesia carrying large quantities of narcotics," Waseso said.
Myanmar is part of the so-called Golden Triangle where it meets Thailand and Laos and where drug production and trafficking is booming.