Pasca Rusuh Rutan Siak, 9 Narapidana Kabur masih Diburu Polisi
Indonesian Police Hunt Inmates after Mass Prison Break
Editor : Ismail Gani
Translator : Novita Cahyadi

PUBLISHED: Selasa, 14 Mei 2019 , 02:28:00 WIB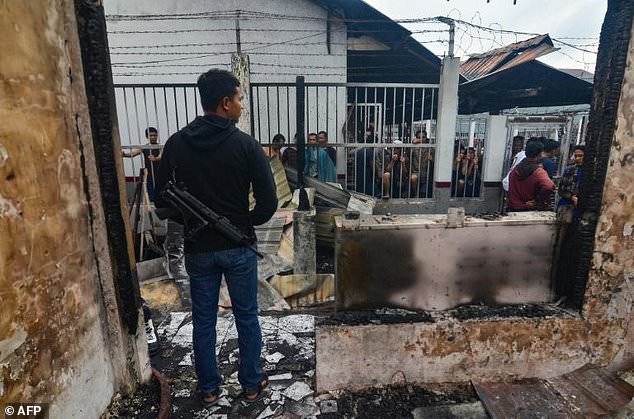 Foto: AFP/MailOnline
LEBIH DARI 100 tahanan melarikan diri dari penjara Provinsi Riau pada Sabtu, kata polisi, kasus terbaru narapidana kabur dari lembaga pemasyarakatan yang dipicu jumlah warga binaan Lapas melebihi kapasitas bui.
Rekaman di stasiun TV lokal menunjukkan gedung Lapas dilalap api.
Pihak berwenang melancarkan perburuan besar-besaran dan 115 tahanan telah ditangkap kembali pada pagi hari, kata Kapolda Riau, Irjen Widodo Eko Prihastopo.
Puluhan narapidana kabur dari Lapas yang menampung lebih dari 650 warga binaan, katanya.
"Polisi dengan bantuan dari anggota TNI dan masyarakat sekitar masih mencari napi yang kabur," kata Irjen Widodo EP.
Kerusuhan itu dipicu setelah penjaga memukuli beberapa tahanan yang ditangkap menggunakan sabu, kata polisi.
Tiga tahanan menderita luka tusuk dan seorang polisi ditembak selama kerusuhan, kata kantor kesehatan setempat kepada AFP.
Napi kabur dari Lapas sudah kerapkali terjadi di Indonesia, di mana narapidana sering ditahan dalam kondisi tidak bersih di penjara yang penuh sesak.
Ada serentetan pelarian pada 2013, termasuk di mana sekitar 150 tahanan - termasuk narapidana teror - melarikan diri dari penjara seperti dilansir MailOnline.
MORE THAN 100 inmates escaped from an Indonesian jail on Sumatra island on Saturday, police said, in the latest breakout to hit the country´s creaking prison system.
The prisoners fled the jail in Siak district on Sumatra island early in the morning after rioting and a fire broke out at the detention centre.
Footage on local TV stations showed the facility engulfed in flames.
Authorities launched a massive manhunt and 115 prisoners had been recaptured by late morning, Riau province police chief Widodo Eko Prihastopo said.
Dozens of detainees from a prison population of more nearly 650 remained at large, he added.
"Police with assistance from the army and surrounding community are still searching for the rest," Prihastopo said.
The rioting was triggered after guards beat several inmates who were caught using methamphetamine, police said.
Three detainees suffered stab wounds and a policeman was shot during the rioting, the local health office told AFP.
Jailbreaks are common in Indonesia, where inmates are often held in unsanitary conditions at overcrowded prisons.
There was a spate of breakouts in 2013, including one where about 150 prisoners -- including terror convicts -- escaped from a jail.