ASN Kerja di Luar Kantor, Bappenas Rancang Skema Kerja `Telecommuting`
Indonesian Govt will Implement the Telecommuting Work System for Civil Servants
Reporter : Rizki Saleh
Editor : Cahyani Harzi
Translator : Dhelia Gani

PUBLISHED: Rabu, 20 November 2019 , 23:03:00 WIB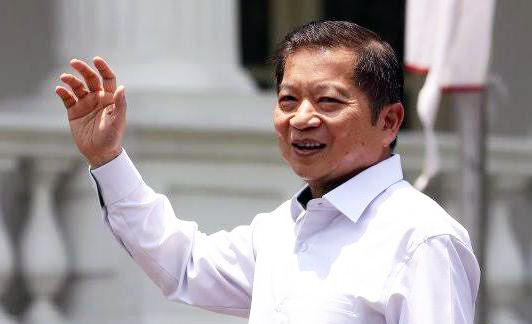 RAKER DPR RI: Menteri Perencanaan dan Pembangunan Nasional - Badan Perencanaan Pembangunan Nasional [Bappenas], Suharso Monoarfa [Foto: istimewa]
Jakarta [B2B] - Pemerintah RI tengah merancang kebijakan skema kerja aparatur sipil negara [ASN] tanpa harus datang ke kantor [telecommuting], yang akan dilakukan uji coba pada 1 Januari 2020 oleh 1.000 ASN di Kementerian Perencanaan dan Pembangunan Nasional - Badan Perencanaan Pembangunan Nasional [Bappenas].
Hal itu dikemukakan oleh Menteri PPN/Kepala Bappenas, Suharso Monoarfa kepada pers usai rapat kajian dengan Komisi V DPR RI di Jakarta, Rabu.
"Ada konsep, kalau kerja lebih enak yang fleksibel kan, nah mungkin generasi ke depan juga akan dengan cara-cara seperti itu, jadi kenapa nggak kita akomodir," kata Suharso Monoarfa.
Menurutnya, uji coba akan dilaksanakan pada 1 Januari 2020 oleh 1.000 ASN di Kementerian PPN/Bappenas.
"Konsep ibukota baru kita adalah smart city dan smart government. Bisa fleksibel dalam hal pekerjaan, tapi yang penting mereka bisa men-deliver pekerjaan, dan assignment-nya bahkan bisa me-reply bila ada yang kurang tepat dan seterusnya," kata Suharso.
Dia menambahkan, Bappenas telah menerapkan teknologi komputasi awan [iCloud], internet of things [IoT] hingga blockchain.
"Tidak semua pekerjaan harus berada di dalam gedung, mungkin nanti dirjen-dirjen tertentu tidak ada di ibukota, tapi tetap ada gedung bersama, ada ruang bersama yang bisa dipakai," katanya.
Jakarta [B2B] - The Indonesian government is designing a policy scheme for civil servant to work for telecommuting or without having to office which will be tested on January 1, 2020 by 1,000 civil servants in the Ministry of National Development Planning, according to the Minister Suharso Monoarfa.