Jet Tempur Prancis Mendarat Darurat di Aceh Disorot Dunia
7 French Fighter Jets make Emergency Landing in Indonesia
Editor : Ismail Gani
Translator : Novita Cahyadi

PUBLISHED: Minggu, 19 Mei 2019 , 23:45:00 WIB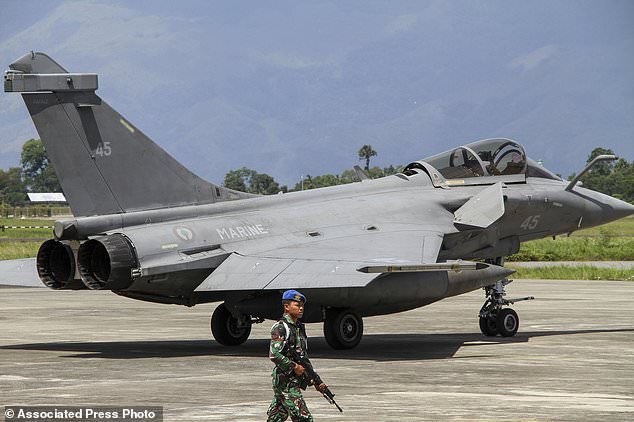 Foto: Associated Press/MailOnline
KONDISI cuaca yang buruk telah memaksa tujuh jet tempur angkatan laut Perancis yang tengah mengikuti latihan militer, harus melakukan pendaratan darurat di Provinsi Aceh, kata pejabat TNI AU pada Minggu.
Kru dari tujuh pesawat tempur Dassault Rafale mendarat dengan selamat di Pangkalan TNI AU [Lanud] Sultan Iskandar Muda di Provinsi Aceh pada Sabtu, 90 menit setelah lepas landas dari kapal induk mereka Charles de Gaulle di Samudra Hindia, kata Komandan Lanud Sultan Iskandar Muda di Blang Bintang, Aceh Besar, Aceh, Kolonel Pnb Hendro Arief.
"Kami harus membuka pangkalan kami agar mereka mendarat karena mereka berada dalam kondisi darurat karena cuaca buruk," kata Kolonel Pnb Hendro Arief.
Dia mengatakan radar angkatan udara mengonfirmasi bahwa pesawat-pesawat itu awalnya terbang keluar dari wilayah Indonesia ketika kabut dan cuaca buruk memaksa untuk segera mendarat setelah mencoba untuk kembali ke kapal induknya, yang terletak 100 mil laut di barat zona ekonomi eksklusif Sumatra.
Dan Lanud mengatakan personel angkatan udara Indonesia telah menyelesaikan inspeksi pesawat.
Lima dari tujuh jet kembali ke kapal induk mereka pada Minggu, sementara dua lainnya masih mengalami kendala teknis, kata Arief. Diplomat Prancis di Indonesia diberitahu tentang kejadian itu seperti dikutip Associated Press yang dilansir MailOnline.
POOR WEATHER conditions have forced seven French navy fighter jets taking part in a training exercise to make emergency landings in northern Indonesia, an Indonesian air force official said Sunday.
The crews of the seven Dassault Rafale combat planes landed safely at Sultan Iskandar Muda air force base in Aceh province on Saturday, 90 minutes after taking off from their aircraft carrier Charles de Gaulle in the Indian Ocean, said Aceh air force base commander Col. Hendro Arief.
"We had to open our base to them to land as they were in an emergency state due to bad weather," Arief said.
He said air force radar confirmed that the planes were initially flying out of Indonesian territory when fog and bad weather forced them to land immediately as they were trying to return to their aircraft carrier, located 100 nautical miles west of Sumatra´s exclusive economic zone.
Arief said Indonesian air force personnel had completed an inspection of the planes.
Five of the seven jets were returned to their carrier on Sunday, while the other two were still having technical problems, Arief said. French diplomats in Indonesia were informed of the incident.