Tiga Tewas dan 300 Dievakuasi, Feri KM Santika Nusantara Terbakar Disorot Dunia
Rescuers Confirm Three Killed, 300 Evacuated after Indonesian Ferry Fire
Editor : Ismail Gani
Translator : Novita Cahyadi

PUBLISHED: Minggu, 25 Agustus 2019 , 23:45:00 WIB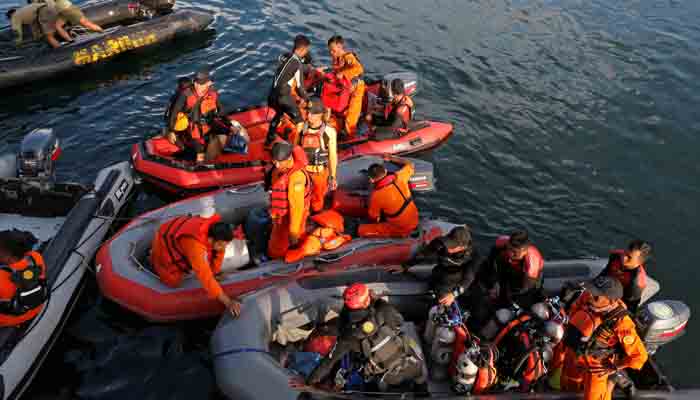 Foto: Reuters
TIM PENYELAMAT dari Badan SAR Nasional [Basarnas] mendapati tiga orang tewas dan 300 orang dievakuasi dari feri yang terbakar di perairan Laut Jawa, kata pejabat Basarnas pada Sabtu, jumlah penumpang selamat melebihi kapasitas penumpang yang terdaftar di manifes.
KM Santika Nusantara sedang melakukan perjalanan dari Surabaya di Jawa Timur ke kota Balikpapan di Kalimantan Timur ketika terbakar pada Kamis malam, kata pejabat pemerintah Syahrul Nugroho kepada saluran TV TV One. Awalnya dilaporkan kapal feri naas mengangkut 277 penumpang.
Pernyataan resmi dari Basarnas menyatakan bahwa pada Sabtu telah dikonfirmasi ada 303 orang penumpang, tiga di antaranya tewas.
"Pencarian akan berlanjut hari ini," kata pejabat Basarnas Budi Prasetyo kepada Reuters sebelumnya. Basarnas mengerahkan kapal-kapal dari pelabuhan terdekat dan pesawat terbang untuk pemantauan udara.
Prasetyo mengakui perbedaan dalam jumlah orang yang dikatakan berada di atas kapal dan mengatakan banyak penumpang tidak mencantumkan nama mereka di manifes feri.
Pejabat tidak memberikan perincian tentang kemungkinan penyebab kebakaran. Upaya penyelamatan dipersulit oleh manifes kapal yang hanya mencatat 111 penumpang, kata para pejabat.
Ketidakcocokan dalam data penumpang telah lama menjadi masalah di sektor transportasi Indonesia.
Feri adalah alat transportasi penting di Indonesia, yang terdiri dari sekitar 17.000 pulau.
Koneksi laut lebih murah dan lebih luas daripada transportasi udara. Namun, standar keselamatan tidak selalu ditegakkan secara ketat mengakibatkan sering terjadi kecelakaan seperti dikutip Reuters yang dilansir MailOnline.
INDONESIAN rescuers found three people dead and evacuated 300 from the blazing wreckage of a ferry off the coast of Java island, an official said on Saturday, significantly more than were originally said to have been on board the vessel.
The KM Santika Nusantara was travelling between Indonesia´s second-largest city of Surabaya and the town of Balikpapan on Borneo island when it caught fire on Thursday evening, government official Syahrul Nugroho told TV channel TV One. It was initially reported there were 277 people on board.
A statement from the Basarnas rescue agency said on Saturday it had been confirmed there were 303 people on board, three of whom were killed.
"The search will continue today," Basarnas official Budi Prasetyo told Reuters earlier. Basarnas deployed ships from nearby ports and an aircraft for air monitoring.
Prasetyo acknowledged the discrepancy in the number of people said to have been on board and said many passengers did not list their names on the ferry´s manifest.
Officials have given no details about the possible cause of the fire. Rescue efforts were complicated by the boat´s manifest listing only 111 passengers, officials said.
Mismatches in passenger data have been a long-standing problem in Indonesia´s transportation sector.
Ferries are an important means of transport in Indonesia, which is made up of some 17,000 islands.
Sea connections are cheaper and more extensive than air links. However, safety standards are not always strictly enforced and accidents occur fairly often.