Sambut Idul Adha, Jamsyar Salurkan 30 Ekor Sapi
Indonesia`s Jamkrindo Syariah Celebrate Eid al-Adha to Afford Animal Sacrifices
Reporter : Gusmiati Waris
Editor : Cahyani Harzi
Translator : Dhelia Gani

PUBLISHED: Senin, 19 Juli 2021 , 23:47:00 WIB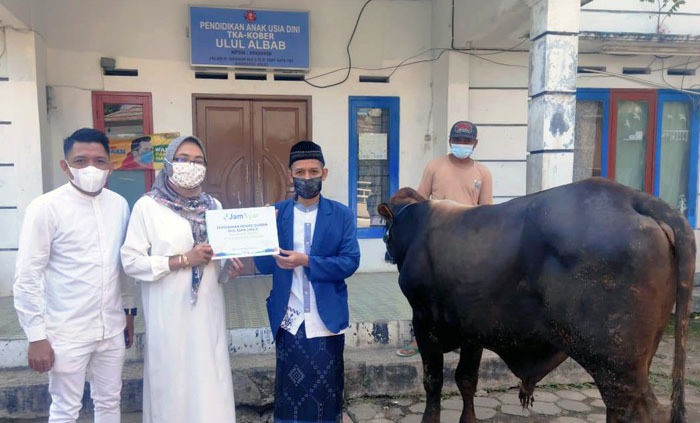 IDUL ADHA: Penyaluran kurban dari keluarga besar Jamsyar, diharapkan dapat membantu masyarakat di tengah pandemi Covid-19. [Foto: Humas Jamsyar]
Jakarta [B2B] - Sebanyak 30 ekor sapi disalurkan oleh keluarga besar PT Penjaminan Jamkrindo Syariah [Jamsyar] dalam rangka menyambut Hari Raya Idul Adha 1442 H.
"Alhamdulillah jumlah hewan kurban yang dikumpulkan dari seluruh keluarga besar Jamsyar tahun ini meningkat menjadi 30 ekor sapi, dari tahun sebelumnya sebanyak 23 ekor sapi." kata Direktur Utama Jamsyar, Gatot Suprabowo, dalam keterangan tertulisnya di Jakarta, Senin [19/7].
Gatot berharap, penyaluran kurban dari keluarga besar Jamsyar, dapat membantu masyarakat di tengah pandemi Covid-19. Penyerahan hewan kurban dilaksanakan serentak di seluruh wilayah kerja Jamsyar, baik kantor pusat maupun kantor unit pelayanan di luar Jakarta.
Kegiatan penyerahan hewan kurban untuk kantor Pusat Jamsyar yang terletak di Cempaka Putih Timur, Jakarta Pusat, melalui Badan Amil Zakat Nasional [BAZNAS] sekitar 6 ekor sapi kurban yang diwakili Pajar Saputra selaku Ketua Panitia Kurban Jamsyar yang disaksikan langsung Dirut Jamsyar Gatot Suprabowo serta beberapa wakil karyawan PT Jamsyar.
"Untuk penyerahan hewan sapi kurban pada masing-masing kantor layanan Jamsyar di luar Jakarta dilakukan oleh masing-masing kepala kantor dengan sebaran hewan kurban yang diserahkan, diantaranya : Aceh, satu ekor sapi; Medan, satu ekor sapi; Palembang, tiga ekor; Lampung, tiga ekor sapi; Bandung, satu ekor sapi; Semarang dua ekor sapi; Surabaya, satu ekor sapi; Balikpapan, satu ekor sapi; Banjarmasin, satu ekor sapi qurban; Makassar, satu ekor sapi; Mataram, sembilan ekor sapi," kata Dirut Jamsyar Gatot.
Jakarta [B2B] - Unit of sharia companies of a subsidiary of Credit Guarantee Indonesia Corp., locally known as the Jamkrindo, Jamkrindo Syariah called the Jamsyar involves slaughtering animals to commemorate the prophet Abraham´s willingness to sacrifice his son at God´s command, according to the presiden director.