Pesan dan Foto Terakhir Penumpang Sriwijaya Air SJ182
Investigator Said Plane could have Broken Apart when It Hit the Water
Editor : Ismail Gani
Translator : Novita Cahyadi

PUBLISHED: Selasa, 12 Januari 2021 , 03:18:00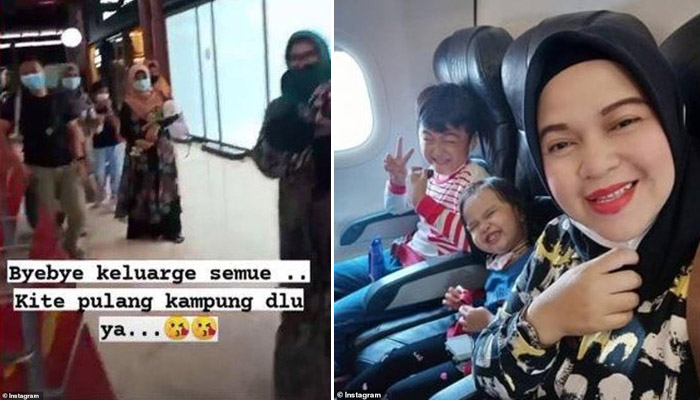 KENANGAN TERAKHIR: Ratih Windania mengunggah foto selfie dengan ketiga anaknya yang tertawa saat menuju pesawat yang akan segera lepas landas [Foto2: Reuters/MailOnline]
KOMITE Nasional Keselamatan Transportasi [KNKT] mengatakan, pesawat Sriwijaya Air yang jatuh ke Laut Jawa dengan 62 orang di dalamnya pada Sabtu pekan lalu [9/1] kemungkinan pecah ketika menabrak perairan berdasarkan puing-puing yang ditemukan sejauh ini.

"Kami belum tahu pasti, tapi kalau kami lihat puing-puingnya tersebar di area yang tidak terlalu luas,'' kata Ketua Sub Komite IK Penerbangan KNKT, Nurcahyo Utomo di Jakarta, Senin [11/1].

"Pesawat mungkin pecah ketika menghantam permukaan laut karena jika meledak di udara, puing-puing itu akan tersebar lebih luas," tambahnya.

Pesawat Sriwijaya Air SJ182 lepas landas dari Bandara internasional Soekarno-Hatta di Cengkareng, Banten untuk penerbangan 90 menit di atas Laut Jawa daru Jakarta menuju Pofntianak, ibukota Provinsi Kalimantan Barat.

Namun pada pukul 14.40 - hanya empat menit setelah lepas landas - Boeing B737-500 jatuh dari ketinggian hampir 10.000 kaki [3 km] dalam waktu kurang dari 60 detik, dengan saksi mata mengklaim mereka mendengar dua suara ledakan seperti dikutip Reuters.

Ketua KNKT Soerjanto Tjahjanto, mengatakan pihak berwenang telah menemukan dua kotak hitam di laut dan para penyelam sekarang berusaha mengambilnya, bersama dengan bagian tubuh dan puing-puing pesawat.

Sementara pesan dan foto terakhir penumpang yang diunggah di media sosial mengungkap kegembiraan mereka sebelum pesawat naas tersebut lepas landas.

Ratih Windania mengunggah foto selfie dengan ketiga anaknya yang tertawa saat menuju pesawat yang akan segera lepas landas.

Dia menulis pesan: "Byebye keluarge semue .... Kite pulang kampung dlu ya ..." disertai emoji sun jauh.

Pesan itu dikirim tepat sebelum mereka naik pesawat di Bandara Soekarno - Hatta.

'Pray for us,' pesan dari kakaknya Irfansyah Riyanto di Instagram dengan foto keluarga.

Irfansyah mengatakan keluarganya awalnya berencana untuk mengambil pesawat yang berbeda tetapi mereka mengurungkan niat tersebut pada menit-menit terakhir.

Seperti puluhan kerabat penumpang lainnya yang berduka sangat dalam, Irfansyah bergegas ke Bandara Soekarno - Hatta di Jakarta pada Sabtu malam. Pada Minggu, dia masih mengharapkan kabar baik tentang saudara perempuannya dan empat anggota keluarga lainnya dalam penerbangan tersebut, termasuk orang tuanya.

"Kami merasa tidak berdaya, kami hanya bisa menunggu dan berharap segera mendapat informasi," kata Irfansyah kepada wartawan seperti dikutip Reuters.

Irfansyah mengatakan kerabatnya sedianya akan mengambil penerbangan sebelumnya yang dioperasikan oleh NAM Air dan dia tidak mengetahui mengapa rencana tersebut diurungkan.

Adik dan kedua anaknya menghabiskan liburan selama tiga minggu dan berniat kembali ke Pontianak menumpang pesawat Sriwijaya Air.

"Saya yang mengantarkan mereka ke bandara, membantu check-in dan barang bawaan ... Saya merasa masih belum percaya dan terjadi begitu cepat,'' kata Irfansyah.

Presiden Joko Widodo menyampaikan simpati pada hari Minggu.

"Kami melakukan upaya terbaik kami untuk menemukan dan menyelamatkan para korban dan kami semua berdoa agar mereka dapat ditemukan," katanya.

Panca Widiya Nursanti, seorang guru sekolah menengah pertama [SMP] di Pontianak, kembali setelah berlibur di kota kelahirannya Tegal, Jawa Tengah. Di Pontianak, suaminya, Rafiq Yusuf Al Idrus, menceritakan kontak terakhirnya dengan istrinya.

"Saya bergurau dengan mengatakan kalau sudah tiba tiba di Pontianak kami akan makan sate," katanya.

"Dia menghubungi saya melalui Whatsapp pada pukul 2.05 malam dan selalu bergurau. Dia sudah naik pesawat dan dia mengatakan kondisi cuaca tidak bagus. Saya mengatakan banyak berdoa."

Seorang nelayan, bernama Solihin, mengatakan kepada BBC bahwa dia berada di laut ketika dia menyaksikan pesawat itu jatuh ke air di dekat perahunya.

"Pesawat jatuh seperti kilat ke laut dan meledak di air. Cukup dekat dengan kami, pecahan semacam triplek hampir menabrak perahu saya."

"Kami mengira itu bom atau tsunami karena setelah itu kami melihat cipratan besar dari air."

"Saat itu hujan deras dan cuaca sangat buruk ... Kami sangat terkejut dan langsung melihat puing-puing pesawat dan bahan bakar di sekitar perahu kami."

Penduduk di pulau terdekat dari lokasi jatuhnya pesawat mengatakan mereka mendengar dua ledakan sebelum menemukan potongan logam, kabel dan potongan celana jeans yang mengapung di laut.

Lima puluh enam penumpang - termasuk tujuh anak-anak dan tiga bayi, dua pilot dan empat awak kabin berada di dalam pesawat naas berusia 26 tahun tersebut seperti dikutip Reuters yang dilansir MailOnline.
AN INVESTIGATOR with Indonesia's National Transportation Safety Committee (KNKT) said the Sriwijaya Air jet that crashed into the Java Sea with 62 people on board over the weekend possibly broke apart when it hit waters based on debris found so far.

'We don't know for sure, but if we look at the debris, they're scattered in an area that is not too wide,' Nurcahyo Utomo said on Monday.

'It possibly ruptured when it hit waters because if it had exploded midair, the debris would be distributed more widely,' he added.

Sriwijaya Air Flight 182 took off from Soekarno-Hatta international airport for a 90-minute flight over the Java Sea between Jakarta and Pofntianak in West Kalimantan.

But at 2.40pm - just four minutes after takeoff - the Boeing B737-500 plunged nearly 10,000ft in less than 60 seconds, with witnesses claiming they heard two explosions.

Soerjanto Tjahjanto, head of Indonesia's transport safety agency, said authorities have found the two black boxes in the sea and divers are now trying to retrieve them, along with body parts and plane wreckage.

It comes as the tragic final messages and posts have been revealed as they shared photos on the plane before the crash.

Ratih Windania posted a selfie with her three children laughing as the family boarded the plane.

She said: 'Bye bye family. We're heading home for now.'

The message was sent just before they boarded the plane from the Indonesian capital.

'Pray for us,' her brother Irfansyah Riyanto posted on Instagram with a picture of the family.

He said his family were originally planning to take a different flight but they changed at the last minute.

Like dozens of other desperate relatives, Irfansyah rushed to Jakarta's Soekarno Hatta airport late on Saturday. On Sunday, he was still hoping for good news about his sister and four other family members on the flight, including his parents.

'We feel powerless, we can only wait and hope to have any information soon,' Irfansyah told reporters.

Irfansyah said his relatives had originally been due to take an earlier flight operated by Sriwijaya's unit NAM Air and he was unclear why that was changed.

His sister and her two children had been at the end of a three-week holiday and were taking the 740 km (460 mile) trip home to Pontianak on the island of West Kalimantan.

'I was the one who drove them to the airport, helped with the check-ins and the luggage ... I feel like I still can't believe this and it happened too fast,' Irfansyah said.

President Joko Widodo offered sympathy on Sunday.

'We are making our best efforts to find and rescue the victims and we all pray that they can be found,' he said.

Panca Widiya Nursanti, a middle-school teacher in Pontianak, had been returning after a vacation in her home town of Tegal in Central Java. In Pontianak, her husband Rafiq Yusuf Al Idrus recounted the last contact he had with her.

'I was joking by saying that when she arrived in Pontianak we would eat satay together,' he said.

'She contacted me via Whatsapp at 2.05 p.m with laughter. She was already boarding the plane and she said the weather conditions were not good. I said pray a lot, please.'

A fisherman, named Solihin, told the BBC that he had been at sea when he witnessed the plane crash into the water near to his ship.

'The plane fell like lightning into the sea and exploded in the water. It was pretty close to us, the shards of a kind of plywood almost hit my ship.

'We thought it was a bomb or a tsunami since after that we saw the big splash from the water.

'It was raining heavily and the weather was so bad... We were very shocked and directly saw the plane debris and the fuel around our boat.'

Locals on a nearby island said they heard two explosions before discovering metal pieces, cables and fragments of a pair of jeans floating in the sea.

Fifty-six passengers - including seven kids and three babies, two pilots and four cabin crew were on board the 26-year-old plane.