Massa Aksi Bela Uighur Demo Kedubes China jadi Sorotan Dunia
Indonesian Muslims protest China´s treatment of Uighurs
Editor : Ismail Gani
Translator : Novita Cahyadi

PUBLISHED: Sabtu, 28 Desember 2019 , 03:35:00 WIB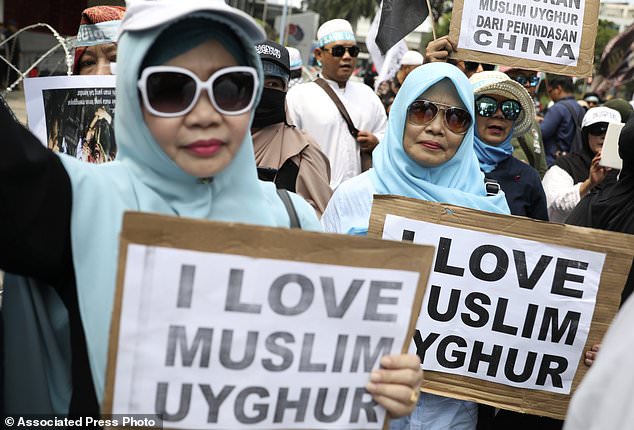 Para pengunjuk rasa, banyak yang memakai ikat kepala biru bertuliskan "Selamatkan Uighur," meneriakkan "Keluar, Cina!" dan membentangkan bendera Indonesia dan Uighur [Foto: Associated Press/MailOnline]
LEBIH DARI seribu warga Muslim melakukan unjuk rasa di Kedutaan Besar China yang dijaga ketat di Jakarta, pada Jumat untuk memprotes perlakuan China terhadap warga Muslim Uighur.

Para pengunjuk rasa, banyak yang memakai ikat kepala biru bertuliskan "Selamatkan Uighur," meneriakkan "Keluar, Cina!" dan membentangkan bendera Indonesia dan Uighur ketika mereka berbaris ke kedutaan di pusat kota Jakarta.

Dalam pidatonya, Yusuf Martak, koordinator pengunjuk rasa, mengutuk "penindasan, penyiksaan dan kekejaman oleh pemerintah Komunis China terhadap saudara Muslim Uighur."

Yusuf Martak dalam orasinya menuntut diakhirinya penahanan massal terhadap Muslim Uighur di wilayah Xinjiang, Cina.

"Kami umat Islam menentang segala bentuk penjajahan dan penindasan kaum Uighur," kata pembicara lain, Slamet Maárif, yang berdiri di atas truk. Kerumunan meneriakkan, "Keluar, Komunis!" karena beberapa spanduk melambai mengatakan "Kami mendukung Uighur."

Dia meminta pemerintah Indonesia untuk mengambil tindakan guna membantu warga Uighur.

Para pengunjuk rasa melakukan Shalat Ashar di luar kedutaan sebelum bubar.

Organisasi hak asasi manusia mengatakan hingga 1 juta Muslim etnik di Xinjiang telah ditahan di kamp-kamp di mana mereka menjadi sasaran indoktrinasi politik dan ditekan untuk melepaskan agama mereka.

Associated Press melaporkan tahun lalu bahwa beberapa dipaksa bekerja di pabrik, dan melacak pakaian yang dibuat di satu kamp ke perusahaan pakaian olahraga Amerika.

China menyanggah tudingan tersebut seraya berkilah bahwa pabrik tersebut sebagai pusat pelatihan kejuruan yang diperlukan untuk memerangi radikalisme di provinsi yang bergolak, dan mengatakan para peserta pelatihan bekerja secara sukarela.

Menko Polhukam Mohammad Mahfud MD pada Kamis mengatakan pemerintah memanggil Duta Besar China untuk Indonesia, Xiao Qian untuk menjelaskan dugaan pelanggaran di Xinjiang.

Dia mengatakan Xiao menegaskan bahwa China berkomitmen untuk melindungi hak asasi manusia dan kebebasan beragama.

Indonesia, negara Muslim terpadat di dunia, enggan mengkritik Beijing secara terbuka, khawatir hal itu dapat membahayakan investasi Cina atau mengundang dukungan Cina untuk separatis di wilayah Papua seperti dikutip Associated Press yang dilansir MailOnline.
MORE THAN a thousand Muslims marched to the heavily guarded Chinese Embassy in Indonesia's capital on Friday to protest China's treatment of its Uighur Muslims.

The protesters, many wearing blue headbands reading "Save Uighurs," chanted "Get out, China!" and unfurled Indonesian and Uighur flags as they marched to the embassy in downtown Jakarta.

In a speech, Yusuf Martak, a protest organizer, condemned the "oppression, torture and cruelty by the Chinese Communist government against brother Uighur Muslims."

Martak, a leader of a conservative Muslim alliance that held mass protests against Jakarta's ethnic Chinese governor, a minority Christian, in 2016, demanded an end to mass detentions of Uighur Muslims in China's Xinjiang region.

"We Muslims oppose all forms of colonialism and oppression of Uighurs," said another speaker, Slamet Maárif, standing on the top of a truck. The crowd chanted "Get out, Communists!" as some waved banners saying "We stand with Uighurs."

He called on the Indonesian government to take action to help the Uighurs.

The protesters performed afternoon prayers outside the embassy before dispersing.

Human rights organizations say up to 1 million ethnic Muslims in Xinjiang have been detained in camps where they are subjected to political indoctrination and pressured to give up their religion.

The Associated Press reported last year that some are forced to work in factories, and tracked clothing made in one camp to an American sportswear company.

China describes the sites as vocational training centers necessary to fight radicalism in the restive province, and says the trainees work voluntarily.

Indonesian security minister Mohammad Mahfud MD on Thursday said the government summoned Chinese Ambassador Xiao Qian to explain the alleged abuses in Xinjiang.

He said Xiao asserted that China is committed to the protection of human rights and freedom of religion.

Indonesia, the world's most populous Muslim nation, is reluctant to publicly criticize Beijing, fearing it could jeopardize Chinese investment or invite retaliatory Chinese support for separatists in Indonesia's predominantly Christian Papua region where a pro-independence insurgency has simmered since the 1960s.