35 Tewas, Basarnas Hentikan Pencarian Korban Bus Sriwijaya di Pagar Alam
Indonesia Ends Search for Victims of Bus Crash; 35 Dead
Editor : Ismail Gani
Translator : Novita Cahyadi

PUBLISHED: Sabtu, 28 Desember 2019 , 03:05:00 WIB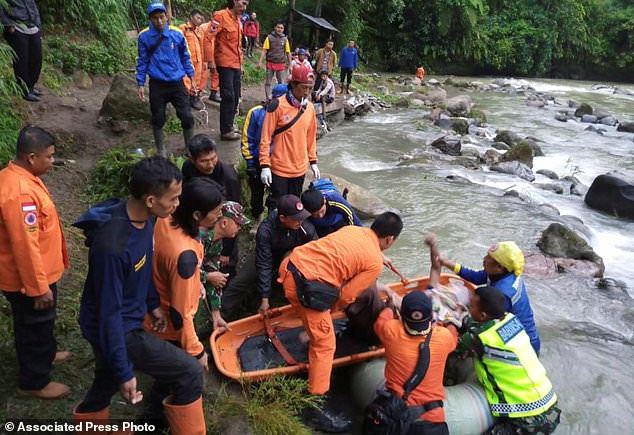 35 jasad korban, termasuk delapan anak, pengemudi dan dua awak bus, telah diserahkan kepada keluarga untuk dimakamkan [Foto: Associated Press/MailOnline]
PIHAK BERWENANG Indonesia pada Kamis mengakhiri pencarian korban dari sebuah bus yang jatuh ke jurang di Kabupaten Pagar Alam, Provinsi Sumatera Selatan setelah remnya tampaknya tidak berfungsi, yang menewaskan sedikitnya 35 orang dan melukai 13 lainnya.

Kecelakaan itu terjadi tepat sebelum tengah malam Senin di jalan berliku di Pagaralam.

Bus, yang menuju ibukota provinsi Palembang dari Provinsi Bengkulu, jatuh ke jurang setinggi 80 meter dan nyemplung ke sungai yang berarus cepat setelah pengemudi kehilangan kendali atas kendaraan di kawasan perbukitan, dengan sejumlah turunan tajam.

Kepala Badan SAR Nasional [Basarnas] Sumsel, Berty Kowaas, mengatakan keputusan untuk menghentikan setelah pencarian selama tiga hari.

Dia mengatakan 35 jasad korban, termasuk delapan anak, pengemudi dan dua awak bus, telah diserahkan kepada keluarga untuk dimakamkan. Delapan dari 13 penumpang yang terluka masih dirawat di rumah sakit, sebagian besar dari mereka menderita patah tulang.

Achmad Wildan, investigator di Komite Keselamatan Transportasi Nasional [KNKT] menyampaikan laporan pendahuluan yang mengindikasikan bahwa bus sedang melakukan perjalanan menurun dengan kecepatan tinggi, menyebabkan bantalan rem terlalu panas dan tidak berfungsi dengan baik. Tidak ada bekas rem ditemukan di jalan, menunjukkan tidak ada kekuatan pengereman, katanya.

Kecelakaan di jalan umum terjadi di Indonesia karena standar dan infrastruktur keselamatan yang buruk.

Awal tahun lalu, 27 orang tewas ketika sebuah bus wisata penuh sesak jatuh dari sebuah bukit di Provinsi Jawa Barat. Pada September tahun lalu, 21 orang terbunuh ketika bus wisata lain jatuh ke jurang di Bogor, daerah perbukitan lain di Jawa Barat seperti dikutip Associated Press yang dilansir MailOnline.
INDONESIAN authorities on Thursday ended their search for victims on a bus that plunged into a ravine on Sumatra island after its brakes apparently malfunctioned, killing at least 35 people and injuring 13 others.

The accident occurred just before midnight Monday on a winding road in Pagaralam.

The bus, which was headed for the provincial capital of Palembang from neighboring Bengkulu province, fell into a 80-meter (262-foot) -deep ravine and crashed into a fast-flowing river after the driver lost control of the vehicle in an area with a number of sharp declines.

The head of Palembang's Search and Rescue agency, Berty Kowaas, said the decision to call off the three-day search was made after all people reported missing were accounted for.

He said all 35 bodies of victims, including eight children, the driver and two crew members, have been handed over to families for burial. Eight of the 13 injured passengers are still hospitalized, many with broken bones.

Achmad Wildan, an investigator at the National Transportation Safety Committee, said a preliminary report shows that the bus was traveling downhill at high speed, causing the brake pads to overheat and not work properly. No skid marks were found on the road, indicating there was no braking force, he said.

Road accidents are common in Indonesia because of poor safety standards and infrastructure.

Early last year, 27 people were killed when a packed tourist bus plunged from a hill in West Java province. In September last year, 21 were killed when another tourist bus plunged into a ravine in Bogor, another hilly area in West Java.