Operasi Pencarian Korban Lion Air Dihentikan Basarnas
Indonesia Calls Off the Search for Lion Air Crash Victims
Editor : Ismail Gani
Translator : Novita Cahyadi

PUBLISHED: Minggu, 11 November 2018 , 06:26:00 WIB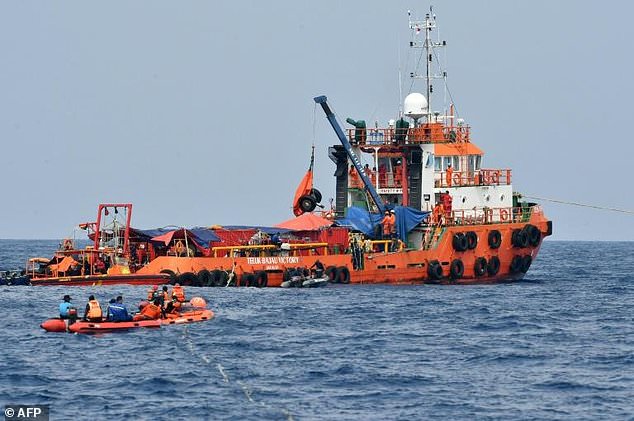 Foto: AFP/MailOnline
BADAN SAR Nasional atau Basarnas memutuskan penghentian operasi pencarian penumpang pesawat Lion Air, hampir dua minggu setelah pesawat jet itu jatuh di perairan Karawang, Jawa Barat yang menewaskan 189 orang di dalamnya, setelah tiga hari masa perpanjangan operasi.
Sebanyak 196 kantong jenazah berisi jasad korban telah ditemukan dari bawah laut dengan 79 korban berhasil diidentifikasi dan diserahkan kepada keluarga mereka untuk dimakamkan.
"Sejak kemarin sore hingga hari ini kami belum menemukan korban lagi dan oleh karena itu saya menyatakan operasi pencarian dan penyelamatan dihentikan," kata Kepala Basarnas Marsekal Madya M Syaugi kepada pers di Dermaga JICT 2, Tanjung Priok, Jakarta Utara, Sabtu (10/11).
"Kami meminta maaf kepada publik, terutama keluarga korban jika selama operasi kami tidak dapat memuaskan semua orang," tambahnya.
Tim penyelamat juga mengambil bagian-bagian mesin, roda, dan kursi pesawat dari laut. Satu penyelam penyelamat tewas saat membantu pencarian.
Lion Air telah mulai membayar uang kompensasi sekitar Rp1,2 miliar untuk setiap penumpang kepada keluarga korban.
Komite Keselamatan Transportasi Nasional Indonesia telah mengambil salah satu kotak hitam - perekam data penerbangan - dan masih mencari perekam suara kokpit, yang merekam percakapan terakhir antara pilot dan co-pilot sebelum kecelakaan.
Jet naas tersebut adalah Boeing 737-Max 8, salah satu pesawat penumpang komersial terbaru dan termaju di dunia, dan masih belum ada jawaban mengenai apa yang menyebabkan kecelakaan itu.
Pemerintah telah memerintahkan pemeriksaan pada semua armada Boeing 737-Max 8 dan melakukan audit khusus pada manajemen Lion Air.
Kementerian Perhubungan juga telah membebastugaskan beberapa direktur dan staf teknis Lion Air untuk mendukung kelancaran proses penyelidikan.
Pesawat Lion Air jatuh ke Laut Jawa pada 29 Oktober setelah lepas landas dari Jakarta menuju Pangkal Pinang.
Semua 189 orang di dalamnya tewas dan data dari data perekam penerbangan sejauh ini mengungkapkan indikator kecepatan udara di pesawat itu tidak berfungsi dengan baik pada empat perjalanan terakhirnya, termasuk pada penerbangan yang fatal.
Setelah kecelakaan fatal itu, Boeing mengeluarkan buletin khusus tentang bagaimana menangani kesalahan sensor Angle of Attack di pesawat 737-8 dan -9 seperti dikutip AFP yang dilansir MailOnline.
INDONESIA on Saturday called off the search for passengers of a Lion Air plane, almost two weeks after the jetliner plunged into the Java Sea killing 189 people on board.
Some 196 bags containing body parts have been recovered from under the water with 79 victims identified and handed over to their families for burial.
"Since yesterday afternoon until today we have not found any more victims and therefore I declare the search and rescue operation is over," Muhammad Syaugi, head of the search and rescue agency, told reporters Saturday.
"We apologise to the public, especially the families of victims if during the operation we were not able to satisfy everybody," he added.
Rescuers have also retrieved parts of the plane´s engines, wheels and seats from the sea. One diver died helping with search.
Lion Air has begun paying $102,058 compensation money for each passenger to the grieving families.
Indonesian National Transportation Safety Committee has retrieved one of the black boxes -- the flight data recorder -- and is still hunting for the cockpit voice recorder, which recorded the last conversation between the pilot and co-pilot before the crash.
The doomed jet was a Boeing 737-Max 8, one of the world´s newest and most advanced commercial passenger planes, and there is still no answer as to what caused the crash.
The government has ordered a check on all Boeing 737-Max 8 fleets and conducted a special audit on Lion Air management.
The transportation ministry has also removed several executives and technical staff from the airline to help with the accident investigation.
The Lion Air plane plunged into the Java Sea on October 29 minutes after takeoff from Jakarta to Pangkal Pinang city.
All 189 people on board were killed and the data from the flight recorder data has so far revealed the plane´s air speed indicator had not been working properly on its last four journeys, including on the fatal flight.
Following the fatal crash, Boeing issued a special bulletin on how to deal with the erroneous Angle of Attack sensor alert in 737-8 and -9 airplanes.