Belasan Tewas, Kebakaran Depo Pertamina Plumpang Disorot Media Asing
At Least 16 Killed in Fire at Indonesia Fuel Storage Depot
Editor : Cahyani Harzi
Translator : Dhelia Gani

PUBLISHED: Sabtu, 04 Maret 2023 , 08:02:00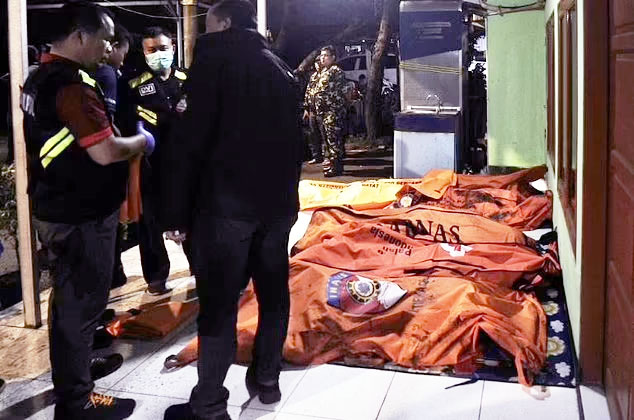 DEPO PLUMPANG: Banyak dari mereka yang tewas dan terluka menderita luka bakar parah setelah kebakaran terjadi, kata Kepala Gulkarmat DKI Jakarta, Satriadi Gunawan. [Foto: AFP/MailOnline]
SEDIKITNYA 16 orang tewas dan puluhan lainnya luka-luka di wilayah Plumpang, Jakarta Utara, Jumat malam[3/3]. Kebakaran terjadi sekitar pukul 20.11 WIB. Kebakaran besar terjadi di depot penyimpanan bahan bakar milik Pertamina.
Api yang mengamuk membakar beberapa rumah, menyebabkan orang-orang mengungsi dengan panik dan memaksa penduduk di sekitar depo yang dikelola oleh Pertamina di Jakarta Utara dievakuasi.
Dinas Penanggulangan Kebakaran dan Penyelamatan (Gulkarmat) DKI Jakarta mengatakan 16 orang termasuk dua anak tewas dalam kebakaran itu, serta melukai sedikitnya 50 orang lainnya.
Banyak dari mereka yang tewas dan terluka menderita luka bakar parah setelah kebakaran terjadi, kata Kepala Gulkarmat DKI Jakarta, Satriadi Gunawan kepada AFP seperti dilansir MailOnline.
Penyebab kebakaran, yang dimulai setelah pukul 20.00 WIB belum jelas diketahui.
Api padam beberapa jam setelah dimulai, kata Kepala Staf Angkatan Darat [Kasad] Jenderal TNI Dudung Abdurachman kepada wartawan.
"Api sudah padam," katanya.
Satriadi Gunawan mengatakan petugas pemadam kebakaran sedang bekerja untuk "mendinginkan" area api setelah berhasil mengendalikannya.
Jenderal TNI Abdurachman dan Pertamina mengatakan sedang menyelidiki penyebabnya.
Pertamina fokus menangani kebakaran dan mengevakuasi pekerja dan warga sekitar ke lokasi yang lebih aman.
CEO Pertamina Nicke Widyawati mengatakan akan "melakukan evaluasi internal penuh ... untuk mencegah terulangnya peristiwa serupa."
Dia mengatakan pasokan bahan bakar negara tidak terganggu, tetap aman melalui pasokan cadangan dari terminal terdekat yang tersedia.
AT LEAST 16 people were killed and dozens injured in Indonesia´s capital Friday, after a massive blaze broke out at a state-run fuel storage depot before firefighters brought it under control, officials said.
The raging inferno burned several houses, caused people to flee in panic and forced the evacuation of residential areas nearby the depot run by state energy firm Pertamina in north Jakarta.
The Jakarta fire and rescue department said 16 people including two children were killed in the fire, which injured at least 50 more.
Many of those killed and injured suffered severe burns after the fire broke out, department chief Satriadi Gunawan told AFP.
The cause of the fire, which started after 8 pm local time (1300 GMT), was not clear.
The blaze was put out several hours after it started, army chief of staff Dudung Abdurachman told reporters.
"The fire is already extinguished," he said.
Gunawan said firefighters were working on "cooling" the fire area after bringing it under control.
The military chief Abdurachman and Pertamina said they were investigating the cause.
"Pertamina is focused on handling the fire and evacuating workers and residents nearby to a safer location," the company said in a statement.
The oil and gas firm´s chief executive Nicke Widyawati said it would "conduct a full internal evaluation... to prevent the reoccurrence of a similar event."
She said the country´s fuel supply had not been disrupted, remaining secure through backup supplies from the nearest available terminals.