Atasi Kemiskinan, IPB akan Bentuk Pusat Kajian Koperasi dan Sosial Bisnis
Cooperatives will be an Academic Study of Indonesia`s Bogor Agricultural Institute
Reporter : Gusmiati Waris
Editor : Cahyani Harzi
Translator : Dhelia Gani

PUBLISHED: Minggu, 11 November 2018 , 01:25:00 WIB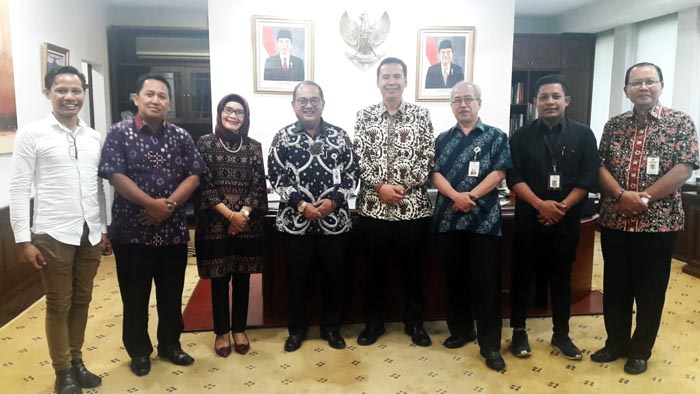 KAJIAN AKADEMIS: Sesmenkop UKM Meliadi Sembiring (ke-4 kiri) dan Dekan FEM IPB, Nunung Nuryartono (ke-3 kiri) dan Kabag Humas Kemenkop UKM, Sudharmono (Foto: Humas Kemenkop UKM)
Jakarta (B2B) - Koperasi berperan strategis sebagai penggerak perekonomian masyarakat untuk mengatasi kemiskinan dan kesenjangan kesejahteraan, hal itu mendorong Institut Pertanian Bogor (IPB) menjadikan koperasi menjadi kajian akademis, untuk mendorong pengembangan koperasi dengan membentuk Pusat Kajian Koperasi dan Sosial Bisnis.
Dekan Fakultas Ekonomi dan Manajemen (FEM), IPB Nunung Nuryartono mengatakan IPB segera mewujudkan sebuah lembaga yang dinamai Pusat Kajian Koperasi dan Sosial Bisnis, sehingga kampus turut serta memberikan kajian perkoperasian, ide dan masukan terhadap regulasi pemerintah serta best practice perkoperasian.
"IPB ingin melakukan tindak nyata bahwa koperasi tidak hanya wacana tetapi kekuatan dalam sistem ekonomi di Indonesia. Untuk efektif, kami di Fakultas Ekonomi dan Manajemen memformulasikan satu pusat yang khusus membidangi dan mendalami, mengkaji dan mengomunikasikan tentang koperasi dan sosial bisnis," kata Nunung Nuryartono usai pertemuan dengan Sekretaris Kementerian Koperasi dan UKM Meliadi Sembiring di Jakarta, belum lama ini.
Menurutnya, IPB telah mengadakan seminar tentang pengembangan sektor riil di Indonesia melalui koperasi, karena potensinya luar biasa. "Masyarakat jangan hanya tahu koperasi simpan pinjam."
Wakil Ketua Program Studi Ilmu Ekonomi, Sekolah Pasca Sarjana IPB, Yeti Lis Purnamadewi mengatakan IPB sudah lama memberi perhatian pada koperasi dengan mengadakan mata kuliah koperasi di FEM.
Yeti menambahkan koperasi merupakan badan usaha yang sangat strategis untuk Indonesia. Koperasi tidak bisa lepas dari usaha mikro kecil dan menengah sebagai kelompok usaha paling rentan dan sulit bersaing menghadapi oligopoli dan monopoli sehingga perlu wadah koperasi.
"Kalau koperasi mampu berkembang, mestinya mampu mengembangan usaha mikro dan kecil maka kami lebih concern terhadap koperasi sektor riil," kata Yeti LP.
Jakarta (B2B) - Cooperatives in Indonesia play a strategic role as a driver of community´s economy to overcome poverty and welfare gap, it encouraged the Bogor Agricultural Institute or the IPB Bogor make cooperatives as an academic study, by establishing Center for Cooperative and Social Business Studies.
The Dean of the Faculty of Economics and Management or the FEM, Nunung Nuryartono said IPB was soon to realize an institution called the Center for Cooperative and Social Business Studies, so that IPB participated in providing cooperative studies, ideas and input on government regulations and cooperative best practices.
"IPB wants to take concrete action that cooperatives are not only discourse but strength in the Indonesian economic system. More effectively, we formulate a center that specifically deals with and explores, studies and communicates about cooperatives and social business," said Mrs Nuryartono after meeting with the Secretary of Cooperatives and SMEs Ministry, Meliadi Sembiring here recently.
According to her, IPB has held a seminar on developing the real sector in Indonesia through cooperatives, because of its extraordinary potential. "People don´t just know savings and loan cooperatives."
Deputy Chair of the Economic Sciences Study Program, Post Graduate School of IPB, Yeti Lis Purnamadewi said the campus has long been concerned with cooperative courses.
She added that cooperatives are a very strategic business entity for Indonesia. Cooperatives cannot be separated from small and medium micro businesses as the most vulnerable and difficult to compete against oligopoly and monopoly business groups so they need a cooperative forum.
"If cooperatives develop, they should be able to develop micro and small businesses so that Bogor IPB is concerned about real sector cooperatives," Mrs Purnamadewi said.