LLP-KUKM Kemenkop Akui Permintaan Kebutuhan Lebaran Naik 30%
Indonesian Govt Reminds Basic Needs of Ramadan and Eid Increase 30%
Reporter : Gusmiati Waris
Editor : Cahyani Harzi
Translator : Dhelia Gani

PUBLISHED: Rabu, 30 Mei 2018 , 04:52:00 WIB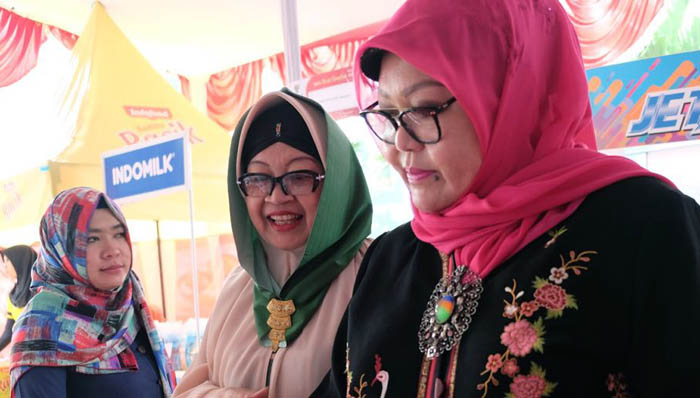 Direktur Utama LLP-KUKM Emilia Suhaimi (Foto: B2B/Gusmiati Waris)
Jakarta (B2B) - Tingkat konsumsi masyarakat Indonesia pada pekan pertama Ramadhan hingga menjelang lebaran meningkat drastis khususnya busana muslim, sembako hingga bahan dasar pembuat kue-kue dan produk ritel lainnya di kisaran 20% hingga 30%, dan Lembaga Layanan Pemasaran Koperasi dan UKM (LLP-KUMK) mengingatkan bahwa permintaan tinggi harus disertai suplai dan stok barang yang memadai.
"Hal yang sering terjadi adalah permintaan yang tinggi tersebut tidak diimbangi oleh ketersediaan barang yang cukup sehingga menyebabkan harga melambung," kata Direktur Utama LLP-KUKM Emilia Suhaimi di Jakarta pada Selasa (29/5).
Menurutnya, untuk memenuhi kenaikan permintaan tersebut, tidak cukup hanya mengandalkan ketersediaan stok pasar tapi juga harus didukung oleh pendistribusian yang tepat sasaran.
Dengan demikian, disaat permintaan sedang meningkat, tak jarang barang barang yang dibutuhkan tiba-tiba menjadi langka di pasaran," kata Emilia usai meninjau stand Smesco Bazaar Ramadhan 2018 di halaman utama Gedung SMEsco Indonesia, yang merupakan hari terakhir kegiatan bazaar tersebut.
Kementerian Koperasi dan UKM melalui LLP-KUKM mengadakan pasar sembako murah untuk membantu masyarakat berpenghasilan rendah dalam menyambut Hari Raya Idul Fitri 1439 H yang dibuka oleh Menkop UKM AAGN Puspayoga.
Sebanyak 60 stand tersedia, berasal dari pelaku UKM, dan usaha pabrikan. Di dalam pasar sembako murah, disediakan sejumlah kebutuhan lebaran misalnya daging, beras, telur, minyak goreng, terigu, aneka biskuit dan kue kering, syrup. aneka minuman ringan, bumbu instan, cabe, bawang, sayur mayur, serta buah-buahan.
"Smesco Bazaar Ramadhan merupakan rangkaian kegiatan sejak 26-28 Mei 2018 dimulai dari fashion bazaar Ramadhan, lalu Smesco Bazaar Ramadhan 28-29 Mei dan berakhir dengan Smesco Festival Betawi pada 31 Mei 2018.
Jakarta (B2B) - The level of consumption of Indonesian people during the first week of Ramadan until Eid increased especially Moslem clothes, basic food to basic ingredients of cake maker and other retail products about 20% to 30%, and Institute for Marketing Cooperatives and SMEs or the LLP-KUKM of Indonesian goverment warned that high demand should be supported by adequate supply and stock of goods.
"It often happens that such high demand is not supported by adequate supply of goods, so that prices rise, "said President Director of the LLP-KUKM Emilia Suhaimi here on Tuesday (May 29).
According to her, to meet the increase in demand, not enough just rely on the availability of market stocks but also must be supported by the distribution of the right target.
Thus, as demand increases, sometimes the rare necessities on the market," said Mrs Suhaimi after reviewing Smesco Bazaar booth at Ramadhan 2018 at SMEsco building.
The Ministry of Cooperatives and SMEs through LLP-KUKM held a low-price market for helping low-income people in welcomed Eid which was opened by Minister AAGN Puspayoga.
The organizing committee provides 60 booths for SME entrepreneurs, and manufacturers´ businesses. In the low-cost grocery market, there are a number of Idul Fitri needs such as meat, rice, eggs, cooking oil, wheat, biscuits and pastries, soft drinks, instant spices, chillies, onions, vegetables, and fruits.
"Smesco Bazaar Ramadhan is a series of activities from 26 to 28 May 2018 starting from the Ramadan fashion bazaar, then Smesco Bazaar Ramadhan 28-29 May and ending with Smesco Festival Betawi on May 31, 2018.