Menkes Ingatkan Tiap Keluarga Dukung Pencegahan Sumber Penyakit DBD
Indonesian Govt Encourages People to Prevent the Spread of Dengue Fever
Reporter : Gusmiati Waris
Editor : Cahyani Harzi
Translator : Dhelia Gani

PUBLISHED: Kamis, 03 Agustus 2017 , 01:47:00 WIB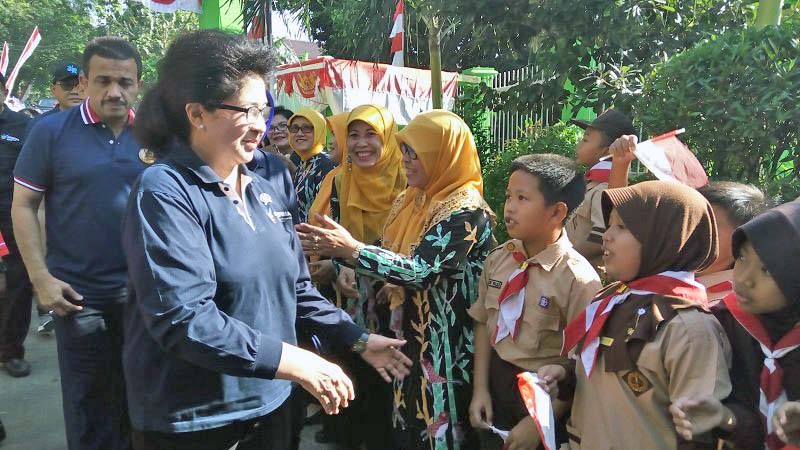 Menkes Nila F Moeloek (depan kiri) disambut guru dan siswa SDN Baru 07 Cijantung, Jakarta Timur pada peringatan Asian Dengue Day ke-7 (Foto: istimewa)
Jakarta (B2B) - Pemerintah RI mengakui bahwa demam berdarah dengue (DBD) dapat dicegah meskipun belum dapat sepenuhnya diberantas, sehingga Kementerian Kesehatan memprioritaskan pencegahan DBD dengan upaya penguatan melalui pengendalian vektor yang didukung masyarakat.

Menteri Kesehatan Nila Farid Moeloek mengingatkan bahwa nyamuk merupakan hewan kecil namun berpotensi menyebarkan penyakit seperti Aedes Aegepty yang menularkan virus dengue penyebab DBD, sehingga diharapkan dukungan setiap keluarga untuk peduli dan bertanggung jawab menjaga kebersihan lingkungan tempat tinggal masing-masing, untuk melindungi keluarga dari sumber penularan DBD.

"Nyamuk Aedes Aegepty penyebar DBD berkembang biak di air jernih dan tergenang, kita harus berusaha mencegah jangan sampai ada air tergenang di lingkungan tempat tinggal kita," kata Menkes Nila F Moeloek pada peringatan Asian Dengue Day ke-7 di Jakarta pada Rabu (2/8).

Menkes mengharapkan dukungan setiap keluarga melakukan Pemberantasan Sarang Nyamuk dengan Menguras tempat penampungan air, Menutup rapat tempat penampungan air, Mendaur ulang barang bekas yang berpotensi menjadi sarang nyamuk atau disingkat PSN 3M Plus secara rutin dan terus-menerus.

"Ditambah dengan pencegahan lain seperti menaburkan bubuk lavarsida pada tempat penampungan air yang sulit dibersihkan, menggunakan obat nyamuk, memakai kelambu saat tidur, memelihara ikan pemangsa jentik nyamuk, menanam tanaman pengusir nyamuk, mengatur cahaya dan ventilasi di dalam rumah," kata Menkes.
Jakarta (B2B) - Indonesian government recognizes that dengue fever can be prevented even though it can not be completely eradicated, so that the health ministry prioritizes prevention of dengue fever by strengthening efforts through community-supported vector control.

Health Minister Nila Farid Moeloek warned that mosquitoes are small animals but have the potential to spread diseases such as Aedes Aegepty that spread dengue virus causing dengue fever, then every family should be concerned and responsible for maintaining the cleanliness of the living environment to protect the family from the source of disease transmission.

"Aedes aegypti mosquitoes are disease spreaders virus breed in stagnant clear water, we must prevent not to have stagnant water in our residence," Minister Moeloek said here on Wednesday (August 2).

She expects the support of every family to eradicate mosquito nests by draining the water reservoirs, closing the water reservoirs, recycling used potentially mosquito nests called the PSN 3M Plus are routin and continuous.

Other preventive measures such as sprinkling lavarside powder on toilets that are difficult to clean, using mosquito repellent, wearing bed nets while sleeping, planting mosquito repellent plants, and set the lights and ventilation in the house," Minister Moeloek said.