Kampanye Damai Dimulai, Jokowi dan Prabowo Ikrar Tanpa Hoax dan Isu SARA
Indonesia Presidential Contenders Vow Peaceful Campaign
Editor : Ismail Gani
Translator : Novita Cahyadi

PUBLISHED: Minggu, 23 September 2018 , 16:32:00 WIB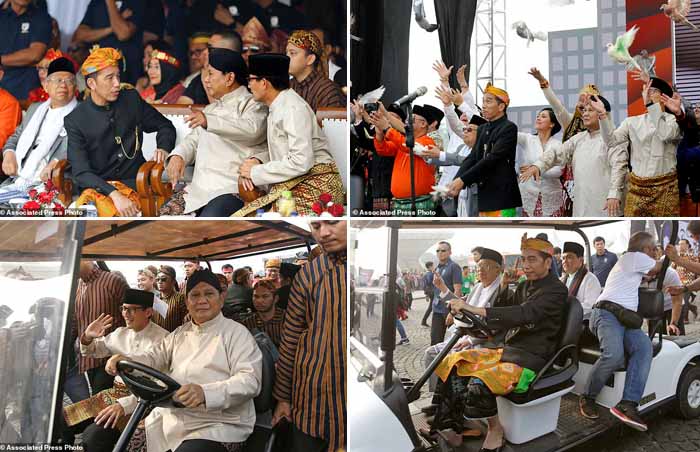 Mengenakan pakaian tradisional, para kandidat dan pasangan mereka berpawai di Jakarta Pusat pada Minggu dan melepaskan merpati di sebuah upacara setelah membacakan deklarasi kampanye damai (Foto2: Associated Press/MailOnline)
KAMPANYE damai untuk Pemilihan Presiden RI (Pilpres) secara resmi dimulai hari ini, Minggu (23/9) ditandai oleh kedua pasangan kandidat presiden melepas merpati putih sebagai simbol perdamaian, dan berjanji akan melaksanakan kampanye damai untuk menjawab kekhawatiran terhadap kampanye yang mengusung isu agama dan etnis.
Pilpres yang akan berlangsung pada bulan April menempatkan Joko ´Jokowi´ Widodo melawan mantan jenderal dan ultranasionalis Prabowo Subianto, yang kalah dari Jokowi pada 2014.
Mengenakan pakaian tradisional, para kandidat dan pasangan mereka berpawai di Jakarta Pusat pada Minggu dan melepaskan merpati di sebuah upacara setelah membacakan deklarasi kampanye damai.
Pemilihan Presiden 2014 dirusak oleh kampanye kotor dan rumor internet liar bahwa Jokowi adalah seorang komunis dan keturunan China, tuduhan yang sering digunakan di Indonesia untuk mendiskreditkan atau mengintimidasi lawan politik.
Jokowi, presiden Indonesia pertama dari luar elit politik dan militer negara itu, telah memilih ulama konservatif Ma´ruf Amin sebagai pasangannya, yang bertujuan menetralisir kritik bahwa dia bukan Muslim.
Dia memiliki keunggulan besar tetapi tidak tergoyahkan terhadap Prabowo dalam jajak pendapat dan upacara pembukaan Asian Games 2018 di Jakarta semakin mengangkat citranya.
Dengan populasi lebih dari 260 juta, mayoritas Muslim Indonesia adalah negara demokrasi terbesar ketiga di dunia setelah India dan Amerika Serikat Citra negara sebagai negara Muslim moderat telah dirongrong oleh ketidaktertiban pembakaran dalam beberapa tahun terakhir.
Sebagian besar masa jabatan lima tahun Jokowi telah dihabiskan untuk menyeimbangkan tuntutan basis moderatnya, konservatif Islam yang kuat, koalisi parlementer yang rumit dan militer, yang tidak pernah sepenuhnya menerima perannya yang berkurang setelah berakhirnya kediktatoran Suharto dua dekade lalu.
Peningkatan infrastruktur Indonesia telah menjadi kebijakan utamanya tetapi kemajuannya tidak merata dan banyak orang Indonesia masih merindukan kepemimpinan tipe orang kuat yang diwakili oleh tokoh era Soeharto dengan sosok Prabowo Subianto seperti dikutip Associated Press yang dilansir MailOnline.
CAMPAIGNING for Indonesia´s presidential election officially began Sunday with the two contenders releasing white doves and vowing a peaceful race as concerns simmer the campaign will sharpen religious and ethnic divides.
The election due in April pits incumbent Joko "Jokowi" Widodo against former general and ultranationalist Prabowo Subianto, who lost to Jokowi in 2014.
Dressed in traditional clothing, the candidates and their running mates paraded through central Jakarta on Sunday and released doves at a ceremony after reading out a peaceful campaign declaration.
The 2014 presidential election was marred by dirty campaigning and wild internet rumors that Jokowi was a secret communist and of Chinese background, accusations often used in Indonesia to discredit or intimidate political opponents.
Jokowi, the first Indonesian president from outside the country´s political and military elite, has picked conservative cleric Ma´ruf Amin as his running mate, aiming to neutralize criticism that he is insufficiently Muslim.
He has a big but not unassailable lead over Prabowo in polls and Indonesia´s recent hosting of the Asian Games further burnished his image.
With a population of more than 260 million, Muslim majority Indonesia is the world´s third-largest democracy after India and the U.S. The country´s image as a moderate Muslim nation has been undermined by flaring intolerance in the past several years, from the imprisonment of Jakarta´s Christian governor, who was a Jokowi ally, for blasphemy to the canings of gay men in Aceh, a province that practices Shariah law.
Most of Jokowi´s five-year term has been spent balancing the demands of his moderate base, powerful Islamic conservatives, a complicated parliamentary coalition and the military, which has never completely accepted its diminished role following the end of the Suharto dictatorship two decades ago.
Upgrading Indonesia´s creaking infrastructure has been his signature policy but progress is uneven and many Indonesians still yearn for the strong-man type leadership represented by Suharto era figures such as Prabowo.