Jokowi Presiden RI 2019 - 2024, Gugatan Prabowo Ditolak MK
Indonesia Court Rejects Bid to overturn President Widodo`s Victory
Editor : Ismail Gani
Translator : Novita Cahyadi

PUBLISHED: Jum'at, 28 Juni 2019 , 02:03:00 WIB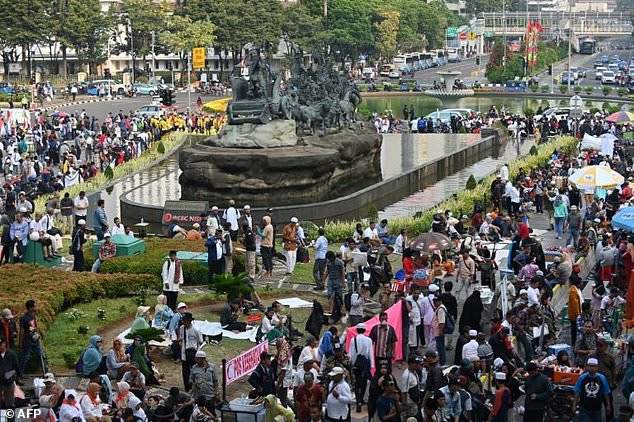 Foto: AFP/MailOnline
MAHKAMAH Konstitusi [MK] pada Kamis menolak seluruh gugatan hasil Pilpres 2019 yang diajukan Prabowo Subianto - Sandiaga Uno, dan menyatakan kemenangan Joko Widodo - Ma´ruf Amin sebagai Presiden dan Wapres 2019 - 2024.
Putusan MK yang disepakati sembilan hakim konstitusi tanpa dissenting opinion atau perbedaan pendapat, gugatan Prabowo - Sandi tidak terbukti tentang kekalahannya pada Pilpres akibat kecurangan terstruktur, sistematis dan masif [TSM] yang memicu unjuk rasa dan kerusuhan menolak penetapan KPU.
"Kasus penggugat tidak memiliki dasar hukum," kata Ketua MK Anwar Usman. "Kami menolak gugatannya secara keseluruhan."
Putusan MK membuka jalan bagi Joko Widodo dan calon wakil presiden Ma´ruf Amin untuk dilantik akhir tahun ini.
"Terima kasih kepada Mahkamah Konstitusi yang telah menyelesaikan perselisihan Pilpres secara terbuka dan transparan," kata Jokowi yang berusia 58 tahun dalam pidato yang disiarkan televisi.
"Saya mengajak seluruh rakyat Indonesia untuk bersama-sama membangun negara kita."
Dalam sidang yang berlangsung lebih dari sembilan jam, majelis hakim MK itu mengungkap tentang segala gugatan - termasuk tudingan pembelian suara dan pegawai negeri sipil yang berpihak pada Widodo - tidak terbukti.
Pengadilan, yang mempertanyakan kualitas bukti dan kredibilitas saksi, mengatakan klaim kecurangan pemilih adalah tanggung jawab Badan Pengawas Pemilu [Bawaslu] dan di luar yurisdiksi MK.
Prabowo mengklaim Pilpres diganggu oleh kecurangan pemilu yang "terstruktur, sistematis dan masif" yang membuatnya lawannya menang.
Pengacaranya berusaha untuk membalikkan hasil resmi KPU yang menyatakan Jokowi sebagai pemenang dengan 55,5% suara, dan Prabowo meraih 44,5%.
Setelah keputusan MK, Prabowo mengatakan akan mempertimbangkan putusan MK.
"Putusan ini sangat mengecewakan bagi kami dan para pendukung kami, tetapi sebagaimana disepakati kami akan mematuhi dan mengikuti putusan MK," katanya dalam pidato yang disiarkan televisi.
"Saya akan berkonsultasi dengan tim hukum saya," kata Prabowo seperti dikutip AFP yang dilansir MailOnline.
INDONESIA´S constitutional court Thursday rejected a bid to overturn President Joko Widodo´s re-election victory and dismissed his defeated challenger´s claims of widespread voter fraud as groundless.
The court threw out the case lodged by ex-general Prabowo Subianto, saying he did not prove he lost the April vote because of widespread cheating and voter fraud -- allegations that sparked deadly rioting in the capital of the world´s third-biggest democracy.
"The plaintiff´s case is legally groundless," said chief Justice Anwar Usman. "We reject (his) demand in its entirety."
The ruling paves the way for Widodo and vice-presidential running mate Ma´ruf Amin to be inaugurated later this year.
"Thank you to the Constutional Court which has settled the election dispute openly and transparently," the 58-year-old Widodo said in a televised address.
"I´m calling on all Indonesians to come together to develop our nation."
In the course of a hearing that stretched over nine hours, the panel painstakingly described many of the allegations -- including vote buying and that biased civil servants favoured Widodo -- as baseless.
The court, which questioned the quality of the evidence and credibility of witnesses, said voter-fraud claims were the responsibility of Indonesia´s elections supervisory agency and beyond its jurisdiction.
Subianto claimed the vote was plagued by "systematic, structured and massive" electoral fraud that cost him victory.
His lawyers sought to overturn the official results that declared Widodo the winner with 55.5 percent of votes, against Subianto´s 44.5 percent.
After the ruling, Subianto said he would consider his options.
"This ruling is very disappointing for us and our supporters but as agreed we will comply with and follow the constitution," he said in a televised address.
"I will consult with my legal team," he added.