Gerindra Siapkan Deklarasi Prabowo Calon Presiden 2024
Gerindra Prepares Declaration of Prabowo´s Presidential Candidate for 2024
Editor : Ismail Gani
Translator : Novita Cahyadi

PUBLISHED: Sabtu, 04 Juni 2022 , 16:33:00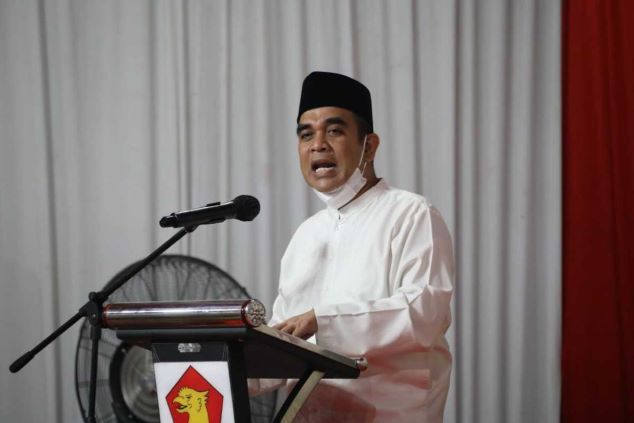 PILPRES 2024: Politikus Gerindra Ahmad Muzani menyatakan Prabowo Subianto akan maju pemilihan presiden 2024.
Jakarta [B2B] - Sekretariat Jenderal Gerindra, Ahmad Muzani menyatakan Ketua Umum Partai Gerindra Prabowo Subianto akan maju sebagai calon Presiden [Capres] pada Pemilihan Presiden [Pilpres] 2024.
Hal ini disampaikan Muzani guna menepis spekulasi tentang kemungkinan Prabowo hanya menjadi king maker pada pilres mendatang.
"Anggapan yang mengatakan bahwa Pak Prabowo dalam pilpres 2024 memilih menjadi king maker dan kemungkinan tidak akan maju adalah anggapan yang keliru, karena beliau adalah calon Presiden Republik Indonesia dalam pilpres 2024 yang akan maju dan diusung oleh partai Gerindra," ujar Muzani, Sabtu [4/6].
Itu sebabnya, Muzani meminta kepada seluruh kader Partai Gerindra untuk menyiapkan diri serta merapatkan barisan guna memenangkan Prabowo pada Pilpres 2024.
"Tetap semboyan kita Prabowo Presiden, Gerindra menang," jelas Wakil Ketua MPR itu.
Terkait dengan rencana deklarasi, Muzani mengatakan saat ini Gerindra sedang mencari waktu dan lokasi yang tepat untuk secara resmi mendeklarasikan pencalonan Prabowo untuk Pilpres 2024.
"Kami sedang mencari waktu yang tepat tempat yang pas untuk kapan Prabowo Subianto kita deklarasikan sebagai calon presiden yang diusung oleh partai Gerindra, dalam bulan-bulan ke depan kami akan segera mendeklarasikan," tegas Muzani.
"Untuk itu kami instruksikan kepada seluruh kader Gerindra di desa-desa, di kelurahan, kecamatan, kabupaten, dan provinsi. Serta seluruh anggota DPRD Gerindra tingkat 1 dan 2, dan DPR RI untuk bersiap-siap memenangkan Prabowo Subianto sebagai presiden tahun 2024," kata Ketua Fraksi Gerindra DPR RI itu.
Jakarta [B2B] - The General Secretariat of Gerindra, Ahmad Muzani stated that the General Chair of the Gerindra Party Prabowo Subianto will run as a presidential candidate in the 2024 presidential election.
This was conveyed by Muzani to ward off speculation about the possibility of Prabowo only being the king maker in the upcoming election.
"The notion that Pak Prabowo in the 2024 presidential election chose to be the king maker and probably won't run is a wrong assumption, because he is a candidate for President of the Republic of Indonesia in the 2024 presidential election who will run and be promoted by the Gerindra party," said Muzani, Saturday [4/6].
That is why, Muzani asked all Gerindra Party cadres to prepare themselves and close ranks to win Prabowo in the 2024 presidential election.
"Our motto is Prabowo President, Gerindra wins," explained the Deputy Chair of the MPR.