Rekonsiliasi Terwujud, Jokowi dan Prabowo Bertemu di MRT Jakarta
Indonesia Leader and Runner-up Seek Post-election Peace
Editor : Ismail Gani
Translator : Novita Cahyadi

PUBLISHED: Sabtu, 13 Juli 2019 , 18:43:00 WIB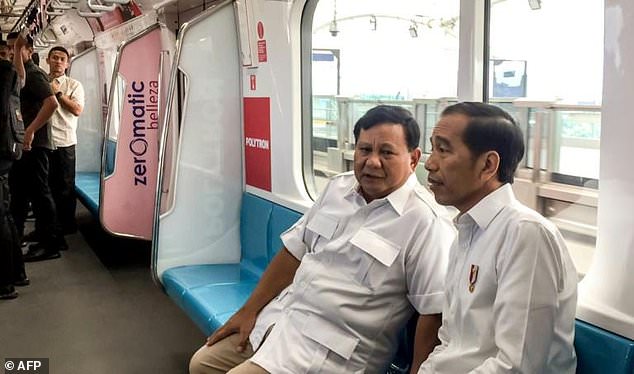 Pertemuan terjadi dua pekan setelah Prabowo Subianto dinyatakan kalah di Mahkamah Konstitusi dan menetapkan Joko Widodo sebagai pemenang Pilpres pada 17 April [Foto: AFP/MailOnline]
JOKO WIDODO dan Prabowo Subianto akhirnya bertemu setelah bersaing dalam Pemilihan Presiden 2019 [Pilpres] dalam upaya rekonsiliasi pada Sabtu siang, dalam pertemuan pertama mereka setelah pemungutan suara Pilpres.
Pertemuan terjadi dua pekan setelah Prabowo Subianto dinyatakan kalah di Mahkamah Konstitusi dan menetapkan Joko Widodo sebagai pemenang Pilpres pada 17 April.
Pada Sabtu, mantan jenderal dan Presiden Jokowi bertemu di stasiun Moda Raya Terpadu Jakarta [MRT] dan turut menumpang MRT untuk mengadakan pertemuan di kereta listrik bawah tanah tersebut.
"Banyak yang bertanya mengapa Prabowo belum memberi selamat kepada Jokowi, ya saya punya sopan santun dan saya ingin memberi selamat kepadanya secara langsung," kata Prabowo, yang berdiri di sebelah Jokowi.
"Menjadi presiden adalah tentang melayani orang, masalah yang harus dia hadapi sangat besar dan saya siap membantu," tambahnya.
Jokowi mengatakan dia memulai pertemuan dengan penantang presiden dua kali di kereta MRT karena dia tahu Prabowo belum pernah menggunakan MRT.
"Saya bersyukur atas pertemuan ini sehingga saya dapat bertemu Prabowo Subianto, saya berharap para pendukung kami akan mengikutinya karena kita semua adalah sesama warga negara," kata Jokowi, 58 tahun.
"Mari kita bersatu sebagai bangsa karena persaingan global semakin ketat dan kita harus tetap bersama untuk membangun negara kita," tambahnya.
Komisi Pemilihan Umum [KPU] menyatakan Jokowi sebagai pemenang dengan perolehan kemenangan 55,5% suara, dibandingkan dengan Prabowo yang hanya meraih 44,5%.
Pada Mei, unjuk rasa damai terhadap hasil resmi penghitungan KPU ditolak oleh pendukung Prabowo Subianto berubah menjadi kerusuhan, mengakibatkan sembilan orang tewas dan ratusan lainnya cedera di ibukota demokrasi terbesar ketiga di dunia itu.
Mahkamah Konstitusi bulan lalu menolak permohonan Prabowo yang menyebut terjadi kecurangan Pilpres secara terstruktur, sistematis dan masif. Prabowo kalah dalam sengketa Pilpres di MK pada 2014 ketika Jokowi memenangkan pemilihan presiden untuk pertama kalinya.
Jokowi dan wakil presiden, Ma'ruf Amin akan dilantik akhir tahun ini seperti dikutip AFP yang dilansir MailOnline.
THE WINNER and runner-up in Indonesia's presidential election which sparked deadly riots in the capital called for reconciliation on Saturday, in their first meeting since the vote.
It comes two weeks after defeated Prabowo Subianto lost a court challenge to overturn President Joko Widodo's victory in the April election.
On Saturday, the former general and the country's re-elected leader rode the newly-inaugurated mass rapid transit (MRT) system together in Jakarta.
"Some people asked why Prabowo has not congratulated Jokowi, well I do have manners and I wanted to congratulate him in person," Subianto said, standing next to the president.
"Being a president is about serving people, the problems he will have to face are enormous and I am ready to help," he added.
Widodo said he initiated a meeting with his two-time presidential challenger on an MRT train because he knew Subianto had never used the new system.
"I am grateful for this arrangement so I can meet Prabowo Subianto, I hope our supporters will follow suit because we are all fellow countrymen," the 58-year-old said.
"Let's unite as a nation because global competition is getting tighter and we need to stay together to develop our country," he added.
The general election commission declared Widodo the winner with 55.5 percent of votes, against Subianto's 44.5 percent.
In May, peaceful protests against the official result by Subianto supporters erupted into two nights of street battles between police and rioters, leaving nine people dead and hundreds injured in the capital of the world's third-biggest democracy.
The constitutional court last month rejected Subianto's claims of widespread rigging and voter fraud. He lost a similar court battle in 2014 when Widodo won the presidential election for the first time.
Widodo and his vice-presidential running mate Ma'ruf Amin are due to be inaugurated later this year.