Mobil Murah Dorong Negara jadi `Predator`, Publik sebagai `Mangsa`
Cheap Car Push the Country into a `Predator`, and Public as the `Prey`
Reporter : Rizki Saleh
Editor : Cahyani Harzi
Translator : Dhelia Gani

PUBLISHED: Kamis, 26 September 2013 , 18:16:00 WIB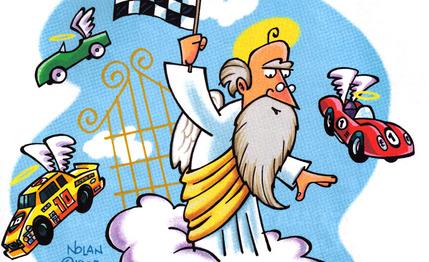 Ilustrasi: caranddriver.com
Jakarta (B2B) - Kebijakan Low Cost Green Car (LCGC) memposisikan hanya industri otomotif yang bisa mendorong padat karya padahal banyak subsektor industri yang mampu menyerap banyak tenaga kerja. Kebijakan LGCC mendorong negara menjadi ´predator´ dan publik sebagai konsumen adalah ´mangsa´.

"Masyarakat didorong menjadi konsumen semata dan dijerat oleh cicilan kredit bertahun-tahun," kata pengamat kebijakan publik, Andrinof Chaniago dalam diskusi di gedung parlemen Senayan Jakarta, Kamis (26/9).

Andrinof menilai, kebijakan LGCC seolah-olah hanya industri otomotif yang dapat membuka dan menyerap tenaga kerja dalam jumlah besar. Padahal banyak subsektor industri lain yang dapat dikembangkan oleh pemerintah, sementara sektor pertanian dan perkebunan diabaikan oleh pemerintah.

Anggota Komisi VI DPR, Hendrawan Supratikno mengatakan munculnya program LGCC tak ubahnya mengukuhkan konglomerasi otomotif di era Orde Baru dalam struktur industri otomotif nasional.

"Pasar dengan sedikit pemain menguasai bagian terbesar pasar. ATPM dengan prinsipal MNC dari Jepang menguasai pasar Indonesia, termasuk menguasai industri komponennya dalam mata rantai keterkaitan usaha dan keterkaitan korporat. Indonesia menjadi pencundang di tengah desakan arus liberalisasi yang mengabaikan tahap kesiapan ekologi industri domestiknya," kata Hendrawan dari Fraksi PDI Perjuangan.

Mobil harga murah, katanya lagi, mendorong lonjakan permintaan dan kemacetan lalu lintas semakin menjadi-jadi. Padahal seharusnya pemerintah mendorong peningkatan investasi pada infrastruktur dan transportasi publik.

"Bila tidak, negara ini kembali mempertontonkan kegagalan dalam memajukan kesejahteraan umum," tegasnya.
Jakarta (B2B) - Policies Low Cost Green Car (LCGC) position as the only automotive industry to encourage labor-intensive, while the other industrial sub-sector is able to absorb more labor. LGCC policy encourages states to ´predators´ and the public as consumers are ´prey´.

"The public is encouraged to be snared by the consumer and mortgage credit for many years," said a public policy analyst, Andrinof Chaniago on discussions in parliament building Senayan, Jakarta, Thursday (26/9).

Chaniago judge, LGCC policy as if only the automotive industry that can create jobs working in large numbers. Whereas many other industrial sub-sectors that could be developed by the government, while the agriculture and plantation sectors neglected by the government.

Member of House of Representatives Commission VI, Supratikno Hendrawan said LGCC programs like automotive conglomerate returns in the New Order era in the national automotive industry structure.

"The market with few players dominate the largest part market. ATPM with principals of Japanese MNCs dominate the Indonesian market, including control of industrial components in the chain of business relations and corporate linkages. Indonesia became losers in the liberalization of the current insistence that ignores the ability of the domestic industry," said Hendrawan from PDIP.

Cheap car, he said, encouraging a surge in demand and traffic congestion is getting worse. In fact, the government should encourage investment in infrastructure and public transport.

"If not, the state showed a failure in advancing the welfare of the people," he said.