Tokoh Agama dan Masyarakat Adat Serukan Penyelamatan Hutan Hujan Dunia
Religious, Indigenous Leaders Demand Rainforests be Saved
Editor : Ismail Gani
Translator : Novita Cahyadi

PUBLISHED: Rabu, 21 Juni 2017 , 22:12:35 WIB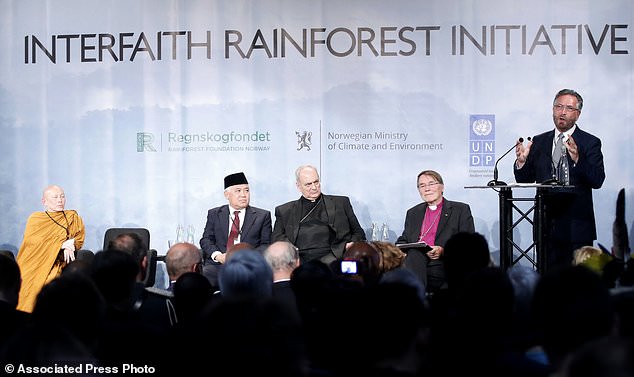 Mantan Ketua Umum Muhammadiyah, Din Syamsudin (duduk ke-2 kiri) mewakili pemimpin agama Islam pada Prakarsa Hutan Hujan Antaragama di Oslo, Norwegia (Foto: MailOnline)
PARA pemimpin agama dan masyarakat adat pada Senin menyerukan diakhirinya penggundulan hutan yang digagas oleh kerukunan umat beragama, lintas budaya untuk mengurangi emisi yang mendorong perubahan iklim.

Peserta dari 21 negara berkumpul di sebuah konferensi di ibukota Norwegia, Oslo, dengan mengusung harapan bahwa miliaran umat beragama di seluruh dunia akan bersatu untuk melindungi hutan hujan bumi. Hutan-hutan itu sangat penting bagi kehidupan manusia namun dieksploitasi untuk kepentingan pertanian dan industri di Amerika Selatan, sub-Sahara Afrika dan Asia.

Menteri Iklim dan Lingkungan Norwegia Vidar Helgesen yang bertindak sebagai tuan rumah pertemuan yang berlangsung satu hari, mengatakan bahwa menghentikan penggundulan hutan memerlukan "pergeseran nilai teknologis global."

Prakarsa Hutan Hujan Antaragama diluncurkan oleh negara Skandinavia yang telah mengurangi deforestasi tropis sebagai salah satu prioritas utama internasional, dengan investasi sekitar US$3 miliar dalam dekade terakhir.

"Pada dekade itu, kasus ilmiah, kasus ekonomi, dan kasus geopolitik untuk mengakhiri deforestasi hanya terus tumbuh. Namun, lebih banyak yang dibutuhkan," kata Helgesen. "Ini bukan bidang kebijakan, perdagangan atau sains, tapi semangat, keyakinan dan keyakinan moral."

Hutan hujan tropis menyimpan sebagian besar keanekaragaman hayati bumi, membantu mengatur curah hujan dan suhu secara global dan regional, dan menyediakan makanan, air dan pendapatan bagi 1,6 miliar orang.

Konferensi yang menyoroti pengurangan hutan hujan tropis didorong oleh perkebunan kelapa sawit, pertenakan, perkebunan kedelai dan produksi tanaman pangan dan 'penebangan liar dan pertambangan ilegal.' Dikatakan bahwa penggundulan hutan hujan mencapai area seluas Austria, atau hampir 84.000 kilometer persegi.

"Masyarakat hutan di seluruh dunia menempatkan kehidupan mereka di jalur untuk merawat hutan tropis di planet ini," kata Vicky Tauli-Corpuz, Pelapor Khusus PBB untuk Hak-hak Masyarakat Adat. "Kita bukan apa-apa tanpa hutan kita. Budaya, spiritualitas, penghidupan kita, pendapatan dan kesehatan kita terkait dengan mereka."

Mereka yang hadir dalam pertemuan tersebut termasuk perwakilan agama Katolik, Protestan, Yahudi, Muslim dan Hindu, dan pemimpin adat, termasuk yang berasal dari Indonesia dan Brasil seperti dikutip Associated Press yang dilansir MailOnline.
RELIGIOUS and indigenous leaders on Monday called for an end to deforestation in the first international multi-faith, multi-cultural plea to reduce the emissions that fuel climate change.

Participants from 21 countries gathered at a conference in the Norwegian capital of Oslo, hoping that billions of people of faith worldwide will unite to protect the Earth's rainforests. Those forests are fundamental to human life but are suffering from agricultural and industrial exploitation in South America, sub-Saharan Africa and Asia.

Hosting the one-day meeting, Norwegian Climate and Environment Minister Vidar Helgesen said that halting deforestation requires "a global, tectonic shift in values."

The Interfaith Rainforest Initiative was launched by the Scandinavian country that has made reducing tropical deforestation one of its top international priorities, with investments of some $3 billion in the past decade.

"In that decade, the scientific case, the economic case, and the geopolitical case for ending deforestation has only grown. However, more is needed," Helgesen said. "It is not the realm of policy, commerce or science, but of spirit, faith and moral conviction."

Tropical rainforests contain most of the Earth's land-borne biodiversity, help regulate rainfall and temperature globally and regionally, and provide food, water and income to 1.6 billion people.

The conference the rapid decreased in tropical rainforests has been fueled by palm oil plantations, cattle, soy and crop production and "rapacious and often illegal mining and logging operations." It said the reduction of the rainforests amounted to an area the size of Austria, or nearly 84,000 square kilometers (33,600 square miles).

"Forest communities around the world have put their lives on the line to care for the planet's tropical forests," said Vicky Tauli-Corpuz, UN Special Rapporteur on the Rights of Indigenous Peoples. "We are nothing without our forests. Our culture, our spirituality, our livelihoods, our incomes and our health are tied to them."

Those at the meeting included representatives of Catholic, Protestant, Jewish, Muslim and Hindu faiths, and indigenous leaders, including ones from Indonesia and Brazil.