Teknologi Informasi, Kunci Sukses Perusahaan Penjaminan Antisipasi Persaingan Global
Indonesian Guarantee Companies Anticipate the Information Technology Era
Reporter : Gusmiati Waris
Editor : Cahyani Harzi
Translator : Dhelia Gani

PUBLISHED: Kamis, 27 September 2018 , 22:54:00 WIB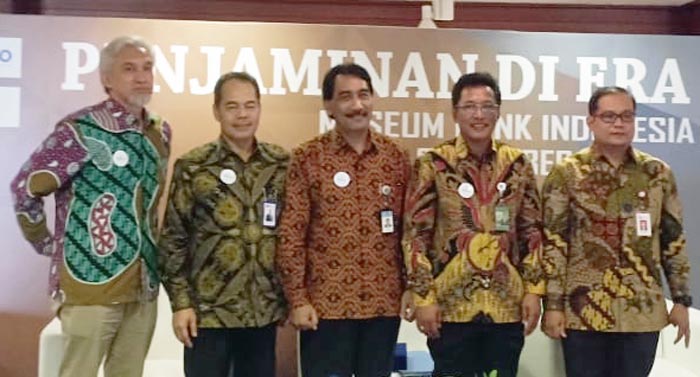 MILAD JAMSYAR: Plt Dirut Jamsyar Gatot Suprabowo (ke-2 kanan) bersama Direktur IKBN OJK Mochammad Muchlasin, Analis Senior BI Yiyok T Herlambang, Dirut Bank BRI Syariah MH Santoso, Ketua Asippindo Randi Anton (Foto: B2B/Mya)
Jakarta (B2B) - Perusahaan penjaminan syariah Indonesia harus menerapkan teknologi informasi agar mampu bersaing pada ´industri halal´ di pasar global menyikapi trend meningkatnya jumlah perusahaan sejenis di negara berpenduduk mayoritas non Muslim. Sementara di Indonesia ada 23 perusahaan penjaminan namun hanya dua menerapkan prinsip syariah, dan empat perusahaan hanya menyediakan layanan syariah.
Hal itu dikemukakan Plt Direktur Utama PT Jamkrindo Syariah (Jamsyar) Gatot Suprabowo di Jakarta, Rabu (26/9) pada diskusi panel bertema ´Penjaminan di Era Digital´ dalam rangkaian milad keempat Jamsyar.
Gatot Suprabowo mengakui banyak UKM kesulitan mengakses perbankan lantaran terkendala jaminan pinjaman, padahal UKM merupakan pasar potensial untuk digarap industri penjaminan di Indonesia. Dari 23 perusahaan penjaminan di Indonesia, dua menerapkan prinsip syariah dan empat lainnya hanya melayani unit syariah.
"Fenomena meningkatnya industri halal di negara mayoritas berpenduduk non Muslim, dan perkembangan teknologi informasi di era digital mengharuskan perusahaan penjaminan syariah membuat terobosan inovatif melalui teknologi informasi," katanya.
Perkembangan teknologi yang membuat proses digitalisasi merambah hampir semua lini kehidupan manusia harus diantisipasi oleh perusahaan penjaminan dan perbankan.
"Saat ini sekitar 50 persen transaksi keuangan tidak lagi terjadi di lobi bank, tetapi berpindah ke smartphone," kata Gatot.
Dia juga mengingatkan kemungkinan masuknya industri penjaminan asing ke Indonesia. Mengingat pangsa pasar di Indonesia sedemikian besar terutama pangsa pasar industri penjaminan dengan tumbuh pesatnya sektor UKM.
Tampak hadir Direktur Industri Keuangan Non Bank pada Otoritas Jasa Keuangan (IKNB OJK) Mochammad Muchlasin; Analis Senior Bank Indonesia, Yiyok T Herlambang; Direktur Utama PT Bank BRI Syariah Tbk, Mochammad Hadi Santoso; dan Ketua Asosiasi Perusahaan Penjaminan Indonesia (Asippindo) Randi Anto di Jakarta.
Jakarta (B2B) - Indonesian sharia guarantee companies must apply information technology to compete in the global market anticipate the increasing number of similar companies in non-Muslim-majority countries. Meanwhile in Indonesia there are 23 guarantee companies but only two apply sharia principles, and four companies only provide sharia services.
It was stated by Acting President Director of Jamkrindo Syariah company, Gatot Suprabowo here on Wednesday (September 26) in the panel discussion as series of company´s anniversary.
Mr Suprabowo acknowledged that many SMEs find it difficult to get bank loans because of constrained guarantee, whereas SMEs are a potential market for sharia guarantee companies in Indonesia. Of the 23 guarantee companies in Indonesia, two apply sharia principles and four others only serve sharia units.
"The increasing phenomenon of halal industry in a predominantly non-Muslim country, and development of information technology in digital era requires sharia guarantee companies to make innovative breakthroughs through information technology," he said.
Technological developments that make the digitization process penetrate almost all lines of human life must be anticipated by guarantee and banking companies.
"Currently around 50 percent of financial transactions are no longer at the bank´s branch offices, but they move to smartphones," Mr Suprabowo said.
He also reminded of opportunities for foreign guarantee industries to penetrate Indonesia. Given the market share in Indonesia is so large, especially the guarantee industry for the increase of SMEs.