RI Cabut Blokir Telegram setelah Pemerintah Dapat Akses Khusus
Indonesia Lifts Threat to Ban Encrypted App Telegram
Editor : Ismail Gani
Translator : Novita Cahyadi

PUBLISHED: Selasa, 01 Agustus 2017 , 20:25:00 WIB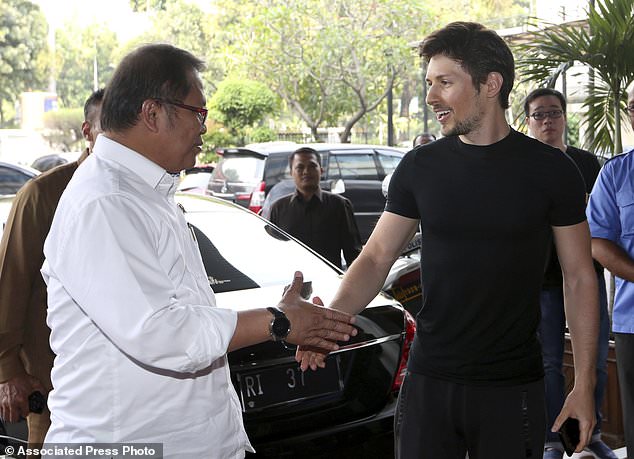 Menkominfo Rudiantara (kiri) menerima kunjungan pendiri Telegram Pavel Durof (Foto: Associated Press/MailOnline)
PEMERINTAH RI mencabut pemblokiran aplikasi pesan terenkripsi dari Telegram setelah Indonesia dapat berkomunikasi langsung untuk memblokir konten 'negatif' yang dimanfaatkan untuk propaganda terorisme. Namun Indonesia mengingatkan aplikasi lain kini dibidik oleh pemerintah untuk mencegah penyebaran faham radikalisme.

Menteri Komunikasi dan Informatika RI, Rudiantara, Selasa, yang bertemu dengan pendiri Telegram Pavel Durov mengumumkan bahwa "kedua belah sepakat untuk menjaga agar Telegram dapat diakses."

Banyak situs media sosial lainnya, aplikasi messaging dan sistem file dan video sharing yang digunakan Indonesia, katanya, secara khusus menyebutkan Facebook dan Google sebagai platform yang akan mendapat perhatian khusus di 'masa mendatang.'

Awal bulan ini, Kementerian Komunikasi dan Informatika (Kemenkominfo) mengatakan bahwa pihaknya tengah mempersiapkan langkah-langkah untuk memblokir Telegram di Indonesia, yang digunakan oleh jutaan pengguna, jika tidak dapat memberi akses langsung untuk memblokir konten ilegal termasuk diskusi kelompok-kelompok radikal Islam.

Sebagai ukuran parsial, perusahaan internet tersebut meminta warga Indonesia, Muslim terpadat di dunia untuk memblokir akses ke 11 alamat yang menawarkan versi web Telegram. Durov meminta maaf karena gagal menanggapi dengan cepat permintaan pemerintah Indonesia untuk mengetahui isi teror yang akan diblokir, hal itu terjadi lantaran miskomunikasi.

Rudiantara mengatakan bahwa Kemenkominfo dan Telegram akan menerapkan prosedur operasi standar yang meningkatkan kemampuan untuk "menangani konten negatif di Telegram." Tindakan memblokir terhadap web Telegram bisa dicabut minggu depan, katanya.

Gerilyawan yang dicurigai ditangkap oleh polisi Indonesia telah mengatakan kepada pihak berwenang bahwa mereka berkomunikasi satu sama lain melalui Telegram dan menerima perintah dan arahan untuk melakukan serangan melalui aplikasi tersebut, termasuk dari Bahrun Naim, seorang warga negara Indonesia dengan kelompok Negara Islam (ISIS) di Suriah yang dituduh mendalangi beberapa serangan pada 18 bulan terakhir

Pemerintah pun mendapat sejumlah kritik yang mengatakan lebih masuk akal bagi Indonesia untuk memantau kelompok diskusi ISIS melalui tindakan intelijen ketimbang memblokir Telegram.

Durov mengatakan kepada wartawan bahwa akan ada komunikasi langsung antara Indonesia dan petinggi di Telegram, namun dia juga mengatakan bahwa dia tidak akan datang ke Indonesia jika pemerintah telah memenuhi permintaan yang memerlukan enkripsi Telegram untuk dikompromikan.

"Dasar dari layanan Telegram adalah enkripsi 100 persen. Inilah sebabnya mengapa perusahaan kami berdiri," katanya.

"Kami telah membahas cara untuk memblokir saluran publik yang tersedia untuk propaganda terorisme, yang merupakan sesuatu yang kami lakukan secara global, dan khususnya Indonesia," kata Durov.

Layanan pesan gratis dapat digunakan sebagai aplikasi smartphone dan komputer melalui antarmuka web atau desktop. Enkripsi yang kuat telah berkontribusi pada popularitasnya dengan mereka yang peduli tentang privasi dan komunikasi yang aman di era digital namun juga menarik kelompok militan dan elemen kriminal lainnya.

Durov mengatakan sekitar 20.000 orang mendaftar untuk menggunakan Telegram di Indonesia setiap hari. Saat ini pengguna Telegram mencapai 100 juta pengguna di seluruh dunia, seperti diumumkan oleh Telegram pada Februari 2016 yang dikutip Associated Press dan dilansir MailOnline.
THE INDONESIAN government lifted its threat to ban the encrypted messaging app Telegram because it's taking steps to block "negative" content that includes forums for Islamic State group supporters. But it warned other sites could now face scrutiny.

Rudiantara, the Minister of Communications and Information Technology, who met Tuesday with Telegram co-founder Pavel Durov announced that "we have agreed to keep Telegram accessible."

Many other social media sites, messaging apps and file and video sharing systems are used Indonesia, he said, specifically mentioning Facebook and Google as platforms that could be scrutinized in the "near future."

Earlier this month, the ministry said it was preparing to shut down Telegram in Indonesia, where it has several million users, if it didn't develop procedures to block unlawful content including pro-Islamic State group discussion groups.

As a partial measure, it asked internet companies in the world's most populous Muslim nation to block access to 11 addresses offering the web version of Telegram. Durov apologized for failing to quickly respond to the Indonesian government's requests for apparent terror content to be blocked, blaming a miscommunication.

Rudiantara, who uses one name, said the ministry and Telegram will put in place standard operating procedures that improve the ability to "address the negative content in Telegram." The blocking measures against web Telegram could be lifted next week, he said.

Suspected militants arrested by Indonesian police have told authorities that they communicated with each other via Telegram and received orders and directions to carry out attacks through the app, including from Bahrun Naim, an Indonesian with the Islamic State group in Syria accused of orchestrating several attacks in the past 18 months.

Critics of the government's threat said it would make more sense to monitor the IS discussion groups for possible intelligence than banning the app.

Durov told reporters there would a line of direct communication between the ministry and top people in Telegram but also said he wouldn't have come to Indonesia if the government had made any requests that would require Telegram's encryption to be compromised.

"The basis of Telegram is a 100 percent promise of encryption. This is why our company exists," he said.

"We've discussed ways to block the public channels available for the propaganda of terrorism, which is something that we are committed to do globally, and particularly Indonesia," Durov said.

The free messaging service can be used as a smartphone app and on computers through a web interface or desktop messenger. Its strong encryption has contributed to its popularity with those concerned about privacy and secure communications in the digital era but also attracted militant groups and other criminal elements.

Durov said about 20,000 people sign up to use Telegram in Indonesia daily. It has at least 100 million users worldwide, a figure released by Telegram in February 2016.