OECD - Gallup World Poll Nyatakan Pemerintah RI Peringkat Pertama Dunia Dipercaya Rakyatnya
India Stands Third in List of Trusted Govts; Ranks Behind Indonesia
Editor : Ismail Gani
Translator : Novita Cahyadi

PUBLISHED: Selasa, 18 Juli 2017 , 23:43:00 WIB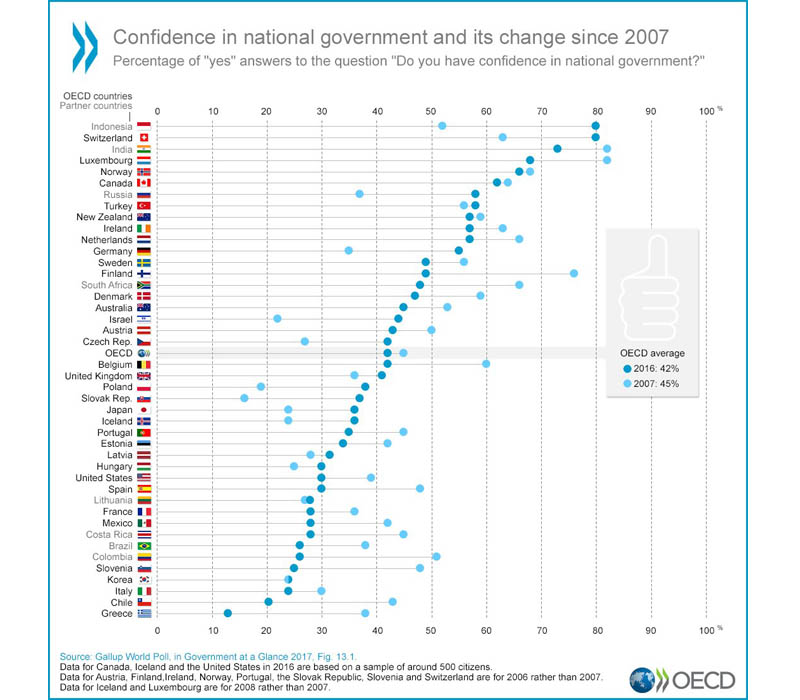 Tabel dan Data: OECD
BERDASARKAN data dari Organisation of Economic Cooperation and Development (OECD) dalam publikasinya Government at a Glance 2017 pada 13 Juli 2017, disebutkan bahwa Indonesia menduduki peringkat pertama untuk Trust and Confidence in National Government atau ´kepercayaan rakyat terhadap pemerintah.´

Hal itu ternyata mengejutkan bagi India yang tahun lalu, 2016, berada di peringkat pertama seperti dikutip
deccanherald.com, setelah sekitar 73% rakyat India percaya pada pemerintahnya, membuat India berada di posisi ketiga dalam peringkat global, di bawah Indonesia dan Swiss di peringkat pertama dan kedua.

Sementara India berada di urutan ketiga dalam daftar, pemerintah Amerika Serikat yang dipimpin Donald Trump ternyata hanya dipercayai oleh 30% rakyatnya, yang diterbitkan oleh OECD. Meskipun India menjadi salah satu negara di peringkat teratas, namun jumlah rakyat India yang percaya pada pemerintahnya turun 9% pada 2007 dan 2016.

OECD, organisasi beranggotakan 35 negara memakai metode jajak pendapat lembaga polling terkemuka dunia dari Amerika Serikat, Gallup World Poll pada 2016 untuk mengukur tingkat kepercayaan rakyat terhadap pemerintah pusat dalam laporannya.

Pemerintah Indonesia dan Swiss paling dipercayai oleh rakyatnya hingga 80% karena dinilai mengutamakan kepentingan rakyat. Pemerintah Inggris ternyata hanya dipercayai 40% rakyatnya.

"Kepercayaan pada pemerintah tetap di bawah tingkat sebelum krisis. Rata-rata di negara-negara anggota OECD, 42% warga melaporkan tingkat kepercayaan pada pemerintah mereka pada 2016, dibandingkan dengan 45% sebelum 2007," kata laporan tersebut.

Hasil peringkat tersebut diharapkan dapat mendesak pemerintah untuk mengambil langkah-langkah mencegah munculnya bentuk baru "e-eksklusi". Sementara jumlah penduduk dunia yang terus meningkat memilih menggunakan media sosial untuk berinteraksi dengan pemerintah, dilaporkan bahwa meningkatnya kesenjangan di tingkat penyerapan oleh tingkat pendidikan, keluarga dan usia.

Laporan tersebut juga mengatakan bahwa rata-rata, perempuan hanya terdiri dari 29% anggota parlemen dan 28% menteri di negara-negara OECD pada 2017.

"Demikian pula, sementara perempuan mewakili 58% dari total angkatan kerja sektor publik, mereka hanya memegang 32% posisi senior. Representasi wanita yang setara dalam kehidupan publik dan pekerjaan di semua tingkat memperluas kumpulan bakat yang tersedia untuk berkontribusi pada kinerja organisasi," bunyi laporan tersebut.
AROUND 73% of Indians have trust in the Government of India, making it the third in a global ranking, only behind Indonesia and Switzerland.

While India is third in the list, the Donald Trump-led United States administration managed to get endorsement from only 30% of the country's citizens, according to a 'Government at Glance 2017' report, published by the Organisation of Economic Cooperation and Development (OECD). Though India remains one of the toppers, the number of people who trust the government has fallen by 9% between 2007 and 2016.

The OECD, a 35-country group, has used the Gallup World Poll for 2016 for measuring the confidence level in central governments in its report.

The governments of Indonesia and Switzerland have got around 80% of votes in their favour. The UK government had the confidence of about 40% of its citizens in 2016.

"Trust in government remains below the pre-crisis levels. On an average in OECD countries, 42% of citizens reported having confidence in their national governments in 2016, compared to 45% before 2007," the report said.

It also urged governments to take steps to prevent the emergence of new forms of "e-exclusion". While a growing share of citizens use digital channels to interact with the government, it said there are persistent gaps in the level of uptake by education level, living area and age.

The report also said that on an average, the women make up only 29% of parliamentarians and 28% of ministers in OECD countries in 2017.

"Similarly, while women represent 58% of the total public sector workforce, they hold only 32% of senior positions. Equal representation of women in public life and employment at all levels expand the pool of talent available to contribute to organisational performance," the report said.