Presiden Jokowi: Telegram Diblokir setelah Observasi dan Kajian Mendalam
President Widodo Declared Indonesian Govt Restricts Telegram App after Observation
Reporter : Gatot Priyantono
Editor : Ismail Gani
Translator : Dhelia Gani

PUBLISHED: Minggu, 16 Juli 2017 , 23:58:00 WIB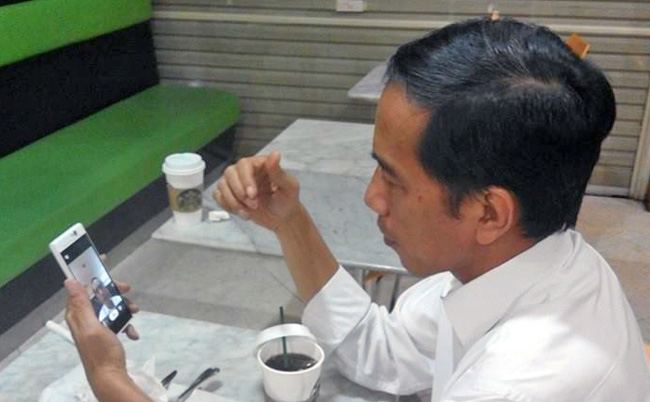 Presiden RI Joko Widodo (Foto: istimewa)
Jakarta (B2B) - Presiden RI Joko Widodo menegaskan tindakan blokir terhadap aplikasi media sosial Telegram bukan merupakan keputusan mendadak namun berdasarkan observasi dan pengamatan jangka panjang secara mendalam.

"Pemerintah sudah lama mengamati dan kita kan negara yang mementingkan keamanan negara dankeamanan masyarakat," kata Presiden Jokowi kepada pers di Jakarta pada Minggu (16/7).

Jokowi menambahkan pemerintah menemukan ribuan akun yang dikategorikan dapat mengganggu keamanan negara dan keamanan masyarakat.

"Bukan hanya satu, dua, tiga, empat, lima, enam, tapi ribuan, oleh sebab itu keputusan tersebut dibuat," katanya.

Jokowi mengatakan masih banyak aplikasi medsos yang lain yang bisa digunakan oleh masyarakat. Mengenai adanya upaya menyaring yang dilakukan pengelola aplikasi medsos itu, ternyata masih ada ribuan akun yang lolos dan tetap digunakan, baik untuk membangun komunikasi antarnegara, dan hal-hal yang berkaitan dengan terorisme.

Terkait kerja sama pengelola aplikasi dengan pemerintah, Jokowi mengatakan Kemkominfo sudah melakukannya.

"Saya kira Menkominfo sudah menyampaikan tidak hanya sekali dua kali saja," katanya.

Sebelumnya, Kominfo sejak Jumat (14/7) secara resmi memblokir layanan percakapan instan Telegram dengan alasan "dapat membahayakan keamanan negara karena tidak menyediakan SOP dalam penanganan kasus terorisme".

Kemenkominfo pada Jumat telah meminta internet service provider (ISP) melakukan pemutusan akses atau pemblokiran terhadap sebelas domain name system (DNS) milik Telegram.

"Pemblokiran ini harus dilakukan karena banyak sekali kanal yang ada di layanan tersebut bermuatan propaganda radikalisme, terorisme, paham kebencian, ajakan atau cara merakit bom, cara melakukan penyerangan, disturbing images, dan lain-lain yang bertentangan dengan peraturan perundang-undangan di Indonesia," kata Kemenkominfo melalui pernyataan tertulis pada Jumat.
Jakarta (B2B) - Indonesian President Joko Widodo stated the government blocked web-based Telegram application only after making a long observation, and it was not an immediate decision.

"The government has conducted a long observation, and we are a nation that prioritizes state security and public security," President Widodo told the press here on Sunday (July 16).

Widodo claimed thousands of social media accounts have been categorized as potential to disturb the national security.

"There are not only one, two, three, four, five, six, but thousands of them. Therefore, the decision has been made," he said.

The President said the public still could use other social media applications. Despite efforts by operators of the social media application to filter certain accounts, thousands of accounts are still in operation and being used to build international communication related to terrorism.

According to Widodo the communication and informatics ministry had talked about the matters with the operators for several times.

"I think the communication and informatics minister had conveyed about the issue not only once or twice," he said.

Indonesian ministry of communication and informatics on Friday (July 14) has asked nternet companies to block access to 11 addresses that the web version is available through.

The government has so far bocked only access to the app via computer, but is preparing to impose a full ban.

"We are now preparing a process to close down Telegram app in full throughout Indonesia if Telegram does not come up with a standard operating procedure to handle law-violating contents," the communications ministry said in a statement issued late Friday.

The ministry is preparing for the total closure of Telegram in Indonesia, where it has several million users, if it does not develop procedures to block unlawful content.