Tingkatkan Pangsa Pasar, LPDB-KUMKM Gagas Indonesia Syariah Fair
Indonesian Govt will Hold the Indonesia Syariah Fair on November 2018
Reporter : Gusmiati Waris
Editor : Cahyani Harzi
Translator : Dhelia Gani

PUBLISHED: Selasa, 11 September 2018 , 00:10:00 WIB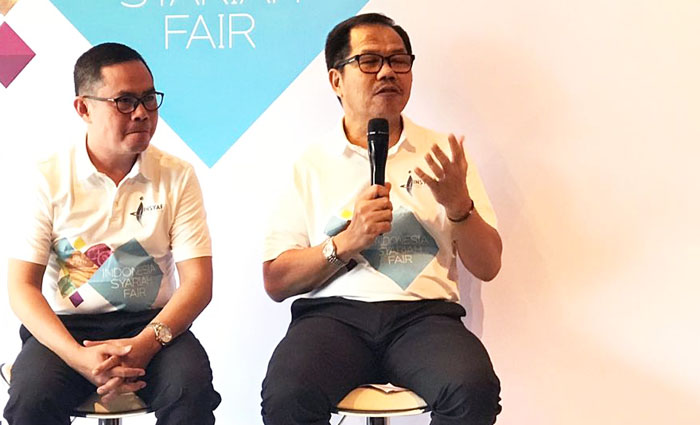 AKSES PERBANKAN: Direktur Utama LPDB-KUMKM, Braman Setyo (kanan) dan Direktur Pembiayaan Syariah LPDB-KUMKM Jaenal Aripin (Foto: Humas LPDB-KUKM)
Jakarta (B2B) - Lembaga Pengelola Dana Bergulir Koperasi Usaha Mikro Kecil dan Menengah (LPDB-KUMKM) berupaya meningkatkan pangsa pasar keuangan syariah, saat ini di kisaran 5,3% jauh di bawah Malaysia yang mencapai 24,7%, hal itu yang menjadi pendorong utama LPDB-KUMKM menggelar Indonesia Syariah Fair disingkat Insyaf pada 27 - 29 November 2018.
"LPDB-KUMKM mendorong bagaimana bisa berkontribusi meningkatkan pangsa pasar keuangan syariah walaupun angkanya kecil dari 5,3 persen," kata Direktur Utama LPDB-KUMKM, Braman Setyo kepada pers di Jakarta, Senin (10/9).
Braman Setyo mengatakan pangsa pasar keuangan syariah di Indonesia masih kecil ketimbang Malaysia mencapai 24,7%. Faktor utama yang mempengaruhi minimnya keuangan syariah lantaran penetrasi sektor riil yang produktif di masyarakat, termasuk di sektor inklusi mikro dan usaha kecil.
"Berbagai upaya strategis dilakukan LPDB-KUMKM dalam mengakselerasi keterlibatan berbagai lembaga pembiayaan syariah, dan pemberdayaan KUMKM di Indonesia khususnya pembiayaan pola syariah, salah satunya melalui Insyaf," kata Braman.
Direktur Pembiayaan Syariah LPDB-KUMKM Jaenal Aripin mengungkap salah satu penyebab masih minimnya market share keuangan syariah, karena selama ini ada asumsi lembaga keuangan syariah khususnya perbankan lebih banyak mengarah pada pembiayaan sektor usaha menengah ke atas, bahkan hampir mengabaikan sektor usaha mikro dan kecil.
"Arah ini kemudian menafikan para pelaku usaha mikro dan kecil bersentuhan dengan lembaga perbankan, sehingga terkesan lembaga keuangan bank sangat eksklusif atau hanya bisa diakses para pengusaha pada level tertentu, dan tidak terbuka untuk pengusaha dari berbagai level," kata JaenalAripin.
Karena itu, lanjut Jaenal, dengan adanya Insyaf ini diharapkan lembaga keuangan khususnya bank, mengubah arahnya dari lama ke arah baru dengan lebih inklusif, atau terbuka bagi para pengusaha dari berbagai level termasuk juga sektor usaha mikro.
"Dengan begitu, para pengusaha mikro yang selama ini belum banyak menikmati bantuan pinjaman dari lembaga keuangan bisa terfasilitasi," katanya.
Jakarta (B2B) - The Indonesia´s fund management institutions lending to cooperatives and SMEs or the LPDB-KUMKM trying to increase the market share of Islamic finance, currently in the range of 5.3% far below Malaysia which reached 24.7% it pushes the LPDB-KUMKM will hold Indonesia Syariah Fair or Insyaf 27 to 29 November 2018.
"LPDB-KUMKM encourages how to contribute to increasing the Islamic financial market share because only 5.3 percent," President Director of LPDB-KUMKM, Braman Setyo told the press here on Monday (September 10).
Mr Setyo said the market share of Islamic finance in Indonesia was still small compared to Malaysia which reached 24.7%. The main factor influencing the lack of Islamic finance because the penetration of the productive real sector including SMEs is still minimal.
"Various strategic efforts carried out by LPDB-KUMKM accelerate the involvement of various Islamic finance institutions, and empowerment of SMEs in Indonesia, especially Islamic finance, "said Mr Setyo.
Director of Sharia Financing LPDB-KUMKM Jaenal Aripin revealed the main causes of the lack of market share of Islamic finance, because Islamic financial institutions, especially banks, are assumed to lead to financing the middle to upper business sector, even almost ignoring the SME sector.
"Banking policies seem to deny SME entrepreneurs access to banking institutions, so that banking seems exclusive or only for entrepreneurs at a certain level, and closed to entrepreneurs from various levels," said Mr Aripin.
Therefore, with Insyaf, it is expected that financial institutions, especially banks, transform to make it more inclusive or open to entrepreneurs from various levels including the micro business sector.