Rp18,5 Miliar, Jamsyar Dukung Aktif Donasi OJK untuk Korban Gempa Palu
Indonesian Guarantee Companies Collects Humanitarian Funds for Palu
Reporter : Gusmiati Waris
Editor : Cahyani Harzi
Translator : Dhelia Gani

PUBLISHED: Minggu, 21 Oktober 2018 , 00:13:00 WIB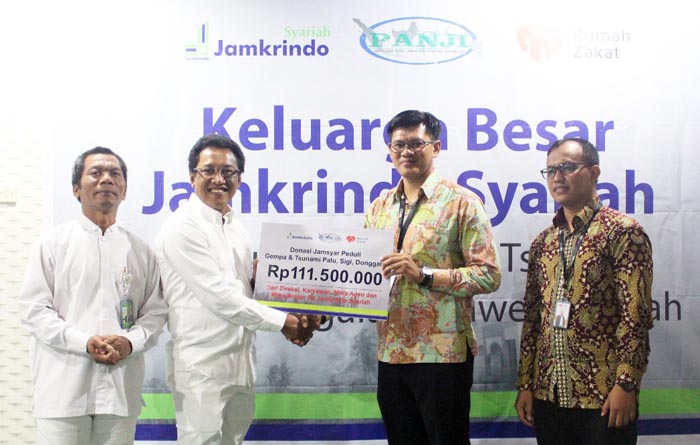 Jamsyar menyerahkan donasi Rp111,5 juta untuk Palu, yang diserahkan Plt Direktur Utama Jamsyar, Gatot Suprabowo didampingi Direktur Operasional Achmad Sonhadji kepada Rumah Zakat (Foto: Humas Jamsyar)
Jakarta (B2B) - PT Penjaminan Jamkrindo Syariah (Jamsyar) berperan aktif dalam donasi kemanusiaan bencana alam Palu di bawah koordinasi Otoritas Jasa Keuangan (OJK) sebesar Rp18,5 miliar, yang dikumpulkan dari industri keuangan Indonesia.
Donasi Palu diserahkan simbolis oleh Ketua Dewan Komisioner OJK Wimboh Santoso kepada Gubernur Sulawesi Tengah, Longki Djanggola, Kamis (18/10), turut hadir Direktur Keuangan Endang Sri Winarni mewakili pimpinan Jamsyar dan perusahaan sejenis yang tergabung pada Assosiasi Perusahaan Penjaminan Indonesia (Asippindo).
Jamsyar juga menyerahkan donasi kemanusiaan Rp111,5 juta untuk Palu, yang diserahkan oleh Plt Direktur Utama Jamsyar, Gatot Suprabowo didampingi Direktur Operasional Achmad Sonhadji kepada Rumah Zakat, yang dihadiri oleh seluruh karyawan kantor pusat Jamsyar, Jumat (19/10).
"Kegiatan donasi kemanusiaan Jamsyar sesuai budaya perusahaan yakni mashlahah, ukhuwah dan ta'awun. Maknanya, Jamsyar memberikan manfaat untuk masyarakat sekitar, peduli terhadap sesama, dan sinergi menuju kesejahteraan," kata Gatot Suprabowo kepada pers di Jakarta.
Menurutnya, donasi Rp111,5 juta berhasil terkumpul setelah mengimbau seluruh karyawan, mitra agen, dan mitra broker re-asuransi untuk memberikan bantuan uang untuk meringankan beban korban gempa dan tsunami di Provinsi Sulawesi Tengah.
Sebelumnya, Jamsyar juga memberikan donasi kemanusiaan dan zakat perusahaan kepada korban gempa bumi Lombok, Provinsi Nusa Tenggara Barat (NTB) melalui Dompet Dhuafa sebesar Rp105 juta.
Jakarta (B2B) - The unit sharia companies of a subsidiary of Credit Guarantee Indonesia Corp., locally known as the Jamkrindo, Jamkrindo Syariah called the Jamsyar play an active role in humanitarian donations for the Palu quake under coordination of the Financial Services Authority or the OJK amount IDR18.5 billion was collected from the Indonesian financial industry.
Donation funds were handed over by the Chairman of the OJK Board of Commissioners Wimboh Santoso to Central Sulawesi Governor Longki Djanggola, here on Thursday (October 18).
Jamsyar also donated IDR 111.5 million for Palu, submitted by the Acting President Director of Jamsyar, Gatot Suprabowo accompanied by Operational Director Achmad Sonhadji to the Zakat House here on Friday (October 10).
"Jamsyar´s humanitarian donation activities are in accordance with the corporate culture of mashlahah, ukhuwah and ta´awun. The meaning is that Jamsyar provides benefits to the community, caring for others, and the welfare of community," Mr Suprabowo told the press here.
According to him, donations of IDR 111.5 million were collected from employees, agent partners, and re-insurance broker partners to provide financial assistance to Palu earthquake victims.
Previously, the Jamsyar also provided humanitarian and zakat donations to Lombok earthquake victims in the West Nusa Tenggara province through Dompet Dhuafa of IDR 105 million.