Pemerintah RI Dorong Pemuda dan UKM Kembangkan Startup Global
Indonesian Govt Supports Youth and SMEs to Develop Global Startups
Reporter : Gusmiati Waris
Editor : Cahyani Harzi
Translator : Dhelia Gani

PUBLISHED: Jum'at, 09 Februari 2018 , 00:14:00 WIB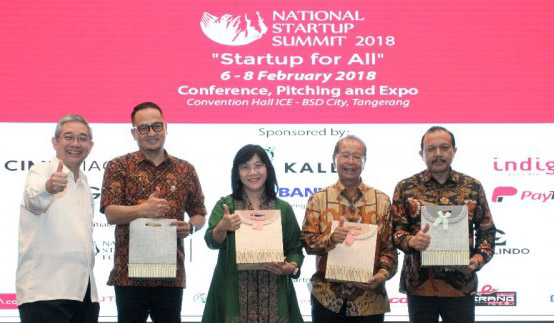 Sekretaris Kemenkop UKM, Agus Muharram (kanan) dan mantan Menpora Cosmas Batubara (ke-2 kanan) Foto: istimewa
Jakarta (B2B) - Pemerintah RI mengembangkan program perusahaan pemula berbasis teknologi (PPBT) untuk mendidik pemuda berjiwa wirausaha yang suka tantangan, untuk membentuk pelaku startup global sebagai inovator, inverter dan investor didukung pengetahuan, keterampilan, jaringan luas, mampu melihat peluang dan berperilaku baik.

Hal itu dikemukakan Menteri Riset Teknologi dan Pendidikan Tinggi, Muhammad Nasir; Sekretaris Kementerian Koperasi dan UKM, Agus Muharram; Dirjen Industri Kecil Menengah Kementerian Perindustrian, Gati Wibawaningsih; Dirjen Aplikasi Informatika Kementerian Komunikasi dan Informatika, Samuel Pangerapan; dan mantan Menteri Perumahan Rakyat 1983-1988, Cosmas Batubara pada National Startup Summit (NSS) di Tangerang, Selasa (6/2).

"Kita mendidik anak muda berjiwa wirausaha yang suka tantangan. Dari 661 orang anak muda yang masuk seleksi, kita mampu membentuk 15 pelaku startup global. Saya pernah jumpa salah satunya berbisnis dan sukses di London," kata M Nasir.

Agus Muharram menambahkan meskipun sarjana cumlaude, belum tentu sukses secara ekonomi tanpa didukung pengetahuan, skill, networking, menangkap peluang, dan sikap perilaku."

Gati Wibawaningsih menambahkan kementeriannya mendukung pemasaran produk UKM melalui market place online seperti BliBli, Bukalapak, Tokopedia, Shopee, dan Blanja dengan fokus pada sembilan komoditas: makanan, minuman, logam, kosmetik, perhiasan, kerajinan, herbal, suku cadang kendaraan, furnitur, hingga fesyen dengan konten lokal.

"Dalam ajang summit, kami ingin menyatukan seluruh bisnis startup dalam satu wadah dan himpunan untuk kemajuan bisnis startup nasional," kata Samuel Pangerapan.

Sementara Cosmas Batubara menyoroti pentingnya kewirausahaan masuk dalam kurikulum pendidikan nasional dan mata kuliah di perguruan tinggi. "Contohlah Jepang yang tidak punya sumber daya alam melimpah seperti Indonesia, tapi mampu masuk kategori negara maju karena rasio kewirausahaan sudah 10 persen dari jumlah penduduk."
Jakarta (B2B) - Indonesian government developing startup programs for youths as innovators, inverters and investors supported by knowledge, skills, broad networks, good opportunities and good attitude.

It was stated by Minister of research and technology and higher education Muhammad Nasir, Secretary of the ministry of cooperatives and SMEs, Agus Muharram, Director General of Small and Medium Industry at the ministry of industry, Gati Wibawaningsih; Director General of Information Application at the ministry of communications and informatics, Samuel Pangerapan; and former public housing minister 1983-1988, Cosmas Batubara at the National Startup Summit in Tangerang on Tuesday (February 6).

"We educate entrepreneurial youth who like business challenges. Of the 661 youths selected, we will form 15 global startups. I´ve met one of them has been successful in London," M Nasir said.

Agus Muharram said despite cum laude scholars, it will not be successful without knowledge, skills, networking, seeing opportunities, and good attitude.

Gati Wibawaningsih said his ministry supports the marketing of SME products through online market place such as BliBli, Bukalapak, Tokopedia, Shopee and Blanja with a focus on nine commodities: food, beverages, metals, cosmetics, jewelry, handicrafts, herbs, vehicle parts, furniture, fashion with local content.

"At this summit, we want to unite all startup businesses in an association for the advancement of Indonesia´s startup business," Samuel Pangerapan said.

While Cosmas Batubara highlighted the importance of entering entrepreneurship in the national education curriculum and universities. "Examples of Japan without natural resources like Indonesia, but become developed countries because the ratio of entrepreneurship is already 10 percent of the population."