Relaksasi DNI 51, Kemenkop UKM Jamin Perlindungan UKM dan Koperasi
Indonesian Govt Guarantees the Protection of SMEs of Foreign Investment
Reporter : Gusmiati Waris
Editor : Cahyani Harzi
Translator : Dhelia Gani

PUBLISHED: Jum'at, 23 November 2018 , 00:15:00 WIB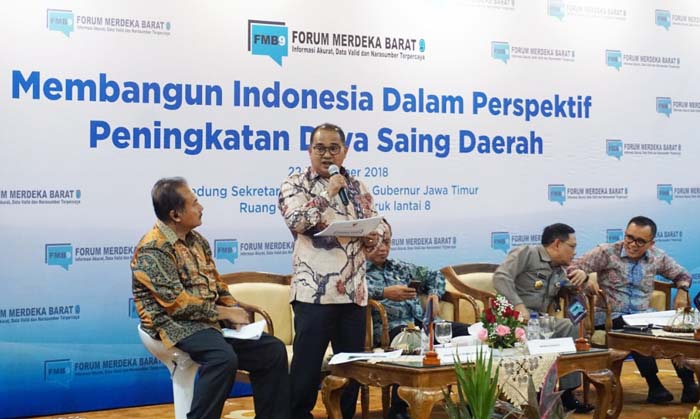 Foto: Humas Kemenkop UKM
Surabaya, Jatim (B2B) - Kementerian Koperasi dan UKM menegaskan rencana relaksasi Daftar Negatif Investasi (DNI) dalam Paket Kebijakan Ekonomi ke-16 masih akan dibahas oleh Presiden RI Joko Widodo, seraya memastikan tidak akan mematikan daya saing UKM dan koperasi di tanah air.
"Daftar bidang usaha yang dikeluarkan dari DNI adalah bentuk usulan tim kepada Presiden. Selanjutnya Presiden yang akan mengambil keputusan, tentu akan mendengar usulan dari semua stakeholder," kata Staf Ahli Bidang Ekonomi Makro Kemenkop dan UKM, RS Hanung Harimba Rachman di Surabaya, Kamis (22/11).
Dia menambahkan instrumen perlindungan bagi UKM sudah jelas, ada pembatasan investasi asing di sektor UKM minimal Rp10 miliar, dan tidak semua bidang usaha UKM bisa dimasuki investasi asing, hanya beberapa jenis usaha itu pun dengan berbagai pertimbangan.
Diketahui, ada lima bidang usaha UKM yang masuk daftar relaksasi DNI, yaitu industri pengupasan dan pembersihan umbi umbian, warung internet, industri percetakan kain, industri kain rajut khususnya renda dan perdagangan eceran melalui pemesanan pos dan internet.
Menurutnya, relaksasi DNI bidang usaha sektor UKM dilandasi pertimbangan antara lain bidang usaha itu tidak cocok untuk UKM, karena investasi yang dibutuhkan jauh lebih besar dari Rp10 miliar seperti percetakan kain dan impor masih besar.
Terkait warung internet yang juga akan dilepas dari DNI karena saat ini hampir tidak ada lagi investasi di bidang usaha tersebut. Sementara untuk bidang usaha perdagangan eceran melalui pemesanan pos dan internet, pemerintah akan mewajibkan dengan skema kemitraan.
Hanung menekankan pemerintah tetap memberi perlindungan bagi UKM apalagi sektor inilah yang memberikan lapangan kerja terbesar di dalam negeri, dengan kebijakan tersebut, pemerintah juga ingin menaikkan daya saing para pelaku usaha dengan mengurangi perizinan.
Surabaya of East Java (B2B) - Indonesian government confirms the relaxation plan for the Negative Investment List or the DNI in the 16th Economic Policy Package will be discussed by President Joko Widodo, while making sure it won´t turn off business competitiveness of SMEs and cooperatives across the country, according to the ministry´s senior official.
"The list of businesses that came out of the DNI was proposed by the team to President Widodo, and will make the decision after hearing proposals from stakeholders," said the Expert Staff for Macroeconomics at the Cooperatives and SMEs Ministry, RS Hanung Harimba Rachman here on Thursday (November 22).
He said the instrument of protection for SMEs was clear, there was a minimum investment limit of IDR 10 billion in the SME sector, and not all SME businesses are opened to foreign investment, only a few types of businesses are also under various conditions.
It is known, there are five SME businesses that are included in the DNI relaxation list, namely the stripping and cleaning industry of tubers, internet cafes, fabric printing industry, knit fabric industry especially lace and retail trade via post and internet.
According to him, relaxation of the DNI in the SME sector business sector because it is not suitable for SMEs, because the investment needed is more than IDR 10 billion such as fabric printing.
The internet cafe business which will also be released from the DNI, because currently there are almost no new investments While for retail businesses, especially post and internet, the government will require a partnership scheme.
Mr Rachman said the government protects SMEs because it opens the largest jobs in the country, the government also maintains the bargaining position of SME entrepreneurs by facilitating the licensing process.