Realisasi 2017 Rp793,3 M, LPDB KUKM Tahun Ini Targetkan Rp1,2 T
Indonesian Govt Increased the Target Capital Loans for SMEs
Reporter : Gusmiati Waris
Editor : Cahyani Harzi
Translator : Dhelia Gani

PUBLISHED: Kamis, 11 Januari 2018 , 00:26:00 WIB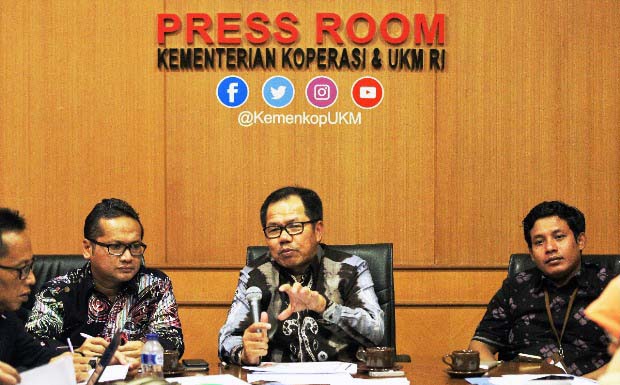 Direktur Utama LPDB KUMKM Braman Setyo (tengah) menjawab pers didampingi Kabag Humas Kemenkop UKM, Dharmono (Foto: istimewa)
Jakarta (B2B) - Realisasi penyaluran dana Lembaga Pengelola Dana Bergulir (LPDB KUMKM) pada 2017 mencapai Rp793,3 miliar atau 79,40% dari target Rp1 triliun, sementara untuk 2018 menargetkan penyaluran dana bergulir hingga Rp1,2 triliun didukung perusahaan penjaminan, Perum Jaminan Kredit Indonesia (Jamkrindo), Kementerian BUMN, dan 34 dinas koperasi di seluruh Indonesia.

Direktur Utama LPDB KUMKM Braman Setyo mengatakan untuk meningkatkan mutu dan kualitas pelayanan telah dicanangkan paradigma baru yaitu LPDB harus menjadi lembaga yang inklusif, atau terbuka dengan semua pihak.

"Ini sudah saya lakukan dengan bekerja sama dengan seluruh dinas koperasi yang ada di Indonesia. Ada 12 provinsi yang sudah melakukan perjanjian kerja sama untuk mempermudah penyaluran-penyaluran di daerah," kata Braman kepada pers di Jakarta, Rabu (10/1).

Menurutnya, keterlibatan Jamkrindo dengan menempatkan perusahaan penjaminan di awal proses pengajuan dana bergulir di LPDB KUMKM, sementara sebelumnya perusahaan penjaminan ditempatkan di akhir pengurusan.

LPDB akan memperkuat teknologi informasi untuk lebih menjangkau UKM di seluruh Indonesia. "UKM tidak perlu datang ke Jakarta untuk mengurus dana bergulir, karena bisa melalui sistem Fintech. Kami sedang menunggu rekomendasi dari OJK, terkait vendor fintech mana yang bisa mendukung."

LPDB KUMKM juga akan membangun core micro financing system (CMFS) yang memungkinkan aktivitas pembiayaan dapat diakses secara online sehingga memudahkan koperasi dan UKM mengakses pembiayaan.

"LPDB KUMKM nantinya bisa memantau secara realtime para debitor dana bergulir," kata Braman.
Jakarta (B2B) - Realization of the loan portfolio of Indonesia´s fund management institutions lending to cooperatives and micro, small and medium enterprises called the LPDB-KUMKM in 2017 reached 793.3 billion rupiah or 79.40% of the target 1 trillion rupiah, while for 2018 is targeted to 1.2 trillion rupiah, according to the senior official.

President Director of LPDB KUMKM Braman Setyo said to improve the quality and service quality with a new paradigm to become an inclusive institution.

"I have pioneered it through cooperation with cooperative offices across the country. There are 12 provinces that have cooperative agreements to facilitate activities in the region," Mr Setyo told reporters here on Wednesday (January 10).

According to him, the involvement of credit guarantee companies such as Jamkrindo by placing the guarantee company at the beginning of the credit proposal process, while before the end of the process.

LPDB will strengthen information technology to reach SMEs across the country. "There is no need to come to Jakarta to take care of business capital loans, just through Fintech.We are waiting for recommendations from authorized institutions, which concern the right fintech vendors."

The LPDB KUMKM will also build a core micro financing system (CMFS) for online financing activities, making it easier for cooperatives and SMEs to get capital loans.

"The LPDB KUMKM will be able to monitor the debtors in realtime," he said.