Hipmikindo Lampung Dilantik, Menkop Dorong Koperasi dan UKM Songsong RI 4.0
Indonesian Govt Encourage Cooperatives and SMEs Developing Online App
Reporter : Gusmiati Waris
Editor : Cahyani Harzi
Translator : Dhelia Gani

PUBLISHED: Selasa, 25 Desember 2018 , 00:38:00 WIB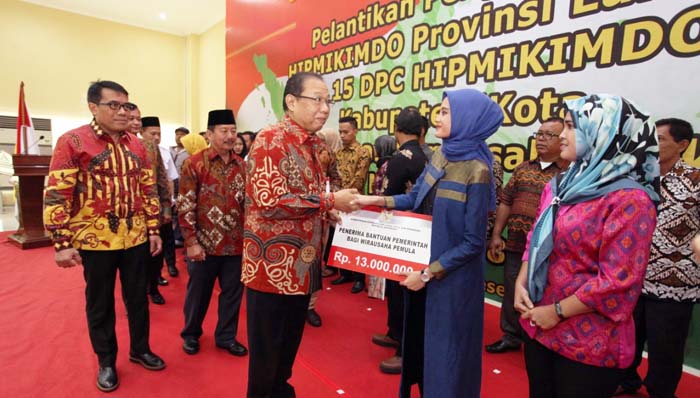 Menkop UKM Puspayoga menyalami pengurus Hipmikindo Lampung yang baru dilantik (Foto: Humas Kemenkop UKM)
Bandar Lampung, Lampung (B2B) - Pemerintah RI mendorong koperasi dan UMKM memanfaatkan peluang bisnis di era industrialisasi digital 4.0 atau RI 4.0 seperti halnya pada ekosistem digitalisasi kredit UMi didukung tiga perusahaan sistem pembayaran online yakni GoPay, T-Cash dan T-Money dan Bukalapak.
"Contohnya kredit UMi sudah menerapkan layanan digital sehingga semakin banyak masyarakat yang dapat mengakses perbankan secara mudah dan cepat," kata Menteri Koperasi dan UKM, AAGN Puspayoga pada pelantikan pengurus Himpunan Pengusaha Mikro, Kecil dan Menengah disingkat Hipmikindo Lampung di Bandar Lampung, Sabtu (22/12).
Kredit UMi merupakan kolaborasi antarkementerian yang diinisiasi Kemenkop UKM didukung Kementerian Keuangan, Kementerian Komunikasi dan Informasi, Kementerian Desa, Pembangunan Daerah Tertinggal dan Transmigrasi, dan Badan Ekonomi Kreatif.
Menurut Puspayoga, kementerian yang dipimpinnya juga telah meluncurkan aplikasi online via smartphone, Kemenkop Center, yang dapat diunduh gratis di PlayStore yang menyediakan akses permodalan dan Laporan Akuntansi Usaha Mikro (Lamikro) untuk memudahkan UMKM membuat laporan keuangan secara sederhana dan mudah.
Bandar Lampung of Lampung (B2B) - Indonesian government encourages cooperatives and SMEs to take advantage of business opportunities in the era of industrialization 4.0 such as UMi credit, supported by three online payment system companies: GoPay, T-Cash and T-Money and Bukalapak.
"For example UMi credit has implemented digital services so that more people can access banking easily and quickly," said Minister of Cooperatives and SMEs, AAGN Puspayoga here on Saturday (December 22).
UMi Credit is an inter-ministerial collaboration initiated by Ministry of Cooperatives and SMEs, Finance Ministry, Communication and Information Ministry, Ministry of Villages, Development of Disadvantaged Areas and Transmigration, and Creative Economy Agency.
According to Puspayoga, the ministry he leads has also launched an online application via smartphone, Kemenkop Center, free download on PlayStore with access to capital and Micro Business Accounting Reports or the Lamikro or Lamikro to facilitate cooperatives and SMEs to make financial reports simply and easily.