Dukung UKM, Menkop Beri Penghargaan Lima `Brand` Terkemuka di Ubud Bali
Indonesian Govt Supports the Development of SMEs in Bali
Reporter : Gusmiati Waris
Editor : Cahyani Harzi
Translator : Dhelia Gani

PUBLISHED: Senin, 23 Juli 2018 , 00:57:00 WIB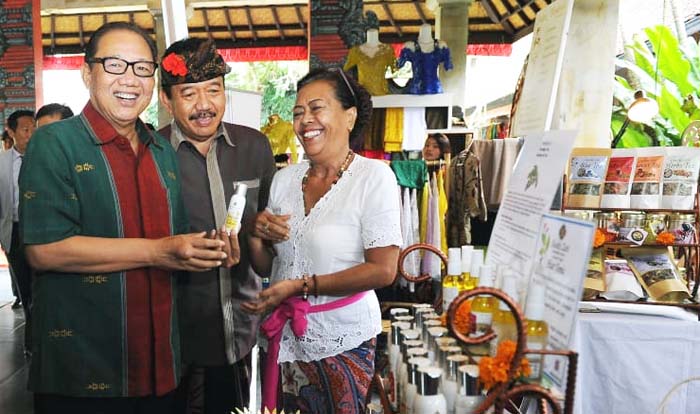 Menkop UKM AAGN Puspayoga (kiri) berbincang dengan pelaku UKM di Ubud, Bali (Foto: Humas Kemenkop UKM)
Ubud, Bali (B2B) - Lima merek (brand) terkemuka di kawasan wisata Ubud, Kabupaten Gianyar, Provinsi Bali mendapat penghargaan dari Menteri Koperasi dan UKM, AAGN Puspayoga, karena dinilai Pemerintah RI mendukung dan memberikan kontribusi pengembangan UKM dan pariwisata di Ubud dan Bali pada umumnya.
"Pemerintah berharap akan lebih banyak merek terkemuka di Ubud dan Bali memberikan kontribusi bagi masyarakat dan lingkungan," kata Puspayoga di Ubud, Sabtu (21/7).
Kelima brand tersebut adalah Ubud Homestay Association (UHSA) yang menggagas pembentukan wadah bagi pemilik homestay di Ubud dan tetap menjaga tradisional Bali. Angelo Store, memanfaatkan sumber daya alam secara berkelanjutan untuk menjaga keselarasan lingkungan dan memberdayakan komunitas lokal.
Berikutnya adalah Babi Guling Bu Oka yang berdiri sejak 1970 dinilai mampu menjaga konsistensi kelestarian kuliner khas Bali yakni base genep sehingga tetap disukai para penikmatnya. Guest Pro, dinilai berjasa dalam pengembangan solusi teknologi pariwisata dari Ubud untuk membantu perusahaan pariwisata dan hospitality agar dapat bersaing.
Nyawan Bag mendukung dan melestarikan budaya Bali dari inovasi tas dan clothing khusus segmen kesenian dan upacara Bali (niche market) dan mengakomodir kebutuhan dan keinginan seniman Bali.
Ubud of Bali (B2B) - Five leading brands in Ubud tourism area of Gianyar, Bali province was awarded by Indonesian Cooperative and SMEs Minister AAGN Puspayoga for support government programs to develop SMEs and tourism in Ubud and Bali.
"We hope that more leading brands in Ubud and Bali will contribute to society and the environment," said Puspayoga here on Saturday (July 21).
The five brands include Ubud Homestay Association or UHSA which initiated the formation of homestay owners´ association in Ubud and maintains traditional Balinese.
The typical Balinese culinary restaurant, Babi Guling Bu Oka established since 1970 to maintain the authentic culinary Balinese. Guest Pro supports the development of tourism technology, supporting the development of tourism and hospitality in Bali.
Nyawan Bag supports and preserves Balinese culture with typical Balinese traditional innovations.