Demo 21 April, Perwakilan Mahasiswa dan Buruh Diterima Temui DPR
Students and Labor Representatives Received to Meet with DPR
Editor : Ismail Gani
Translator : Novita Cahyadi

PUBLISHED: Jum'at, 22 April 2022 , 00:10:00 WIB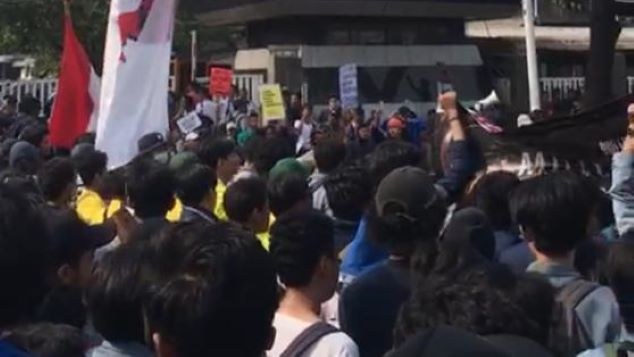 DEMO MAHASISWA: Ratusan mahasiswa sedang melakukan long-march menuju gedung DPR/MPR RI beberapa waktu lalu.
JAKARTA - Beberapa perwakilan dari mahasiswa dan buruh yang melakukan orasi di depan gedung DPR, tampak diterima perwakilan dewan untuk menyampaikan langsung tuntutannya, Kamis [21/4].
Mereka terlihat memasuki kalangan gedung DPR. Diketahui jumlahnya ada 15 orang dari mahasiswa dan buruh.
Ketua Umum KASBI Nining Elitos menyampaikan tuntunan dari demonstrasi hari ini. Di antaranya, hentikan Pembahasan UU Ciptakerja Inkonstitusional dan Hentikan Upaya Revisi UU Pembentukan Peraturan Perundang Undangan.
Hentikan Kriminalisasi Terhadap Gerakan Rakyat dan Tuntaskan Pelanggaran HAM. Turunkan Harga [BBM, Minyak Goreng, PDAM, Listrik, Pupuk, PPN dan Tol].
"Tangkap, Adili, Penjarakan, dan Miskinkan Seluruh Pelaku Koruptor. Redistribusi Kekayaan Nasional [berikan Jaminan Sosial Atas Pendidikan, Kesehatan, Rumah, Fasilitas Publik, dan Makan Geratis Untuk Masyarakat]," kata Nining.
Sahkan UU PRT dan Berikan Perlindungan Bagi Buruh Migran. Wujudkan Reforma Agraria Sejati dan Hentikan Perampasan Sumber-Sumber Agraria. Tolak Penundaan Pemilu dan Perpanjangan Masa Jabatan Presiden.
JAKARTA - Several representatives from students and workers who gave speeches in front of the DPR building, seemed to be accepted by the representatives of the council to convey their demands directly, Thursday [21/4].
They were seen entering the DPR building. It is known that there are 15 people from students and workers.
General Chairperson of KASBI Nining Elitos conveyed the guidelines from today's demonstration. Among other things, stop the discussion of the unconstitutional job creation law and stop the effort to revise the law for the formation of the Inviting Law.
Stop Criminalizing People's Movements and End Human Rights Violations. Lower Prices [Fuel, Cooking Oil, PDAM, Electricity, Fertilizer, VAT and Toll].