Kemenkop UKM Dukung Usulan BI Bentuk Komite Kewirausahaan di Bawah Presiden
Indonesia Intends to Set Up an Entrepreneurial Committee under the President
Reporter : Gusmiati Waris
Editor : Cahyani Harzi
Translator : Dhelia Gani

PUBLISHED: Kamis, 01 Februari 2018 , 01:11:00 WIB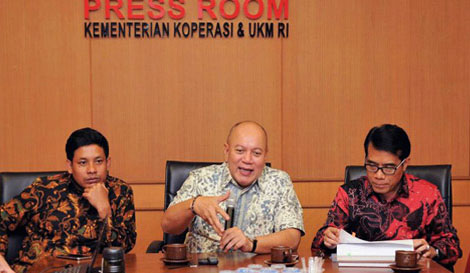 Deputi Bidang Pengembangan SDM Kementerian Koperasi dan UKM Prakoso BS (tengah) menjawab pers didampingi Kabag Humas Kemenkop UKM Sudarmono (Foto: istimewa)
Jakarta (B2B) - Bank Indonesia (BI) mengusulkan pengembangan kewirausahaan Indonesia berada dalam satu badan atau komite di bawah Presiden RI, BI juga meminta kepada perbankan untuk menyalurkan 20% dari total kreditnya untuk disalurkan kepada wirausaha termasuk wirausahawan pemula, dan usulan BI didukung oleh Kementerian Koperasi dan UKM.

Deputi Bidang Pengembangan SDM Kementerian Koperasi dan UKM Prakoso BS mengatakan di bawah satu badan maka seluruh anggaran kementerian dan lembaga akan berada dalam satu wadah saja, sementara selama ini hampir seluruh kementerian dan lembaga memiliki program pengembangan kewirausahaan, dan kalau di bawah satu badan maka pengembangan kewirausahaan akan lebih terarah dan terukur.

"Saya kira itu usulan yang baik untuk dimasukkan ke dalam pasal-pasal RUU Kewirausahaan Nasional dan menjadi bahan pembahasan dengan DPR RI," kata Prakoso kepada pers di Jakarta, Selasa (30/1).

Dia mencontohkan kesuksesan Malaysia dalam pengembangan kewirausahaan yang langsung berada di bawah pengawasan perdana menteri Malaysia, dan terbukti hasilnya wirausahawan Malaysia tergolong maju di Asia Tenggara, dan Indonesia harus memulainya sejak dini melalui RUU Kewirausahawan Nasional untuk mengakomodir kewirausahaan mengikuti tantangan jaman.

Prakoso menambahkan, ada pula usulan menarik dari anggota DPR agar mata pelajaran kewirausahaan diajarkan di sekolah-sekolah mulai tingkat taman kanak-kanak (TK) hingga sekolah menengah.

"Saya sangat setuju dan mendukung usulan ini, apalagi kementerian pendidikan juga terlibat dalam pembahasan draft RUU Kewirausahaan Nasional," katanya.
Jakarta (B2B) - The central bank of Indonesia or BI proposes the development of entrepreneurship in one body or committee under the president, the BI also asked the banks to set aside 20% of total business capital loans for entrepreneurs including beginner entrepreneurs, and BI´s proposal is supported by the cooperatives and SMEs ministry, according to official ministry.

the Deputy Minister of Human Resource Development, Prakoso BS said that if one agency then the entire budget of ministries and state institutions will be within a government body under the president, while almost all ministries and agencies have entrepreneurship development programs, but under one government agency will be more targeted and measurable.

"I think it´s a good idea to enter into the National Entrepreneurship Bill, and discuss it with parliament," Prakoso told reporters here on Tuesday (January 30).

He cited Malaysia´s success in developing entrepreneurship under the supervision of the prime minister, and Malaysian entrepreneurs are advanced in Southeast Asia, Indonesia should start early through the National Entrepreneurship Bill for entrepreneurship development in the global era.

Prakoso said, there are also interesting proposals from the parliament for entrepreneurship into the school curriculum from kindergarten to high school.

"I agree and support, the education ministry also participates in discussion of the draft National Entrepreneurship Bill in parliament," he said.