Smesco Destinasi Wisata Belanja, Asian Games Buka Peluang UMKM Tembus Ekspor
The 2018 Asian Games Big Opportunities for Indonesian SMEs to Global Market
Reporter : Gusmiati Waris
Editor : Cahyani Harzi
Translator : Dhelia Gani

PUBLISHED: Kamis, 16 Agustus 2018 , 01:14:00 WIB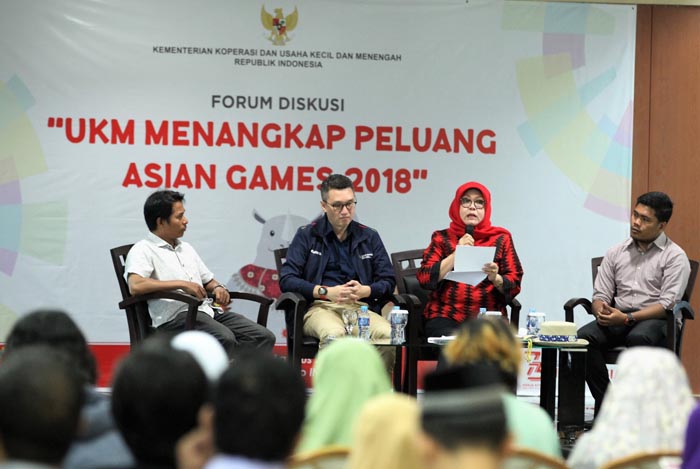 Direktur Utama Lembaga Layanan Pemasaran (LLP) KUKM, Emilia Suhaimi (ke-2 kanan) dan Vice Director Revenue Inasgoc Mochtar Sarman (ke-2 kiri) menjawab pers (Foto: Humas Kemenkop UKM)
Jakarta (B2B) - Pekan olahraga terbesar Asia, Asian Games 2018 membuka peluang bagi para pelaku usaha mikro, kecil dan menengah (UMKM) di Indonesia untuk memasarkan produknya sekaligus menembus pasar ekspor, dan gedung Smesco Indonesia di Jakarta menjadi salah satu destinasi wisata belanja dalam rangkaian kegiatan Asian Games di Jakarta.
"Selama Asian Games 2018, gedung Smesco di Jakarta akan dikunjungi oleh atlet dan ofisial, yang datang dengan enam bus tingkat dan empat bus reguler setiap jam per hari selama 15 hari pelaksanaan pesta olahraga Asia tersebut," kata Direktur Utama Lembaga Layanan Pemasaran (LLP) KUKM, Emilia Suhaimi kepada pers di Jakarta, Rabu (15/8).
Menurutnya, Smesco Indonesia juga menjadi salah satu outlet yang memasarkan merchandise resmi Asian Games 2018 sekaligus display produk UMKM unggulan dari seluruh Indonesia.
"Momentum Asian Games akan menjadi kesempatan terbaik bagi produk UMKM agar bisa dikenal pasar yang lebih luas," katanya.
Vice Director Revenue Inasgoc Mochtar Sarman mengatakan Asian Games 2018 melibatkan 23 perusahaan dan tujuh di antaranya perusahaan UMKM sebagai pemasok merchandise resmi Asian Games 2018.
"Produk yang diperlukan banyak sekali mulai dari sepatu, pakaian, souvenir, boneka, makanan dan minuman. Ini semua perlu diperhatikan dari berbagai sisi termasuk kualitas karena ini sebuah kesempatan kita untuk bisa mengekspor produk," kata Mochtar.
Jakarta (B2B) - Asia´s biggest sports event, the 2018 Asian Games open opportunities for Indonesian SMEs to market their products while penetrating the export market, and the Smesco Indonesia building in Jakarta is one of the shopping destinations of the 2018 Asian Games in Jakarta.
"During the 2018 Asian Games, the Smesco building in Jakarta will be visited by athletes and officials, which comes with six double deckers and four regular buses every hour per day for the 15 days of the Asian Games," Director Product Marketing of SMEs or the LLP KUMKM, Emilia Suhaimi told the press here on Wednesday (August 15).
According to her, Smesco Indonesia is also one of the outlets that market official of the 2018 Asian Games merchandises as well as displaying the best SMEs products across the country.
"The Asian Games will be the best opportunity for Indonesian SME products to be recognized by the global market," she said.
Vice Director Revenue Inasgoc Mochtar Sarman said the 2018 Asian Games were supported by 23 companies, and seven of them are SME companies as official merchandise suppliers for the 2018 Asian Games.
"The products needed are very much like shoes, clothes, souvenirs, dolls, food and drinks," he said.