Kemenkop UKM Apresiasi UKM Pertanian Terpadu di Garut
Indonesian Govt Supports Development of Integrated Farming Systems
Reporter : Gusmiati Waris
Editor : Cahyani Harzi
Translator : Dhelia Gani

PUBLISHED: Senin, 04 Februari 2019 , 00:14:00 WIB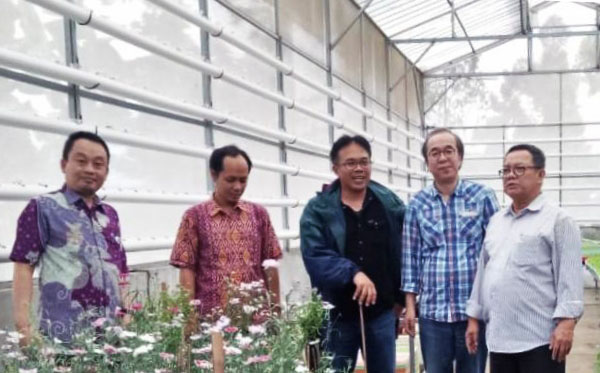 KUNKER GARUT: Deputi Restrukturisasi Usaha Kemenkop dan UKM Abdul Kadir Damanik (kanan) saat meninjau Green House yang dikembangkan GGF (Foto: Humas Kemenkop UKM)
Garut, Jabar (B2B) - Konsep sistem pertanian terpadu (SPT) mengubah pola bertani dari tradisional menjadi tepat guna, yang mendorong terciptanya produk pertanian kompetitif untuk memenuhi kebutuhan domestik dan ekspor, seperti diterapkan Garut Green Farm (GGF) sebagai contoh sukses melalui pendekatan teknologi dan pengembangan komunitas.
"Konsep pertanian Garut Green Farm menjadi salah satu contoh sukses mengembangkan sistem pertanian terpadu," kata Deputi Restrukturisasi Usaha Kemenkop dan UKM Abdul Kadir Damanik saat kunjungan kerja di Garut, Jawa Barat, Jumat (1/2).
Menurutnya, Kemenkop UKM akan memediasi dengan masyarakat dan lembaga lain, untuk menjalin kemitraan dengan GGF yang sukses melakukan pendekatan, mulai dari proses pembuatan bibit unggul, pupuk organik, penanaman, perawatan, dan pengobatan dengan mendirikan klinik pertanian.
Pengembangan komunitas dilakukan GGF melalui pendekatan syariah, yakni akad bagi hasil mudharabah, terkait dengan jumlah nisbah bagi hasilnya, disesuaikan dengan kesepakatan antara GGF dengan para petani.
Garut of West Java (B2B) - Integrated farming system or the SPT changed farming patterns of traditional to modern, encourage increased production and quality results to meet domestic and export needs such as the Garut Green Farm or GGF as an example of success used technology and community development.
"The concept of agriculture in Garut Green Farm is an example of successful development of integrated farming systems," said said the Deputy for Business Restructuring of Cooperatives and SMEs Ministry, Abdul Kadir Damanik here on Friday (February 1).
According to him, the Indonesian government will be a mediator for partnership with the GGF who develop the process of superior seeds, organic fertilizers, planting, maintenance, and establishing agricultural clinics.
The community development is carried out by the GGF through the sharia approach, Mudharabah profit sharing, related to the profit sharing ratio, is adjusted through the GGF agreement with farmers.